Found November 08, 2012 on Phillies Nation:
On September 19, the Phillies were in the middle of a big series against the New York Mets.  They were four games out of the Wild Card, so the postseason was still within reach at the time. After Cole Hamels tossed a quality start and the bullpen pitched two stellar innings, the Phillies still found themselves trailing 2-1 with two outs in the top of the ninth inning.  One swing of the bat changed the game, and created a top moment for the season. Chase Utley drew a huge two-out walk, leaving the game in the hands of a struggling Ryan Howard.  Mets pitcher Josh Edgin appeared to have the advantage in the matchup, especially since Howard had been in an 0-for-18 slump against lefties. With the count at 0-1, Howard crushed a fastball deep into the right field seats. There was no doubt about it.  The Phillies took a 3-2 lead, and Jonathan Papelbon was able to close it out. After the big blast, Phillies Nation commenter The Original Chuck P commented: "Can we PLEASE give the man his du...
Original Story:
http://philliesnation.com/archives/20...
THE BACKYARD
BEST OF MAXIM
RELATED ARTICLES
Darin Ruf went south for winter ball in Venezuela, which started last month on the 11th and runs to almost Thanksgiving.  How has he done so far? TAL'S HANDY CAPS   WELCOME, NEWCOMERS: Note:  My articles are designed to represent a baseball-man's thinking, the view from the dugout and the GM's box.  Most fans do not consider the budget, prospects on the radar, the stick...
Phillies general manager Ruben Amaro Jr has been named in a lawsuit. Armed with just a street law degree, I found it interesting that Phillies fans could file a class action lawsuit against Amaro just because of the Ryan Howard extension and the Jonathan Papelbon contract. As it turns out, the lawsuit has little to do with Amaro's incompetence with a checkbook.Former batting...
News from the far east is in today and it involves a couple of former-Phillies. Remember John Bowker and Scott Mathieson? Bowker, who was arguably one of the worst Phillies in recent memory, along with Mathieson, who found little-to-no success in three years with the Phillies, helped the Yomiuri Giants reach their 22nd Japanese Series title. Bowker, whom the Phillies acquired from...
Well Mets fans, you don't even have to wait for Christmas to unwrap this gift; Jason Bay is no longer a New York Met.  According to the teams official press release: Jason Bay and the New York Mets today announced a negotiated early expiration of his contract. The agreement provides Bay his unconditional free agency while the Mets gain roster flexibility. Terms of the agreement...
Metscentric asks… What is the deal with Brandon Nimmo? Can he hit and by hit I mean hit for average? He strikes out in droves and wasn't even ranked in the top ten prospects of the NY Penn League by Baseball America. Jose Fernandez who was selected right after the Mets took Nimmo is one of the top three prospects in baseball and the minors' top pitching prospect. Baseball America...
Hang Tough: Better days are coming. Mets fans have had a solid month to reflect after another disappointing season in 2012. For some of us, it has been a time to cool off. While many fans may not be happy about the direction of the team–I assure you, things are going to get better. It may not look like it right now, but the Mets do have a bright future. Everyone gets caught up...
Adam Rubin posted some comments from Mets GM Sandy Alderson on his blog at ESPN New York. Alderson seemed to enjoy responding to most of the questions he was asked with plenty of humor and dripping with sarcasm. Honestly, I'm not a big fan of that and I don't see other GMs doing it. I'd prefer a more direct and professional approach from our top executive, especially with the...
1994 PINNACLE MUSEUM COLLECTION JOE ORSULAK If Woody Guthrie were alive in 1994, he would have written songs about Joe Orsulak. Orsulak is the MLB version of the common man. He has a common name, a name that sounds like hard work, a name that is democratic enough to include just about every vowel. (There is, after all, no "i" in Joe Orsulak.) He has a common face, with a thin...
At 11:25 PM last night, Matt Harvey sent out a tweet to his more than 16-thousand followers and the entire world: I think I'm going to move to an island somewhere! — Matt Harvey (@MattHarvey33) November 7, 2012 If you recall, 11:25 PM was around the time that the entire country knew that President Obama was going to win the election and be the president for another four years...
Tweet The revamping of the New York Mets has begun this fall, as the team will be parting ways with high-paid but often injured outfielder Jason Bay, according to Newsday columnist David Lennon: #Mets have negotiated an early separation with Jason Bay. He's now an unrestricted free agent. No joke. — David Lennon (@DPLennon) November [...]
The only way I'd sing any of these guys is if The Price is Right!   Since the offseason just started and free agency is just getting underway today, we figure it would be a good idea to brush up on our alphabet and pick one free agent from every letter of the alphabet that the Mets should at least consider signing at some point this offseason. Do I expect all of these guys to...
Thursday was one of those days where nothing substantial happened, yet there's a lot of talking points, one-liners, and grocery jokes out there. Just your typical Mets off-season day, right?Just the R.A. Dickey news is enough to make your head spin. You've got Ken Rosenthal saying that the Mets are shopping him around. Then you have Sandy Alderson saying that the focus is...
MLB News

Delivered to your inbox

You'll also receive Yardbarker's daily Top 10, featuring the best sports stories from around the web. Customize your newsletter to get articles on your favorite sports and teams. And the best part? It's free!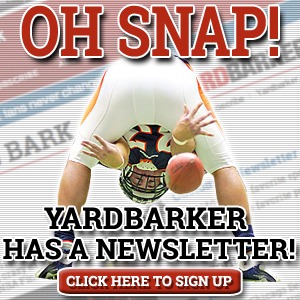 Latest Rumors
Best of Yardbarker

Today's Best Stuff

For Bloggers

Join the Yardbarker Network for more promotion, traffic, and money.

Company Info

Help

What is Yardbarker?

Yardbarker is the largest network of sports blogs and pro athlete blogs on the web. This site is the hub of the Yardbarker Network, where our editors and algorithms curate the best sports content from our network and beyond.