Found April 15, 2013 on Pirates Prospects:
PLAYERS:
Stolmy Pimentel
,
Bill James
,
Mark Melancon
,
Joel Hanrahan
,
Jerry Sands
,
Phil Irwin
,
Brooks Brown
,
Jameson Taillon
,
Kris Johnson
,
Kyle McPherson
,
Brandon Cumpton
,
Ivan De Jesus
TEAMS:
Pittsburgh Pirates
,
Boston Red Sox
Below are the pitching Game Scores* in the Pittsburgh Pirates' farm system from the last week. The top ten and the bottom five starts are broken down below the chart. The rankings include every pitcher who made a start for a Pirates' minor league affiliate, with no limitations on whether the starting pitcher has prospect eligibility. *Game Score is a stat created by Bill James used to determine how good a pitcher's outing really was. The formula for game score is simple: Start with 50 points, add one point for every out recorded, add two for each inning completed after the fourth, add one point for each strikeout. Subtract two points for each hit, four points for each earned run, two points for each unearned run and one point for each walk. There tends to be an advantage for pitchers who can go longer in the game, as they have more time to pile up strikeouts, while getting bonus points for extra innings beyond the fourth frame. The Top Ten Stolmy Pimentel had the best start of the week for the second week in a row. For the second week in a row, Stolmy Pimentel is at the top of this list. In week one, Pimentel threw six shutout innings with four strikeouts for the highest game score. This week's score was slightly lower, despite 6.1 shutout innings and seven strikeouts. That's because he allowed more walks and hits, but still a great amount. It's not surprising to see Pimentel off to such a great start. He looked good in Spring Training, and you could make the argument that the big difference between his numbers last year and his hot start this year is the development of his slider. This is what you want to see out of Pimentel, since he's got one option remaining and will need to be in the majors full-time next year. Between Mark Melancon's start as the set-up man in Pittsburgh, and Pimentel looking like a potential breakout/rebound prospect, plus Joel Hanrahan struggling and injured in Boston, the return on that trade is starting to look really good. That's even when you consider that Jerry Sands and Ivan De Jesus Jr. aren't even hitting in Triple-A. Another thing you want to see is Tyler Glasnow getting off to a hot start. Glasnow had two starts this week, and showed the two different sides to his game. Last Monday he was dominant, putting up the second best game score of the week. In his second start he had horrible control, leading to an early exit. The game score wasn't horrible, since he only allowed one hit and struck out four in 2.2 innings. Glasnow has a ton of potential, but is also getting adjusted to his tall frame which occasionally leads to issues repeating his mechanics. He'll need to avoid that as much as possible to avoid the second start, and be more like the first start from last week. Before he was called up for his major league debut, Phil Irwin had another solid outing for Indianapolis. Irwin threw six innings, allowing one run, and only walking one. That control wasn't there for him in the first two innings of his major league debut, which led to a rough start. Because Irwin was promoted, and because of a double-header and a few other moves that affected the Indianapolis rotation, Brooks Brown got a start on Saturday. Brown pitched about as well as you'd hope for in a situation where the entire Indianapolis pitching staff was depleted. He threw four shutout innings, combining for a seven inning one hitter in game two of the double-header. Andy Oliver added to the strong pitching from Indianapolis this week, throwing five shutout innings in his first start. His second outing didn't do so well, with five runs in 4.1 innings. That outing just missed the bottom five list. You can read about that one in John Fredland's game recap from Sunday. Orlando Castro and Clay Holmes joined Tyler Glasnow as West Virginia pitchers in the top ten. Castro threw four shutout innings, while Holmes threw five. Between the two, Holmes has a much bigger ceiling. Castro is a smaller lefty with great breaking stuff, which usually plays better in the lower levels. It's always good when Jameson Taillon shows up on this list. You'd think Taillon would have been higher due to his ten strikeouts, but he also gave up two runs, five hits, and three walks. It's still a dominant performance, and something you'd want to see from Taillon every time out there. Kris Johnson had another good start, and looks to be carrying over his success from the Dominican Winter Leagues. You can read about Johnson's start, and the Brooks Brown outing, in John Fredland's game recap from Saturday. Tyler Waldron is another guy who had two completely different starts. His start on Sunday rounded out the top ten starts for the week. His start earlier in the week finished around the middle of the pack. Waldron wasn't as split as guys like Glasnow or Oliver. His "bad" start wasn't that much different than his good start. He gave up two additional runs, but the walks and hits were about the same. The Bottom Five Kyle McPherson had one of the lowest scores I've ever seen since doing this feature. That's not saying a lot, since I only did this for about a month last year. After his outing he went on the disabled list. You don't want to see any player get injured, but this is one of those cases where finding an injury is kind of a relief. That explains the horrible start to the year for McPherson, and is a much better alternative to there being no injury and McPherson having a problem that can't be fixed as easily. John Kuchno has a lot of potential as a power reliever, but so far he's struggled as a starter, finishing with the second worst score this week. The Pirates will probably keep him in the rotation for the short-term, just to get him the most innings possible. All of the Bradenton starters struggled this week, which is in big part to the poor defense behind them. Nick Kingham was the only one who finished in the bottom five, getting hit for five runs on seven hits in 4.2 innings. Joely Rodriguez had two rough outings this week. One of them was the seventh worst game score, while the other one finished in the bottom five. Rodriguez had a good debut, and is a promising left-hander, but does struggle with the command of his pitches. Brandon Cumpton rounded out the bottom five, but despite the poor start he was promoted to Indianapolis. That's more a result of the lack of options in Triple-A right now, as opposed to a strong performance from Cumpton. He did have a good season in 2012 with Altoona, so hopefully the first two starts are just a bump in the road.
Original Story:
http://feedproxy.google.com/~r/Pirate...
THE BACKYARD
BEST OF MAXIM
RELATED ARTICLES
Red Sox closer Joel Hanrahan is expected to miss a few days with a sore right hamstring. Hanrahan has struggled in his first season with Boston since being acquired from Pittsburgh. In his last three appearances, he's allowed six earned runs, five hits, four walks and three homers with two strikeouts in 1 2-3 innings. In Saturday's 2-1 win over Tampa Bay in 10 innings he...
MLB News: Tuesday the Boston Red Sox placed relief pitcher Joel Hanrahan on the 15-day disabled list due to a sore right hamstring. The move is retroactive to April 14. Fantasy Ramifications: Hanrahan, who has pitched for the Washington Nationals, Pittsburgh Pirates and Boston Red Sox in his career had a terrific 2011 and 2012 season as the Pirates closer in which he totaled 76 saves...
Joel Hanrahan has been ineffective over his last few outings, and his health might have something to do with it. Hanrahan said Sunday that he's been dealing with right hamstring soreness, and he's now considered "day-to-day." The right-hander apparently suffered the injury on a pitch in his second outing in New York. He has been receiving treatment from the Red Sox' medical...
After not being available all weekend, Joel Hanrahan was placed on the 15-Day Disabled List. John Farrell said that Hanrahan tweaked his hamstring during his second appearance of the season against the New York Yankees. Hanrahan has made six apperances this season, collecting three saves and recording an 11.57 ERA. Andrew Bailey will likely replace him in the closer role. Steven...
Joel Hanrahan is still the closer, but for how long? Red Sox manager John Farrell showed on Saturday that he's not afraid to make a big-time decision when it comes to the late innings, and that means Hanrahan is very much on the hot seat going forward. Farrell turned to Hanrahan in the ninth inning of a tie game on Saturday, but it wasn't long before the skipper had seen enough...
A lot has happened since the last mailbag. The Red Sox experienced their first major hiccups of 2013 when they dropped back-to-back contests to the Orioles. They've since bounced back, though, notching two wins against the Rays – one being a walk-off and the other almost including a no-hitter from Clay Buchholz. Let's not forget Boston's current closer situation, either....
Just one day after being removed from a tie game after allowing two base runners, Joel Hanrahan has been shut down for the time being. Red Sox manager John Farrell said Hanrahan is dealing with right hamstring tightness, according to NESN's Ricky Doyle. Farrell said that Andrew Bailey will close in the mean time. There has been no decision made whether Hanrahan will have to spend...
On Sunday it was revealed that Red Sox closer Joel Hanrahan was suffering from soreness in his right hamstring. Now, a couple days later, it appears that the injury will sideline the 31-year-old flamethrower long enough for the Red Sox to decide to put him on the disabled list. On Tuesday, Peter Gammons reported that Boston sent Hanrahan to the DL, subsequently calling up knuckleballer...
According to Peter Gammons, Joel Hanrahan is going to be placed on the DL, and Steven Wright is going to be called up from Pawtucket to take his place. Hanrahan needs a week for groin pull, so DLd, Steven Wright up. Wright and Jeff Brantley--separated at birth — Peter Gammons (@pgammo) April 16, 2013 We knew that Hanrahan was ailing with sore legs, which made it difficult...
I should start by acknowledging that I'm taking some liberties by saying "week one" since I'm actually looking back over the first 11 games of the season. This review highlights the Curve players who have grabbed my attention at this very early stage of the season. Before diving in, it is PIVOTAL to remember that we are dealing with some super-small sample sizes at this point...
Every morning, we compile the links of the day and dump them here... highlighting the big storyline. Because there's nothing quite as satisfying as a good morning dump. David Ortiz was scheduled to play in his third game for the Pawtucket Red Sox, Sunday, slotted in to hit third for the PawSox. But prior to the game at McCoy Stadium against Rochester, the designated hitter...
11:45 a.m.: The big news coming out Sunday morning is in regards to closer Joel Hanrahan. Hanrahan, who has struggled in his last three outings, is dealing with right hamstring soreness. He apparently tweaked his hamstring on a pitch during his second appearance of the year in New York. Farrell described Hanrahan as "day to day," and the club will look to let the issue settle...
MLB News

Delivered to your inbox

You'll also receive Yardbarker's daily Top 10, featuring the best sports stories from around the web. Customize your newsletter to get articles on your favorite sports and teams. And the best part? It's free!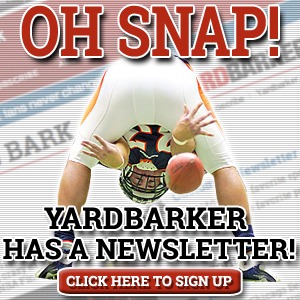 Latest Rumors
The Backyard

Today's Best Stuff

For Bloggers

Join the Yardbarker Network for more promotion, traffic, and money.

Company Info

Help

What is Yardbarker?

Yardbarker is the largest network of sports blogs and pro athlete blogs on the web. This site is the hub of the Yardbarker Network, where our editors and algorithms curate the best sports content from our network and beyond.