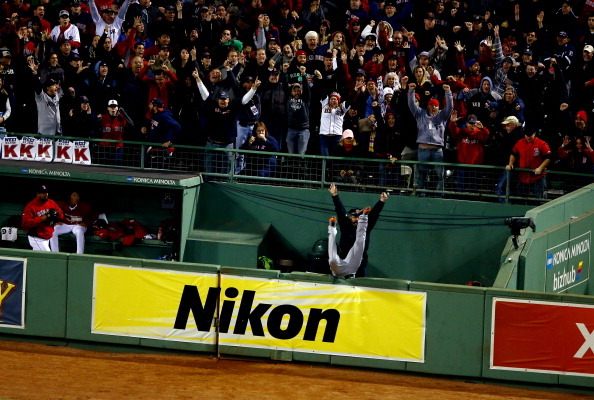 Detroit Tigers outfielder Torii Hunter was visibly distraught following his team's heart-breaking defeat to the Boston Red Sox on Sunday. The Red Sox staged a five-run rally in the final two innings, including receiving a two-out grand slam from veteran slugger David Ortiz, which was nearly caught by Hunter as he tumbled over the wall. After the game, Hunter talked about the unforgettable play: "The one guy you don't want to beat you … and he beat us," an aching Hunter said afterward. "One of the best hitters in postseason history and he hit it out of the park and it ties the game up. They end up coming back and winning the game. I'm (furious)."I was trying my best to just stop that ball from going over the fence. I'd sacrifice my body if I have to. I've done that my whole career. This is postseason. I'd die on the field for this." Hunter was down for several moments as a trainer was summoned to the Red Sox bullpen. He landed awkwardly and had the wind knocked out of him, but he stayed in the game. Despite a long and productive 16-year MLB career, Hunter has never been on a World Series team, and at age 38, his window of opportunity is quickly closing. The Tigers will try to rebound from the devastating loss when they return home to Comerica Park for Game 3 of the series on Tuesday. Via USA TODAY
Read the rest of this story...
MORE FROM YARDBARKER:
Five most anticipated September MLB call-ups
MORE FROM YARDBARKER
MLB News

Delivered to your inbox

You'll also receive Yardbarker's daily Top 10, featuring the best sports stories from around the web. Customize your newsletter to get articles on your favorite sports and teams. And the best part? It's free!