Found December 02, 2012 on hardballchat.com:
PLAYERS:
Chipper Jones
,
Michael Bourn
,
Tommy Hanson
,
Jordan Walden
,
Jair Jurrjens
,
Brian McCann
,
Dan Uggla
,
Paul Janish
,
Andrelton Simmons
,
Martin Prado
,
BJ Upton
,
Jason Heyward
,
Juan Francisco
,
Tyler Pastornicky
TEAMS:
Atlanta Braves
,
Los Angeles Angels
The Atlanta Braves rebounded from their disastrous 2011 finish to claim one of the wild card spots in 2012. Under the new rules they played a one game playoff and went on their way. All things told, it was a successful season for the Braves. The Cardinals did them in again just like they did last year, but the whole exercise of patience (unlike their friends from Boston) worked out well for them. Now, they find themselves in a state of transition. Chipper Jones is retiring and nothing could keep that from happening, but they are also losing Michael Bourn to free agency. Shortly before the Winter Meetings, they dealt former top prospect Tommy Hanson to the Los Angeles Angels for Jordan Walden. The rotation will look different than people expected a few years back with both Hanson and Jair Jurrjens being gone. Baseball is about change.     TRIF Rank Outlook C Brian McCann   +2.5 9th McCann is normally a fixture at the top of the offensive rankings and bottom of the defensive. Go figure. 1B Freddie Freeman   -2.9 22nd Freeman has two consecutive 90+ RBI campaigns, but he is more pedestrian than you think. 2B Dan Uggla   +7.5 5th See Brian McCann. 3B Chipper Jones   -0.3 18th The veteran of many battles is finally calling it quits. Defensively, the Braves are better off. SS Paul Janish   +4.1 12th Janish took over in a pinch when Andrelton Simmons went down. Simmons is a top five defender. LF Martin Prado   +5.5 4th Prado can play any position well, but he likely won't be this good again. CF Michael Bourn   +14.2 1st Bourn is unofficially still here, but with B.J. Upton coming in he is a not so distant memory. RF Jason Heyward   +18.7 1st You win with star power and Heyward looks like he will be one for the next decade. Total     +49.3 1st The Braves hope improvements at short and third will offset the loss of Michael Bourn. Catcher Brian McCann is one of the best offensive catchers in the game. He had a down season with the bat, but an uncharacteristic good season with the glove. All told, winning games is about scoring more runs than the other team. Whether you drive them in or prevent them with your defense makes no difference. The Braves will be a study in that fact this season as there is little way they will lead the league in defensive runs again. Freddie Freeman Freeman is one of those players that kinds of lulls you into a false sense of security. There are numerous players out there that we might call accumulators. They exist in every sport and the danger is in mistaking an accumulator for a star. He might even surpass 100 RBIs this season, but really he is nothing more than an above average performer. Second Base Dan Uggla's season paralleled McCann's season almost directly. He was a top five defensive performer last season when he had never finished in the top 20. Yet, he was a significant disappointment with the bat. All told, he will likely end up on the same all-around TRI level as he had in the past. They really don't need as much pure power from him as they did in the past, but he does need to get back to his OBP days in Miami. Third Base Chipper Jones has been a butcher for most of his career at third base. Juan Francisco has pure power to burn and profiles as a mediocre defensive third baseman. If those trends continue they could end being better off in the long run. Martin Prado can also play third if they can find a corner outfielder to take his slot. Essentially, they have options so they aren't in horrible shape. Shortstop The Braves were a tale of three shortstops this season. They started off with Tyler Pastornicky and he was a disaster defensively. They shifted to Andrelton Simmons and he was a revelation. Even with Paul Janish's numbers, Simmons was better in fewer innings. Yet, the rules are the rules, so they will have to look forward to the improvement next season. Left Field Martin Prado played very well for a converted infielder last season. It was his second full season in the outfield and the familiarity showed. Prado likely will move back to the infield out of necessity at some point. His offensive output is not the normal output for a corner outfielder, so the Braves may eventually either move him to third base or trade him. Center Field There is a saying about high ticket free agents. The general idea is that you can pay them whatever you want but it doesn't change the player. The Braves will pay B.J. Upton 15 million a season for the next five years, but that doesn't make him a 15 million dollar player. Upton is average at best across the board, but the Braves didn't want to pay Bourn his asking price. I can't say I blame them on that front, but they will suffer here just the same. Right Field Jason Heyward is the closest thing the Braves have to a legitimate star and he will need to take the next step for them to stay in the playoff race. His defense is already elite defensively, so he just needs to take the next step offensively. He can hit for power, steal bases, and steal first base. He just needs to do all of those things with more frequency. When someone can do all of those things there is always a good chance that they will.     The post Total Run Index Series: Atlanta Braves appeared first on Hardball Chat Baseball Blog.
Original Story:
http://www.hardballchat.com/2012/12/t...
THE BACKYARD
BEST OF MAXIM
RELATED ARTICLES
Frank Wren calls it his "new hit list." When Wren, the Atlanta Braves' general manager, arrived at the Gaylord Opryland Hotel in Nashville Sunday afternoon, his plan for this week's Winter Meetings was already outlined. There were clear targets on his mind. By the time he and his staff met Monday morning, the hit list was finalized: Atlanta needs a left fielder...
And away we go. — Peter Moylan (@PeterMoylan) November 30, 2012 Peter Moylan has been one of my favorites for such a long time. I know he's had some bad luck with injuries and the Braves have other plans for 2013, but I still can't be objective and say, "it's time to move on." I feel fortunate to have met him a few times and it was a pleasant surprise to...
Jair Jurrjens is a cautionary tale of not expecting success to continue in pro sports.  Jurrjens was an All-Star in 2011 and at some points in the season was thought to have a shot at the National League Cy Young.  In 2012, he struggled, was injured, and eventually sent to the minors.  Now, he is no longer a member of the Atlanta Braves' organization. According to Mark...
When the Atlanta Braves pulled off a deal with the Los Angeles Angels yesterday to send Tommy Hanson west, the deal felt lopsided.  The Braves were getting a relief pitcher who had never developed into anything close to a star.  Hanson, on the other hand, was a top prospect and exceeded expectations once he came up.  The trade seemed to be a loss on the Braves' end, but there...
WINNERS!   If you could have dinner with any Braves player, past or present... who would you choose, why, and please describe the dinner. Note: There is a poll embedded within this post, please visit the site to participate in this post's poll.   Catherine This is my unconventional idea (and you can tell me if it's dumb) but I was going to choose Beachy, of course. For...
MLB News

Delivered to your inbox

You'll also receive Yardbarker's daily Top 10, featuring the best sports stories from around the web. Customize your newsletter to get articles on your favorite sports and teams. And the best part? It's free!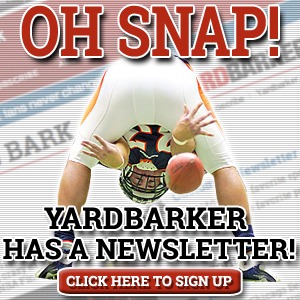 Latest Rumors
Best of Yardbarker

Today's Best Stuff

For Bloggers

Join the Yardbarker Network for more promotion, traffic, and money.

Company Info

Help

What is Yardbarker?

Yardbarker is the largest network of sports blogs and pro athlete blogs on the web. This site is the hub of the Yardbarker Network, where our editors and algorithms curate the best sports content from our network and beyond.