Found June 13, 2013 on Monkey with a Halo:
The Angels are 10 games under .500. They are 11.5 games back in the division and 9.5 games back in the Wild Card race. Baseball Prospectus and Coolstandings.com each give the Angels a roughly 5% to 7% chance of earning a playoff berth. Go ahead and cling to that hope if you want. We here at Monkey with a Halo would be ecstatic if they somehow pulled that off, but we are also realistic. In all likelihood, this team is toast. Come the trade deadline, they are almost certainly to be in a position where they should become sellers. To that end, we are going to continue a series that inadvertently started last week with Howie Kendrick by evaluating each of the potential trade pieces the Angels have. Up next is the one off-season acquisition that Jerry Dipoto got right, Jason Vargas! Out of all the trade pieces the Angels have to deal, and it really isn't that money, Vargas is clearly the most confounding asset. On one hand, he is an impending free agent, which more often than not means he'll be traded. On the other hand, the Halos are not your ordinary basement-dwelling seller. They have designs on contending for a championship next season and desperately need pitching to reach that goal. So do they look to move Vargas, or do they keep him? Part of the reason impending free agents get traded so often is that they are generally available at a discount since they are really just a rental, something Dipoto clearly wasn't aware of when he mortgaged the farm system to acquire two months worth of Zack Greinke, and Jason Vargas is no Zack Greinke. While some might hope for the Halos to get a big return for Vargas, especially given that they swapped a quality hitter like Kendrys Morales for him only a few months ago, the expectation on that front should be tempered. Comparing to the last trade deadline, Texas rented Ryan Dempster, a more impactful but less durable pitcher than Vargas, for the price of two good prospects from the low minors. That is probably as good as the Halos could hope to do even with Vargas pitching so well. Part of the problem with trading Vargas is that his market will be limited due to the justified perception that he is not well-suited for pitching for a team that doesn't have a big pitchers' park. Is that really worth it for the Angels? Two B-/C+ prospects who are years away? That's the question they have to answer because they have other options at their disposal. Obviously the Angels like Vargas otherwise they wouldn't have just traded for him. It is a deal that has definitely worked out well, so it would be smart for the Halos to hold on to Vargas, who is both a local boy and a perfect fit for the ballpark and outfield defense. They could just skip the trade non-sense altogether and engage Vargas in contract extension talks. Or, if they want to see how the free agent market plays out, make Vargas a qualifying offer at the end of the year. $13+ million is a lot for Vargas, but it would be only for one season, and he likely wouldn't accept in hopes of landing a long-term deal. If he were given that qualifying offer though, any team that signed him would have to forfeit their first round pick. No knock on Vargas, but he really isn't worth a first rounder. That all but guarantees that the Angels would have exclusive negotiating rights with Vargas come the off-season, lining them up to get a team-friendly deal with the southpaw. In a roundabout way, the ease with which the Angels can re-sign Vargas actually gives them more leverage in potential trade talks involving Vargas. He may be an impending free agent, but Jerry Dipoto doesn't *have* to trade Vargas so that he doesn't lose him for nothing since the system gives Dipoto the option of not losing him at all if he doesn't want to. With that in mind, Dipoto can essentially set a high reserve price on Vargas, say one B/B- prospect who is near big league ready, or he doesn't trade him. It is a lesser version of what the Brewers did with Zack Greinke last year because they knew they could at least juice a first round pick out of him with a qualifying offer. That's an enviable position for Dipoto to be in. He either gets a trade offer he can't refuse, or he gets to keep Vargas knowing that he has all the leverage in the world when it comes to re-signing him. [follow]
Original Story:
http://www.monkeywithahalo.com/2013-a...
THE BACKYARD
BEST OF MAXIM
RELATED ARTICLES
The Los Angeles Angels placed right-handed reliever Robert Coello on the 15-day disabled list yesterday due to inflammation in his throwing shoulder, according to Mike DiGiovanna of The Los Angeles Times. Coello was nearly unhittable in his first 11 appearances for the Angels, posting an ERA of 0.68 over that span. However, he's been hit hard in his last two outings, getting...
It's been 14 months into recovery from Tommy John surgery and Los Angeles Angels pitcher Ryan Madson has finally reached the point where he is willing to try anything to get back on the baseball diamond — even Human Growth Hormone. "If HGH were legal, just in the process of healing, under a doctor's recommendation, in the right dosage, while you're on...
Angels' starting pitcher Joe Blanton (1-10) will miss his next start which was scheduled this weekend versus the New York Yankees. The nine-year veteran has a 5.87 ERA through his first 13 starts in an Angels' uniform. According to the LA Times, Mike Scioscia did not specify how long Blanton's hiatus will be, but did say that he will "push him back a couple...
It's understandable that Los Angeles Angels reliever Ryan Madson would look to any method possible to get back on the field.  He is far-removed from Tommy John surgery - 14 months now - but is still struggling with elbow issues, and he has yet to pitch this season.  In fact, Madson has not pitched since 2011.  So when asked, Madson says he thinks if HGH were legal, it could...
By David Saltzer, AngelsWin.com Senior Writer -  Chuck Richter started a thread on www.AngelsWin.com about why he's still watching Angels games this year. In his opinion, it's about watching individual players: Bourjos stealing a homerun; watching Trout develop; Trumbo launching a bomb; Weaver possibly throwing another no-hitter; Kendrick competing for a batting title, etc...
The June 12th, 2013 edition of daily news for the Los Angeles Angels including Sean Burnett out at least a month, Robert Coello placed on the DL, Dane De La Rosa recalled and much more... The Story: Sean Burnett's exam found no new damage, but he won't touch a baseball for at least a month. The Monkey Says: So there is no surgery, but there is also no real idea of...
ANAHEIM, Calif. (AP) -- C.J. Wilson outdid Andy Pettitte with seven effective innings, Albert Pujols and Mark Trumbo each had three hits and Chris Iannetta singled home the go-ahead run, leading the Los Angeles Angels to a 5-2 victory over the New York Yankees on Friday night. Wilson (5-5) allowed two runs and five hits, struck out four and walked three while winning for only the...
 By Greg Bird, AngelsWin.com Staff Writer -  Let me start the train of articles pointing the finger at who's to blame for this Halo mess. The season looks bleak and long at this point. Everything seems to be going wrong and I mean everything. The question is could the Angels have done things differently and changed their fortunes? I want to look back at the offseason pitching...
The Angels continue to confound with their winless ways. They pitched well, they played remarkable, stunning, jaw-dropping defense, and still couldn't defeat the Baltimore Orioles. Starter Jason Vargas pitched as well as he could've. Peter Bourjos, fresh off the DL, showed just why he is in centerfield instead of Mike Trout, robbing JJ Hardy (the same guy Trout robbed last...
The June 14th, 2013 edition of daily news for the Los Angeles Angels including Angels tried to draft Tebow, sign a top draft pick and much more... The Story: Former scout Tom Kotchman recalls the time the Angels tried to draft Tim Tebow. The Monkey Says: Drafting football players was an old trick the Eddie Bane regime loved for some reason. Let's just be thankful that...
Coming off another series loss (this time to the Orioles), the Angels find themselves still 10 games under .500 (28-38). The Yankees (37-29) come to Anaheim  who find themselves in third place in the AL East and on a three game losing skid courtesy of the Oakland Athletics.  The Angels desperately need wins – but so do the Yankees. The pitching matchups are as follows: Friday...
Andy Pettitte (5-3, 3.82 ERA) kicks off the three game series with the Angels and squares off against CJ Wilson (4-5, 4.02 ERA). Pettitte got his 250th career win in his last start, holding the Mariners to a run on three hits over 7 1/3 innings. He is 14-11 with a 4.49 ERA in 31 career starts against the Angels. In Wilson's last start against Boston, he gave up only four runs...
MLB News

Delivered to your inbox

You'll also receive Yardbarker's daily Top 10, featuring the best sports stories from around the web. Customize your newsletter to get articles on your favorite sports and teams. And the best part? It's free!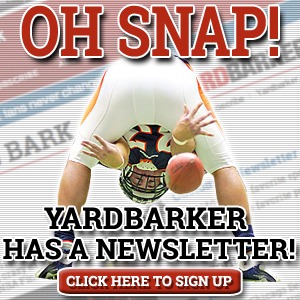 Latest Rumors
Best of Yardbarker

Today's Best Stuff

For Bloggers

Join the Yardbarker Network for more promotion, traffic, and money.

Company Info

Help

What is Yardbarker?

Yardbarker is the largest network of sports blogs and pro athlete blogs on the web. This site is the hub of the Yardbarker Network, where our editors and algorithms curate the best sports content from our network and beyond.