Found July 27, 2012 on Plaschke, Thy Sweater Is Argyle:
I completed yet another trade with my fellow Greg - Night Owl - from Night Owl Cards. It's our sixth deal, and you can check out the first here, second here, third here, fourth here, and fifth here. Greg sent along a few nice PC additions in exchange for a food-related Dodger. First up, a sweet Tulo relic that will fit nicely in my Long Beach State PC.I'm always excited to pick up a nice Dirtbags' hit. Night Owl added a couple of Claytons to my Kid K PC as well. The far right is the Walmart black retail parallel, I do believe, and the middle is the platinum anniversary parallel. Or not, I have no idea. I already picked up the Archives sticker, but have yet to post it, so Greg's will be the one that gets the designation of adding another card to my Kershaw Collection. Though that future sticker post certainly doesn't hinge on the sticker as the main draw....(hint hint, tease tease).And finally, a pair of nice new Russ Martins, one of which I would have never known...
Original Story:
http://plaschkethysweaterisargyle.blo...
THE BACKYARD
BEST OF MAXIM
RELATED ARTICLES
The Yankees come back after a big night at the plate and look to take the second game of the series with the Red Sox.  CC Sabathia takes the mound looking for his 11th win of the year and to further bury the Red Sox in the basement of the AL East.  Jon Lester, taking the mound for the Red Sox,  has not been himself in 2012 with a 5-8 record and a 5.46 ERA.  To make matters worse...
NEW YORK -- He was once considered Mariano Rivera's heir apparent. When the Yankees drafted Mark Melancon in the ninth round of the 2006 MLB draft, they were grooming him to be the closer of the future. A standout at Arizona, Melancon had the credentials, boasting a formidable fastball and curveball. But the organization's vision didn't come to fruition in 2009 and 2010...
YANKEES Derek Jeter SS Curtis Granderson CF Mark Teixeira 1B Robinson Cano 2B Andruw Jones LF Jayson Nix 3B Russell Martin DH Ichiro Suzuki RF Chris Stewart C CC Sabathia LHP RED SOX Jacoby Ellsbury CF Pedro Ciriaco DH Dustin Pedroia 2B Adrian Gonzalez 1B Cody Ross RF Will Middlebrooks 3B Kelly Shoppach C Mike Aviles SS Daniel Nava LF Jon Lester LHP
<a href="http://bronxpinstripes.com/wp-content/plugins/wordpress-feed-statistics/feed-statistics.php?url=aHR0cDovL2Jyb254cGluc3RyaXBlcy5jb20vbnl5L3Nlcmllcy1wcmV2aWV3LXJlZC1zb3gteWFua2Vlcy9hdHRhY2htZW50L2h1Z2hlcy10aHJvd2luZy0yLw==" rel=\"attachment wp-att-9895\">Phil Hughes kicks off this weekends rivalry action by getting the start in game one tonight in...
Ichiro Suzuki has 460 career at-bats against the Red Sox. His next at-bat against the Sox, however, will be something entirely different than the 460 previous. The outfielder was acquired by the Yankees earlier this week, and he'll get his first taste of the Red Sox-Yankees rivalry on Friday night when Boston makes its first trip to New York this season for what will also be...
Old Detective Fish (Andy Pettitte) will be there. Crazy Latka (Pedro Feliciano) will return, along with Rev. Jim Ignatowski (Swish). The once-precocious kids - now grown and with children of their own - (Joba, Cervelli) - will get big rounds of applause from the studio audience. Thurston Howell III (Arod) will bounce in, with a new Ginger (Jack Cust) and Mary Ann (Russell Branyan...
Some possibilities...Ichiro Suzuki, Ice Age: Continental DriftBrian Cashman, Abraham Lincoln: Vampire HunterRobinson Cano, Rock of AgesJoba Chamberlain, That's My BoyAlex Rodriguez, Safety Not GuaranteedJoe Girardi, PrometheusRaphael Soriano, The Dark Knight RisesJohn Sterling, Magic Mike Suzyn Waldman, Snow White and the Huntsman
Editor's note: The temperature gauge is a Bill James-created statistic that measures how hot or cold hitters are. We will spotlight Red Sox and opposing team temperatures on game days. The Red Sox are set for an up-close lesson on how to build a hot streak as they head into New York on Friday night for a series against the Yankees. The Yankees, at 59-39, are tied with the Nationals...
Curtis Granderson misplayed Peter Ciriaco's ninth-inning flyball into a go-ahead triple, and the Boston Red Sox beat the New York Yankees 8-6 Saturday night after Mark Teixeira had tied the score with a two-run homer off nemesis Vicente Padilla. Down 6-1, the Yankees closed in the fifth on Jayson Nix's two-run homer off Jon Lester and Derek Jeter's RBI grounder. After...
With one out in the bottom of the sixth inning at Yankee Stadium, Robinson Cano took a called third strike, and thus that baseball might be on the plane back to Boston with Jon Lester. Cano's strikeout was the 1,000th of Lester's career. He becomes the second Red Sox lefty to record 1,000 strikeouts. Lester is now only 46 K's away from tying fellow southpaw Bruce Hurst...
Time: 4:05 PM ET TV/Radio: FOX / WEEI Red Sox (49-51) Ellsbury CF Ciriaco DH Pedroia 2B Gonzalez 1B Ross RF Middlebrooks 3B Shoppach C Aviles SS Nava LF Pitching: LHP Jon Lester (5-8, 5.46) Yankees (60-39) Jeter SS Granderson CF Teixeira 1B Cano 2B Jones LF Nix 3B Martin DH Suzuki RF Stewart C Pitching: LHP CC Sabathia (10-3, 3.30)
Yankees News

Delivered to your inbox

You'll also receive Yardbarker's daily Top 10, featuring the best sports stories from around the web. Customize your newsletter to get articles on your favorite sports and teams. And the best part? It's free!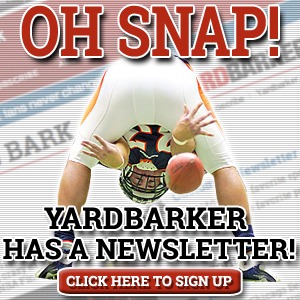 Latest Rumors
Best of Yardbarker

Today's Best Stuff

For Bloggers

Join the Yardbarker Network for more promotion, traffic, and money.

Company Info

Help

What is Yardbarker?

Yardbarker is the largest network of sports blogs and pro athlete blogs on the web. This site is the hub of the Yardbarker Network, where our editors and algorithms curate the best sports content from our network and beyond.