There has been plenty of discussion with regard to what the Mets should do with top catching prospect Travis d'Arnaud. Should he start the season with Triple-A Las Vegas, or should he start in the Big Leagues? Despite impressing everyone in camp through his ability to work with the pitching staff to go along with his .345/.412/.483, MetsBlog reported the backstop will still be starting the season in the minors. If that's the case, why is he still in Big League camp? d'Arnaud didn't get demoted to Minor League camp yet because New York wants him to spend as much time as he can working with the Big League pitching staff, since he'll likely be catching them at some point this season. I like this strategy, and Marc Carig says this will benefit his development, as it will hopefully help him adjust to the Big Leagues a little easier once the time comes. However, Mike Puma of the NY Post reminds us of the risk in keeping d'Arnaud in Big League camp, as he's now eligible to start the season on the MLB disabled list if he gets injured, which would force him to begin logging Major League service time. Obviously, Mets executives feel that the pros of keeping d'Arnaud in camp outweigh the cons, and I agree. It's important for him to continue building relationships with the pitchers that are expected to head north once camp breaks, and Matt Harvey is already singing his praises as a receiver, which is another good sign. It looks as though the prized possession in the R.A. Dickey trade from this past winter is ready for Major League action right now. So, why not just bring him north and let him play? New York is able to gain an extra year of team control if d'Arnaud spends the start of the season in the minors (same with Zack Wheeler), which surely is part of the decision, but I think him starting the season in Las Vegas has a lot to do with John Buck. There's no debate about the readiness of d'Arnaud, but what is the value of having Buck begin the season as New York's starting catcher? It will allow him to build some trade value if Sandy Alderson wants to use him as a bargaining chip in July. By the time the non-waiver trade deadline comes around, d'Arnaud will probably already be starting games for the Mets (or close to it), and the organization must make the decision as to whether or not they would want to hold onto Buck for the second half of 2013. Fiscally speaking, it may seem silly to hold onto a backup catcher with a $6 million salary, but if the organization deems that as a useful investment because of his veteran influence on their young prospect, then it's totally worth it. However, whichever backup catcher breaks camp with the Mets (my money is on Anthony Recker and his .444/.474/.722 triple slash) will also be important in what happens with Buck. If Recker shows he's capable of being the understudy, Buck may become expendable for teams in need of some power from behind the plate during a pennant race. The only way for Buck to show his trade value is by playing regularly, and erasing the memories of last season with the Miami Marlins, where he hit .192/.297/.347 with 12 homers and 41 RBI in 343 ABs. Is he a better hitter than that? I think so, but he'll have to prove it for Alderson to use him as a trade chip, if he desires to. However, if Buck struggles over the first month or two of the season, this point could be moot. There has been some criticism coming at the Mets for starting d'Arnaud in Triple-A to get an extra year of team control, but if he's as good as everyone thinks he is, you would hope New York would try to lock him up for the long-term before he's on the brink of free agency. So, I believe starting d'Arnaud in Vegas next month is a little bit about his contract status, but it has more to do with making absolutely sure he's ready for the Show, while also seeing what kind of value they have in both John Buck and Anthony Recker. Thanks for reading! To Follow Matt's posts at On The Way Home and Rising Apple, you can follow him on Twitter: @mmusico8. If you'd like to join On The Way Home as a staff writer, you can contact Matt at matt.musico8@gmail.com. The post Travis d'Arnaud Should Start Season With Triple-A Las Vegas appeared first on On The Way Home.
Original Story:
http://feedproxy.google.com/~r/wordpr...
MORE FROM YARDBARKER
MLB News

Delivered to your inbox

You'll also receive Yardbarker's daily Top 10, featuring the best sports stories from around the web. Customize your newsletter to get articles on your favorite sports and teams. And the best part? It's free!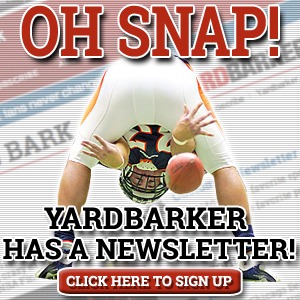 Latest Rumors
Best of Yardbarker

Today's Best Stuff

For Bloggers

Join the Yardbarker Network for more promotion, traffic, and money.

Company Info

Help

What is Yardbarker?

Yardbarker is the largest network of sports blogs and pro athlete blogs on the web. This site is the hub of the Yardbarker Network, where our editors and algorithms curate the best sports content from our network and beyond.