Found February 01, 2013 on New York Sports-Kings:
So is anyone sick of talking about Alex Rodriguez yet? Since the answer to that question is probably yes, here is some more Yankee news that should interest fans.  On Thursday, the Yankees and former Cleveland Indian Travis Hafner agreed to a one year deal worth about $2 million which could turn to $4 million based on plate appearances.  Hafner is expected to fill the role that Raul Ibanez took a stranglehold over last year. If that's the case, prepare for Hafner to hit a couple of huge homeruns late in the year. Hafner is not the player that he used to, but that is not why the Yankees signed him.  The 35-year old will be a lefty bat off of the bench that will start as the DH from time to time.  If he can stay healthy (which has been a problem over the years) he will grow to love the short right field porch in Yankee Stadium. One thing is for sure; Hafner will be brought in for his pop.  At 6'3" and 240 pounds, Hafner will not be asked to play too much in the field but may occasionally relieve Mark Texiera at first.  During the peak of his career (2004-2007), Hafner hit a total of 127 homeruns including a career high 42 in 2005. Hafner's production declined after he signed a four year, $57 million contract extension during the 2007 season.  From 2008-2012, he only played in only 429 games out of a possible 810.  During those years his batting average was only .251 which was 47 points lower than his average during the 2004-2007 seasons. But this is not the first time the Yankees have taken a guy who was presumably "done" and resurrected his career.  Just look back at the last few seasons.  Eric Chavez, Andruw Jones and Ibanez all came to the Yankees after other teams gave up on them and all three were productive members of the team. Chavez and Ibanez used their time with the Yankees to get deals with other teams this year (the Diamondbacks and the Mariners respectively. Even in this role, Hafner's production should go up this year with the Yankees.  Besides playing in Yankee Stadium, the Yankees still possess a lineup with a lot of big bats throughout.  There will be no pressure for Hafner to produce everyday and that will be a benefit for him. Unfortunately for the Yankees, Hafner is not going to be a guy that is going to lead this team to the playoffs.  The Yankees have been quiet this off-season which is different from their standard high spending, but A-Rod's contract is making the Yankees change their philosophy.  Besides signing Kevin Youkilis to play third this year while Rodriguez is out, getting Hafner has been their only other significant signing. He may not be a game-changer, but Hafner should fill this role perfectly.  Instead of batting third or fourth, he will now be towards the bottom to the lineup when he is in.  He can't be expected to be the MVP of the 2013 season, but expect Hafner to be the latest guy to resurrect his career in pinstripes. Follow us on Twitter – @NYSportskings Contributor – Dave Ragazzo – @Dragazzo_Sports The post Travis Hafner Will Be the Latest Vet to Revive Career With The Yankees appeared first on New York Sports Kings.
Original Story:
http://nysportskings.com/travis-hafne...
THE BACKYARD
BEST OF MAXIM
RELATED ARTICLES
Travis Hafner's one-year deal with the New York Yankees is worth a reported $2 million upfront and an additional $4 million in incentives, the Cleveland Plain Dealer reported. The Yankees and Hafner are close to finalizing a contract, according to multiple reports. Hafner is expected to become the Yankees' designated hitter in 2013. Hafner struggled to stay healthy during...
The Yankees are speaking with the agent for free agent Travis Hafner and may try to sign the 35-year-old to compete for time as a left-handed designated hitter. Hafner spent the past decade with Cleveland and hit .228 with 12 homers and 34 RBIs last year. He would take over a role filled last year by Raul Ibanez, who left the Yankees to sign with Seattle. Because of knee and back...
Supposedly, the Yankees are on the verge of signing Travis "Pronk" Hafner - the former Cleveland DH who Miguel Cabreraed us once, long long ago, in a galaxy far far away -- a strikeout/home run guy who hasn't done Steve Whitaker in the last two years.And you thought we learned from Andruw Jones? (Insert sigh here.)Listen: I have no truck with Brian Cashman jiggling...
When New York Yankee slugger Alex Rodriguez used to make the headlines years ago it was typically for some amazing feat he pulled off on the ball diamond. However, times have certainly changed and most of his headline stories these days portray him in a negative light. The latest news regarding A-Rod certainly isn't good for him since he's been accused of being involved in a...
According to a report by Bill Madden, Christian Red and Teri Thompson of the New York Daily News, Alex Rodriguez's Yankees career could be over. Alex Rodriguez is unlikely to ever wear the pinstripes again, sources familiar with the Yankees' situation with their troubled third baseman told the Daily News, no matter what happens regarding new allegations that he is again involved...
There has been speculation that the New York Yankees will attempt to void third baseman Alex Rodriguez's remaining contract due to use of performance-enhancing drugs and his hip injury. However, the team knows there is little chance of voiding Rodriguez's contract, an act termed "unrealistic" by David Waldstein of The New York Times. The Yankees can dream of getting...
From the NY Daily News:Alex Rodriguez is unlikely to ever wear the pinstripes again, sources familiar with the Yankees' situation with their troubled third baseman told the Daily News, no matter what happens regarding new allegations that he is again involved with performance-enhancing drugs. According to numerous baseball sources, the hip surgery Rodriguez is now recovering...
Yankees fans — and high-ranking members of the organization — were no doubt thrilled with the unfolding of events in recent days, as the perfect storm appeared to coalesce around Alex Rodriguez and create a way for the Yankees to ditch his contract. But not so fast. For the Yankees to cut Rodriguez loose, they need his recent hip surgery to turn into a very long recovery (or...
A bombshell investigative report from a Miami newspaper has accused New York Yankees third baseman Alex Rodriguez of using performance-enhancing drugs as recently as last season, leading to questions about his immediate future and his lasting legacy. "The news report about a purported relationship between Alex Rodriguez and Anthony Bosch are not true," Rodriguez's...
Alex Rodriguez is denying allegations that he received performance-enhancing drugs from Anthony Bosch's Biogenesis company, but the evidence against him is mounting. On Tuesday, the Miami New Times reported that A-Rod was one of many MLB players who ordered performance-enhancing drugs (in many cases testosterone) from the now-defunct Biogenesis company. Their report was based on...
The man Major League Baseball and Drug Enforcement Administration agents have accused of peddling performance-enhancing drugs — and have linked to New York Yankees star Alex Rodriguez — is a native New Yorker and lifelong Mets fan. Anthony Bosch — who is suspected of supplying the PEDs to A-Rod and as many as 20 professional athletes — grew up in Queens before he moved to...
A Miami anti-aging clinic's list is linked to several MLB players and is accusing 3-time MVP Alex Rodriguez, Gio Gonzalez, 2012 All Star Game MVP Melky Cabrera, Nelson Cruz, Bartolo Colon and Yasmani Grandal of purchasing performance enhancing drugs in 2011 and 2012. The Miami New Times has released the list after a three month investigation. The list was given to them by an...
MLB News

Delivered to your inbox

You'll also receive Yardbarker's daily Top 10, featuring the best sports stories from around the web. Customize your newsletter to get articles on your favorite sports and teams. And the best part? It's free!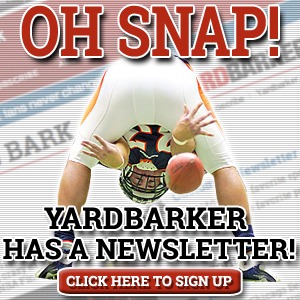 Latest Rumors
Best of Yardbarker

Today's Best Stuff

For Bloggers

Join the Yardbarker Network for more promotion, traffic, and money.

Company Info

Help

What is Yardbarker?

Yardbarker is the largest network of sports blogs and pro athlete blogs on the web. This site is the hub of the Yardbarker Network, where our editors and algorithms curate the best sports content from our network and beyond.