Found May 01, 2013 on Fox Sports Ohio:
By Tony LastoriaFOX Sports Ohio Tonight the Indians face an old friend.Five years ago, lefty Cliff Lee was enjoying a career season with the Indians and broke through as one of the games best pitchers when he won the 2008 American League Cy Young award. But less than a year after winning the award ,the Indians traded him to the Philadelphia Phillies for a package of four prospects that the Indians were hopeful would be part of their core a few years down the road.Lee was traded twice more to the Mariners and Rangers, but has since settled back in with the Phillies after agreeing to a five year 120 million contract during free agency in December of 2010. He is 2-1 with a 3.03 ERA in five starts this season and since the trade has continued to live up to his billing as one of the best starting pitchers in the game.The Indians received right-handed pitchers Carlos Carrasco and Jason Knapp, catcher Lou Marson and infielder Jason Donald in the deal, and to date the Indians have very little to show for it.Carrasco has combined flashes of brilliance with moments of immaturity on the mound and been an inconsistent and unreliable starting pitcher to date. He has all of the talent and ability to be a frontline starter, but has yet to put it all together because of a lack of mental toughness and some tough luck with injuries.Knapp was considered the gem in the deal. The Indians were very excited to pick him up, but a bicep tendonitis issue he had at the time of the trade turned out to be something much more serious as he required offseason shoulder surgery. The shoulder issue did not go away and it required a second surgery in June of 2011, and after the prospects of a third shoulder operation came to the forefront last season the Indians eventually cut ties with him and released him. He pitched in just 13 games with the Indians over four seasons and has since retired and is out of baseball.Donald struggled both defensively and offensively for the Indians as a utility player off the bench from 2010-2012. He was included in the three-team trade between the Diamondbacks, Indians and Reds this past offseason that centered around Shin-Soo Choo and Trevor Bauer. He was sent to Cincinnati, but was removed from the Major League roster this spring and is now playing with their Triple-A affiliate in Louisville.Marson is the only player that has consistently played in Cleveland since the trade, mostly serving as the backup catcher to Carlos Santana the last four years. He has filled his backup role well as a defensive-minded catcher, but has offered very little in the form of offense, and probably will no longer be a part of the organization after this season due to his limited production, increasing cost, and the presence of Yan Gomes.The judges scorecard from the trade looks something like this: one damaged goods young, phenom pitcher who is out of baseball, a 4A middle infielder, a second level Major League backup catcher, and a talented, inconsistent Major League starter that has problems controlling his emotions as well as an injury history.Thats not the kind of return that should be expected for a starting pitcher enjoying a good season, coming off a Cy Young season the year before, and with over a full year of club control.In fairness, at the time of the trade, clubs were still wary of Lees sudden turnaround after his disastrous 2007 campaign when he went 5-8 with a 6.29 ERA and was banished to the minors late in the season. This hurt the Indians some as there were too many skeptics and not enough suitors. Without competition to drive up the price, they fell short in their quest for a much stronger package.The front office may have also had their hands tied and were forced to take the best possible deal after ownerships sudden edict that payroll had to be cleared, which included trades of Lee and catcher Victor Martinez even though they were both over a year away from free agency.Whatever the reasons, the Indians fell well short in the trade of Lee as the players acquired in the deal should be core players of the Indians today. As a smaller market team, they cannot afford to dole out 120 million contracts to any player, but they also cannot afford to swing and miss when they trade them.
Original Story:
http://www.foxsportsohio.com/mlb/clev...
THE BACKYARD
BEST OF MAXIM
RELATED ARTICLES
There are only a few elite aces in the majors like Cliff Lee of the Philadelphia Phillies. What other divisional hurlers are in that group? TAL'S HANDY STATS WELCOME, NEWCOMERS: I will publish the 2013 ERA for both the NL East and the MLB 5 periodically. The number of games played by the Phillies is in the headline at the end. If you're interested in checking out something...
Photo: Philliedelphia/Lindsey Crew Yesterday was completely disgusting. Losing 14-2 just about explains itself. The Phillies' pitching got creamed and their offense was unable to come remotely close. The Indians are hot right now. They've scored 33 runs in their last three games and desimated Roy Halladay last night. Tonight the...
Philadelphia Phillies (12-15) vs Cleveland Indians (11-13) LHP Cliff Lee (2-1, 3.03 ERA) v. RHP Trevor Bauer (0-1, 5.40 ERA) TIME: 7:05, Progressive Field TV: Comcast SportsNet Weather: 62, clear Media: Twitter and Facebook Behind Cliff Lee, the Phillies will look for redemption on Wednesday after being embarrassed by the Indians last night to the tune of a 14-2 score.  The Indians...
Laynce Nix makes a great leaping catch at the wall in the fourth inning of the Phillies' 6-0 loss to the Indians. There was only one major-league team Cliff Lee had never faced in his career. It was the Cleveland Indians, the first team Lee played for in his career....
CLEVELAND (AP) -- Ryan Raburn tied a career high with four hits, Trevor Bauer allowed one hit in five strong innings for his first American League win, and the Cleveland Indians beat the Philadelphia Phillies 6-0 on Wednesday night. Raburn, coming off back-to-back two-homer games, drove in two runs with a single in the third and a double in the fifth. He has 12 hits in his last 14...
One of the best things about really getting into the regular season is that we're starting to get some meaningful data. One of the best things about getting meaningful data is that it's accompanied by a lot of meaningless data. True insight can be gleaned from the former, but fun? You can have fun with both. Let's talk about pitchers stealing bases. A year ago, pitchers combined...
  Philadelphia Phillies (12-14) at Cleveland Indians (?-?)  Series 9, Games 24 and 25 Progressive Field, Cleveland: 1.061, Hitters park Series Overview Heading into this season, the Phillies are caught in an in-between state and like the Indians, should rebuild in my opinion. No matter what happened last year, the presence of Hamels, Halladay and Lee makes them...
Philadelphia Phillies (12-14) @ Cleveland Indians (10-13)Pitching Match-Ups:Tuesday - Doc Halladay vs. Zach "Not Kevin" McAllisterWednesday - Cliff Lee vs. Trevor "Not Jack" Bauer*Each are a 7:05 game time.Offensive Native American Named Team Offense:R - 106 (14th)AVG - .257 (9th)OPS - .764 (3rd)Carlos Santana/C, Mark Reynolds/DH/1B, Nick Swisher/OF, and Michael...
Jack Moore is likely the funniest person you have never heard of. Jack is the Senior Sports Editor at BuzzFeed – a fast-paced, humor-driven, best-in-class conglomeration of content matched by few sites right now. He is also one of the two persons behind Modern Seinfeld, the Twitter account that puts the Gang of Four in modern scenarios in 160 characters or less. Modern Seinfeld...
MLB News

Delivered to your inbox

You'll also receive Yardbarker's daily Top 10, featuring the best sports stories from around the web. Customize your newsletter to get articles on your favorite sports and teams. And the best part? It's free!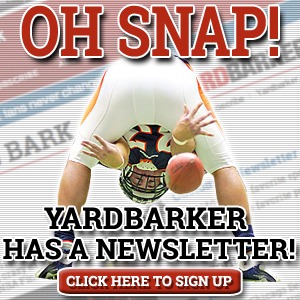 Latest Rumors
The Backyard

Today's Best Stuff

For Bloggers

Join the Yardbarker Network for more promotion, traffic, and money.

Company Info

Help

What is Yardbarker?

Yardbarker is the largest network of sports blogs and pro athlete blogs on the web. This site is the hub of the Yardbarker Network, where our editors and algorithms curate the best sports content from our network and beyond.