Found April 12, 2012 on Fox Sports North:
MINNEAPOLIS When the Minnesota Twins took the field Wednesday, they were the only team in Major League Baseball without a win. After a 6-5 victory over the visiting Los Angeles Angels, the Twins were able to breathe a sigh of relief. Minnesota snapped its four-game losing streak with its first win of the year Wednesday, a come-from-behind victory against Jared Weaver and the Angels. When Matt Capps closed out the win with first save of the season, the Twins had a reason to celebrate. After the game, thumping bass from a hip hop beat emanated from Minnesota's clubhouse. It's a sound reserved only for victories which means it was a sound not heard much around these parts in recent memory. As Twins fans surely haven't forgotten, this team is coming off a 99-loss season, the second-worst loss total in team history. And when Minnesota opened the year with an 0-4 mark after a sweep by Baltimore and a series-opening loss to the Angels on Monday, fans panicked. A sense of "here we go again rang across Twins Territory. "You want to do well. I know these guys really want to move past last year, said shortstop Jamey Carroll, who played a key role in Wednesday's win. "You start off 0-4 and it trickles back in as far as getting asked about it and you hear about it. I think guys didn't want to have that kind of start. It was good to come off the off day and get a win. Perhaps the Twins' four-game skid was magnified by the fact that it came at the beginning of the season. Adding to that was the factor of last year's loss total. A four-game losing streak in July might not have elicited the same knee-jerk reactions, but one in early April certainly does. "It's nice to get a win," Twins manager Ron Gardenhire said. "They say in the middle (of the season) you wouldn't even pay attention to it. We pay attention to losing streaks no matter when you're playing them. But to start a season and scuffle early, we're playing too many good teams right now to get too deep into a hole. Use whichever clich you prefer. The Twins got the proverbial monkey off their backs; Minnesota now has its first win under its belt. Whichever way you want to slice it, the Minnesota Twins are no longer winless. Only two other Twins teams had started the season 0-4. Minnesota did so back in 1969 and 1981. Neither of those teams went 0-5, however, as both went on to win their fifth games of their respective seasons. In fact, the 1969 Twins reeled off seven wins after that 0-4 start and went on to win 97 games that season to advance to the postseason. With Wednesday's win, the 2012 Twins avoided being the first team in franchise history to start 0-5. It might be just one win, but Minnesota's players no longer have to answer questions about their early-season losing streak. "Any time you win, you can just try and come out and get the next one tomorrow, said outfielder Josh Willingham, whose two-run homer gave the Twins' offense a lift. "We'll try and win the series tomorrow. It's good to get that first one under our belt. One down, plenty more games to go. But Wednesday's victory showed what the Twins players had preached even during their four-game losing streak: the offense is capable of scoring runs. Wednesday's six runs matched what Minnesota had scored in its previous four games combined. The nine hits were a season high. The Twins scored the second-fewest runs (619) in the American League last season. Their team batting average of .247 in 2011 was good for 13th in the AL. Prior to Wednesday, Minnesota's hitters hadn't done much to reverse those trends. But with seven different players getting hits Wednesday and six different players scoring runs, the Twins showed that perhaps their offense won't be as anemic as it was during its 0-4 start. "These guys are going to score runs, said Carl Pavano, Wednesday's starting pitcher. "You saw tonight. The second and third time through the order, they started figuring him out and started making better swings and started scoring runs, which is great. You want to see that. As we get comfortable as a team, it's going to come a lot quicker. It's fun to watch. Follow Tyler Mason on Twitter.
Original Story:
http://www.foxsportsnorth.com/04/12/1...
THE BACKYARD
BEST OF MAXIM
RELATED ARTICLES
MINNEAPOLIS Twins right-hander Liam Hendriks said he was "bummed out" when he learned that teammate Scott Baker would miss the 2012 season due to elbow surgery. But Hendriks also realizes the potential ramifications Baker's injury might have for him personally. With Baker sidelined for the year, Minnesota will need to find another starting pitcher to fill his spot...
MINNEAPOLIS At least for one day, the M&M Boys are back.Joe Mauer and Justin Morneau, two former American League MVPs, have been marred in recent years by various injuries. Last season, the duo combined to play just 151 games for the Minnesota Twins. With neither able to stay healthy or effective, the Twins lost 99 games in 2011.But with two swings of the bat Thursday at Target...
MINNEAPOLIS Justin Morneau is a first baseman. During his 10-year big league career, he hasn't set foot at any other spot on the field. But still recovering from numerous offseason surgeries (wrist, knee, foot) as well as a concussion, Morneau has yet to play a game at first base this season for the Minnesota Twins. Instead, the left-handed Morneau has been relegated to the...
Since opening two years ago, Target Field has been a house of misery for the Texas Rangers. While they appear to have the right man taking the mound to pick up a rare win there, their offense may be the bigger concern in Minnesota. Scheduled starter Matt Harrison tries to lead the Rangers to their second victory at Target Field in Friday night's series opener against the Twins...
Minnesota Twins right-handed pitcher Scott Baker will have to undergo season-ending elbow surgery. Baker, who had to leave a minor league rehab start last week, will go under the knife to repair the flexor pronator tendon in his right elbow. The team's opening day starter in 2011, Baker has missed time in each of the last two seasons because of the same injury. Recovery...
I know that the baseball season is a marathon, not a sprint. But already in the early stages of the season there is cause for concern if you are a Minnesota Twins fan, like me. Coming off a 99-loss season in 2011, Twins management did almost nothing to improve an offense that was near the bottom in runs scored or a bullpen that was absolutely God-awful. They added Jason Marquis...
The Twins rallied for wins in back-to-back games against the Angels. It was fun to watch their bats come alive. It also was a reminder that the Twins are likely to fall behind in many games this season. Minnesota already has lost Scott Baker for the season with an elbow issue, and what's left of the starting rotation isn't exactly filled with aces. It could be another difficult...
Justin Morneau belted a two-run homer in the eighth inning and Denard Span had four of his team's 20 hits as the host Minnesota Twins rallied from a six-run deficit to outslug the Los Angeles Angels 10-9.Joe Mauer belted a three-run homer and Josh Willingham also went deep for the league-leading fourth time for the Twins, who posted a 6-5 triumph on Wednesday.Mark Trumbo homered...
Jamey Carroll had his first two hits with Minnesota, including the go-ahead single in the seventh, and Josh Willingham hit a two-run homer to lift the Twins to their first victory of the season, 6-5 over the Los Angeles Angels on Wednesday night. Chris Parmelee hit a tying two-run triple in the seventh before Carroll drove him in with a single off LaTroy Hawkins. Matt Capps pitched...
Justin Morneau hit a two-run, go-ahead homer in the eighth inning and the Minnesota Twins rallied from six runs down to beat the Los Angeles Angels 10-9 on Thursday. Joe Mauer went deep, too, hitting a three-run shot off Dan Haren in the fifth that cut into a 6-0 lead the Angels built against Francisco Liriano. Every Twins batter had at least one of the team's 20 hits, enough...
It was the first real partial slate of games on the young season. As a result, only eighteen teams suited up on Thursday. It was an abbreviated schedule, sure, but that doesn't explain the 11 home runs hit across the league. Maybe it was the weather. Maybe it was dominant pitching. Or maybe it was just getaway day excitement. It's impossible to say. Whatever the case...
The final winless team was taken off the board last night, when the Twins defeated the Angels 6-5. Minnesota came back from a 5-2 deficit, and hung on in the late innings to win the game. Garrett just wrote yesterday that the Twins might go winless for quite awhile. Well, they won't go winless now, but with 18 games left this month against tough teams, if they had a 4-17 month...
MLB News

Delivered to your inbox

You'll also receive Yardbarker's daily Top 10, featuring the best sports stories from around the web. Customize your newsletter to get articles on your favorite sports and teams. And the best part? It's free!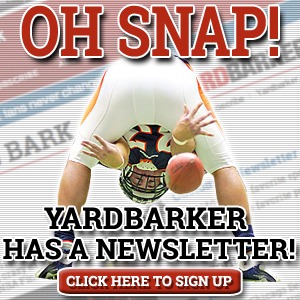 Latest Rumors
The Backyard

Today's Best Stuff

For Bloggers

Join the Yardbarker Network for more promotion, traffic, and money.

Company Info

Help

What is Yardbarker?

Yardbarker is the largest network of sports blogs and pro athlete blogs on the web. This site is the hub of the Yardbarker Network, where our editors and algorithms curate the best sports content from our network and beyond.