Found March 21, 2013 on Fox Sports North:
PLAYERS:
Miguel Sano
,
Eddie Rosario
,
Levi Michael
,
Oswaldo Arcia
,
Byron Buxton
,
Alex Meyer
,
Trevor May
,
Doug Mientkiewicz
,
Kyle Gibson
,
Aaron Hicks
,
Denard Span
,
Ben Revere
TEAMS:
Minnesota Twins
,
Washington Nationals
,
Philadelphia Phillies
By DAVID DORSEY Special to FOXSportsNorth.com FORT MYERS, Fla. There has been a buzz of excitement this spring training at the Lee County Sports Complex, and it has had as much, if not more, to do with the scene on the minor league side of camp as in the big-league clubhouse. As the Minnesota Twins prepare to return home from spring training, an arsenal of, at last count, 165 minor league players, is getting ready to disperse across the country to the various Minnesota minor league affiliates. A handful of those prospects will form the foundation of the future for a franchise that finished with a 66-96 record last season and a 63-99 mark in 2011. Third baseman Miguel Sano, second baseman Eddie Rosario, shortstop Levi Michael, outfielders Oswaldo Arcia and Byron Buxton and starting pitchers Alex Meyer and Trevor May are among those who have been besieged by autograph seekers this spring training. For the first time in almost 30 years, the prospects will be assessed by a new man in charge. Brad Steil, 36, has been promoted to Twins director of minor leagues. Steil became the fourth man in franchise history to hold that title. He succeeded Jim Rantz, 75, who held the job for 27 years. Sherry Robertson and George Brophy are the two other men who have had that role since the Washington Senators became the Minnesota Twins in 1961. "He's gone through it, and he knows the routine," Rantz said of Steil, who had worked under Rantz, a Twins Hall of Famer, for 13 years, starting out as an intern. "One thing he's more aggressive about, more so than I was, is he goes to the Latin countries," said Rantz, who has still been on hand this spring training as a consultant. "He has a feel for the game. He played hockey, so he was an athlete. "We worked closely together, and he deserved this. Everybody wants to move up. He qualified, obviously, with time served." Steil hit the ground running, shuffling the coaching staffs and hiring new coaches, including former Twins first baseman Doug Mientkiewicz, who will manage the Class A Fort Myers Miracle and former Twins outfielder Chad Allen, who will be the Double-A New Britain hitting coach. In addition to hiring, Steil will be firing. At the end of this spring training, minor leaguers are sure to be released to make way for the more promising youngsters. "The toughest part of this job is when you have to release a player," Rantz said. "He's done a little bit of that before. Now, it's his baby all the way. I won't miss that part of the job." Steil said he's not looking forward to that part of the job, but he is looking forward to watching how this group of prospects advances. "They're chasing their dreams," Steil said. "The talent level is going to fluctuate over time. We're excited about what we have. They're still minor leaguers. We just want to do our job and get them up there to the big leagues. "We don't get too caught up with what Baseball America says or what MLB.com says. We have to keep doing our job." Baseball America ranks six Twins prospects in its top 100: Sano (No. 9), Buxton (No. 10), Arcia (No. 41), Meyer (No. 59), pitcher Kyle Gibson (No. 68) and outfielder Aaron Hicks (No. 72). With the exception of Gibson, who is coming back from Tommy John elbow surgery, all of these players made highlights in the minors in 2012. "Some of the guys had good years last year," Twins general manager Terry Ryan said. "It's not just because of their draft status or how much money they got when they signed. They had good years. They produced. On top of that, they're quality guys. They've got good makeup. That's what we're looking for." Sano, 19, likely will start the season with the Class A Fort Myers Miracle. The 6-foot-4, 236-pound 19-year-old from San Pedro De Macoris in the Dominican Republic, hit .258 with 28 home runs and 100 RBI last season in low Class A Beloit. "He's got size, he's got strength, he can hit, he's got a powerful arm," Ryan said. "He's a good worker. He needs to work on some things on the defensive side, but there's a lot to like about Sano." Buxton, 19 and the No. 2 overall pick in the draft last year, hit a combined .248 with five homers, 20 RBI and 11 stolen bases last season. Arcia, 21 and the Twins Minor League Player of the Year in 2012, hit a combined .320 with 17 home runs and 98 RBI in Class A Fort Myers and Double-A New Britain. Meyer and May are two potential front-line starters in the big leagues who joined the Twins in trades for outfielders Denard Span and Ben Revere, respectively. As the Twins break camp, gearing up for the 2013 season, fans can get geared up for the years to follow.
Original Story:
http://www.foxsportsnorth.com/mlb/min...
THE BACKYARD
BEST OF MAXIM
RELATED ARTICLES
Skills, talents and life lessons routinely are passed down from father to son, but who knew the finer points of how to maintain bushy and uncontrollable eyebrows were one of them? Minnesota Twins manager Ron Gardenhire recently was photographed by his Lindsay Gardenhire, his daughter-in-law and wife to son, Toby, demonstrating to his son how to go about shaving one's eyebrows so...
Not the guy cut, but good for effect The Twins made some cuts today.  Most notable among them is outfielder Joe Benson.  For more info, click on the link below for the Star Tribune report. La Velle E. Neal III
Minnesota manager Ron Gardenhire taught his son, Toby, many things about the game of baseball. Recently, the Twins skipper gave his oldest child a different life lesson. In a picture shared on Twitter by Toby's wife, Lindsay, Ron Gardenhire can be seen reflected in a mirror as he looks on while Toby holds a razor in his hands. The tweet says, "Father teaching son how to...
The Minnesota Twins announced on Friday that they have placed pitchers Scott Diamond and Anthony Swarzak on the 15-day disabled list. Diamond, who was Minnesotas best starting pitcher in 2012, has been rehabbing his left elbow after having offseason surgery in December. He has yet to pitch in an official Grapefruit League game this spring. When Diamond returns from the DL possibly...
The Twins are in dire need of pitching. This is not up for debate. Surely, then many Twins fans must have been excited to see Sam Deduno tear up the World Baseball Classic, starting three games, pitching 13 innings and allowing only one run. He had a 17/5 K/BB ratio. Lights out. Many people seem to be excited about this breakthrough, not the least of which are the Twins front office...
FORT MYERS, Fla. (AP) -- Samuel Deduno entered spring training with an outside chance of making the Minnesota Twins' rotation. His performance at the World Baseball Classic might have given him an edge. Deduno is scheduled to return to Twins spring training camp Thursday after helping the Dominican Republic beat Puerto Rico 3-0 in the championship game of the WBC. Deduno pitched...
Samuel Deduno pleaded with Tony Pena to leave him in the game - the outing of his life, his country across his chest. Pena stuck with the demonstrative Dominican Republic right-hander - with his island nation's World Baseball Classic hopes hanging on that managerial move. Deduno made Pena change his mind, and he never changes his mind. The pitcher did his part by striking out...
Happy basketball day part 2! May today go a bit more smoothly than yesterday. Fangraphs is the first place I've seen that doesn't rate Miguel Sano as the Twins' top prospect. You have to dig deep during the tournament. And another awful GIF from day one of the tournament. Ouch. SCOREBOARD Lots of basketball, no important teams.
MLB News

Delivered to your inbox

You'll also receive Yardbarker's daily Top 10, featuring the best sports stories from around the web. Customize your newsletter to get articles on your favorite sports and teams. And the best part? It's free!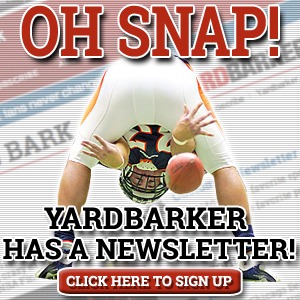 Latest Rumors
The Backyard

Today's Best Stuff

For Bloggers

Join the Yardbarker Network for more promotion, traffic, and money.

Company Info

Help

What is Yardbarker?

Yardbarker is the largest network of sports blogs and pro athlete blogs on the web. This site is the hub of the Yardbarker Network, where our editors and algorithms curate the best sports content from our network and beyond.