Found September 13, 2012 on Fox Sports North:
MINNEAPOLIS The Minnesota Twins love Ryan Doumit's versatility. That's why the team signed him to a two-year contract extension earlier this season --he can play multiple positions while also providing some pop offensively. Prior to joining the Twins as a free agent this offseason, Doumit had spent time at first base, right field and designated hitter along with his normal position, catcher. For a handful of games this year, Minnesota has put Doumit in left field, a position he didn't play until this season. Doumit was in left field Wednesday against Kansas City and experienced his roughest night in the field as he committed three errors in the eighth inning of the Twins' 10-5 loss to the Royals. "I'm going to have days like this," Doumit said after the game. "It's part of the learning curve." The first error occurred on a fly ball by Johnny Giavotella. As Doumit ran to make the catch in the left-center field gap, he took his eyes off the ball and couldn't come up with the catch. Giavotella reached first base safely, while Eric Hosmer advanced to second base on the error. Two batters later, Doumit committed two errors in one play. Alcides Escobar singled to left field and Doumit charged in to play the ball. But he bobbled the grounder and then sent an errant throw into the infield. Hosmer scored on the error and Giavotella advanced to third. "The base hit, he rushed it. Then you put on top of it you try to rush your throw, too, the ball goes flying," Twins manager Ron Gardenhire said. "A tough inning for him, but he's actually been playing pretty good out there." Doumit's three errors in one inning tied a major league record for most errors in an inning by an outfielder, according to Baseball Almanac. It had previously been done seven times, most recently on Sept. 9, 1989 by Scott Lusader of Detroit. Lusader committed three errors as the Tiger's right fielder in the first inning of a game against the White Sox. Additionally, Doumit's forgettable eighth inning marked the first time a Twins player committed three errors in the same inning since Danny Thompson did so on Sept. 3, 1973 against Kansas City, according to the Elias Sports Bureau. Thompson's trio of errors came at shortstop. The last Twins player to have a three-error game was Pedro Munoz on July 21, 1995 against Boston. Despite Wednesday's rough night, the Twins still like what Doumit brings to the table as a versatile fielder. He has now played in 15 games in left field this season while appearing in just six in right field. In his 14 previous games in left field, Doumit did not commit an error in 32 chances. Prior to Wednesday, his only two errors of the season came at catcher, where he's played in 53 games this year. "You've got a catcher by (trade) playing other positions," Gardenhire said. "He's handled himself pretty good. Tonight was a little bit rough out there, the one inning, but we'll keep running him out there. He gives us everything he has." Doumit has had a big year offensively, as his 16 home runs are a career high. He picked up his 67th RBI of the year with a bases-loaded walk in the third inning. His career high for RBI is 69 back in 2008, a number he could easily surpass with 19 games remaining in the 2012 season. So as Doumit continues to swing well from both sides of the plate, he'll continue to learn a new position in left field. In doing so, he might have the occasional night like he did Wednesday. "I feel extremely comfortable (in left field). Tonight was just one of those nights. I took my eye off the ball. When you take your eye off the ball, bad things happen," Doumit said. " It's embarrassing, but I'm going to learn from this and go out and get em tomorrow." Follow Tyler Mason on Twitter.
Original Story:
http://www.foxsportsnorth.com/09/13/1...
THE BACKYARD
BEST OF MAXIM
RELATED ARTICLES
MINNEAPOLIS Denard Span has been the subject of trade speculation before. Twice, actually. Prior to last year's trade deadline, the Minnesota Twins center fielder and leadoff hitter heard his name rumored as a possible trade candidate. And again this year, Span's name came up in trade rumors as the deadline neared. Both times, the deadline came and went and Span remained...
MINNEAPOLIS Liam Hendriks is not getting special treatment.On Thursday, he got five innings. He got a three-run leash and a realistic shot at a win. He left with no chance at one, just as he so often has this season. His teammates bailed him out in the bottom of the ninth, erasing any blame or loss, but the Twins' 4-3 win was still not enough to dig Hendriks out of his nine...
MINNEAPOLIS A Thursday MRI revealed that Twins rookie starting pitcher Cole De Vries cracked a rib in his Saturday start against Cleveland after being hit by a line drive. He will miss the rest of the season.De Vries pitched six scoreless innings on Saturday, giving up just three hits, and he attempted to pitch through the injury before coming out of the game. He said that he felt...
Trevor Plouffe may still be a work in progress, but nights like the one he had Thursday in Minnesota's 4-3, 10-inning victory over the Kansas City Royals will keep the Twins interested. Very interested. Plouffe, 26, entered the game in a major rut, forcing the Twins to rethink plans to make him their starting third baseman in 2013. However, he made a spectacular play to save...
Minnesota Twins All-Star Joe Mauer is not in the lineup for the second straight night after being scratched in the series opener against Kansas City with back spasms. The Twins put Drew Butera at catcher for the game Wednesday night. Mauer's back tightened up before batting practice Tuesday and he was scratched. While he was criticized for missing too many games last season...
Liam Hendriks doesn't have a major league victory to his credit, and Minnesota Twins manager Ron Gardenhire has a pretty good idea why. The right-hander looks to end his drought Thursday night while helping Minnesota avoid its first home sweep at the hands of the Kansas City Royals in more than 13 years. Hendriks (0-7, 6.20 ERA) has let 4-0 leads slip away in consecutive starts...
MINNEAPOLIS The Minnesota Twins released their preliminary 2013 regular-season schedule on Wednesday, which includes the Twins opening the season at Target Field for the first time in the parks four-year history. Minnesota will begin the 2013 season by hosting the Detroit Tigers on April 1, 3 and 4. As they have in the past, the Twins built in an off day in case of inclement weather...
Of all the big Tuesday night games, perhaps none was bigger than the barn burner in Minnesota between the Twins and the Royals. The Twins failed in their quest for that elusive 60th win, and the Royals solidified their grip on third place in this 9-1 thriller. Some might say the game was not compelling, but I found at least two things that drew my attention in the first inning alone...
Denard Span had a game-ending RBI double in the 10th inning and the Minnesota Twins rallied for a 4-3 victory over the Kansas City Royals on Thursday night. Trailing 3-1, the Twins capitalized on a bases-loaded walk by Royals closer Greg Holland in the eighth and Trevor Plouffe's homer in the ninth to tie it. Alexi Casilla led off 10th with a double to right-center off Francisley...
Thursday the 13th is always the worst, isn't it? The top 15 rookie seasons in MLB history. There is a Twins player that probably deserves a trip to the Hall of Fame on this list. A gentle reminder. Joe Mauer is actually really good. Another good catcher is Ryan Doumit. Definitely not a good left fielder, but good with a bat. SCOREBOARD MLB Detroit 8, Chicago 6 – Either Francisco...
MINNEAPOLIS (AP) -- Denard Span had a game-ending RBI double in the 10th inning and the Minnesota Twins rallied for a 4-3 victory over the Kansas City Royals on Thursday night. Trailing 3-1, the Twins capitalized on a bases-loaded walk by Royals closer Greg Holland in the eighth and Trevor Plouffe's homer in the ninth to tie it. Alexi Casilla led off 10th with a double to right...
I was going to do a statistic-laced post about the candidates for the Twins' rotation next year, but my computer kept shutting itself down due to depression so instead I'll just do that thing where I type whatever I think about.  I'll eventually get to the Twins' rotation because I've already put in too much time to just let it die, but man, looking at Cole Devries...
MLB News

Delivered to your inbox

You'll also receive Yardbarker's daily Top 10, featuring the best sports stories from around the web. Customize your newsletter to get articles on your favorite sports and teams. And the best part? It's free!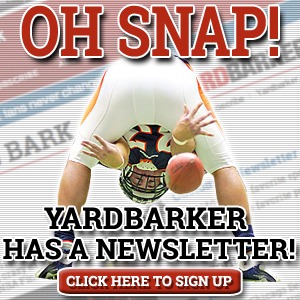 Latest Rumors
The Backyard

Today's Best Stuff

For Bloggers

Join the Yardbarker Network for more promotion, traffic, and money.

Company Info

Help

What is Yardbarker?

Yardbarker is the largest network of sports blogs and pro athlete blogs on the web. This site is the hub of the Yardbarker Network, where our editors and algorithms curate the best sports content from our network and beyond.