Found March 10, 2012 on Fox Sports North:
BRADENTON, Fla. The Minnesota Twins had two games scheduled for Saturday, including their regular Grapefruit League game and a "B" game, both against Pittsburgh. They wanted right-hander Terry Doyle to pitch in the regularly-scheduled game in order to see him against tougher competition. Doyle was a Rule 5 Draft pick of the Twins this past offseason. If he doesn't remain on the team's 25-man roster all season, he must be offered back to his original team, the White Sox. With that said, the Twins and manager Ron Gardenhire want to see what Doyle has to offer.Doyle's second start of the spring was a rough one, as he allowed two runs on seven hits in Minnesota's 4-2 win. He also walked one while facing 14 Pirates batters."I didn't get ahead of anybody and worked up in the zone, which is generally the recipe for bad things," Doyle said after his outing. "I'll make the adjustment for next week and come back for my next outing and try to get back down in the zone and work ahead of hitters.Doyle split his 2011 season between High-A Winston Salem and Double-A Birmingham in the White Sox organization. In 15 starts at Double-A, Doyle was 7-5 with a 3.24 ERA. Minnesota's starting rotation seems to be set prior to the regular season, so the bullpen is a likely option for Doyle. In four minor league seasons, however, he's pitched just 14 times in relief including 10 times during his first year in the minors in 2008."Out of the bullpen in the major leagues is a little bit different because you have to come to the field ready to pitch every day," Doyle said. "I haven't done that, but pitching out of the bullpen compared to pitching out of the rotation isn't that much different. You still need to try to get guys out and throw strikes."Baker struggles in "B" game: Before the Twins faced the Pirates in Grapefruit League action, the two teams took part in a "B" game at Pittsburgh's minor league complex, Pirate City. Scott Baker was originally scheduled to start, but he didn't pitch until the third inning as he needed time to get warmed up after the team's bus arrived in Bradenton.Once Baker was in the game, he struggled. The right-hander allowed six runs five earned on six hits in two innings of work. He recorded just four outs in those two innings, which were both ended early a common occurrence in "B" games."I stunk," Baker said. "I didn't get the ball down. I wasn't finishing pitches. Obviously I'm not a robot, but it just happened to be a poor day."Baker didn't want to blame his rocky performance on the hour-and-a-half bus ride, but it certainly seemed to affect his preparation."It's not ideal, but I guess not every situation's going to be picture perfect as far as getting prepared," Baker said. "There's rain delays. There's all kinds of stuff that could potentially happen. So I think at times, you just make the best of it, regardless of the situation. It does you no good to be upset about it."Gardenhire was blunt about Baker's performance."Baker was not very good at all. He got beat around pretty good," Gardenhire said. "Maybe that B' game format, he might need a little more preparation than that riding the bus and all that trying to pitch. He didn't react well to that."Valencia's bat heats up: Twins third baseman Danny Valencia was 3-for-11 with a double in his first four Grapefruit League games. In Saturday's game against Pittsburgh, he added a pair of extra base hits to his totals as he doubled and hit a three-run homer that proved to be the game-winner."Danny has been working at it. He's been on the extra field taking extra swings, doing things in the cages," Gardenhire said. "He's told himself he's going to use the whole field and drive the ball. When he starts looking around and tries to hit the ball where they ain't is when he starts to get in trouble. But when he gets the barrel out on the ball he can drive it with anybody, so that was nice."Valencia's double in the fifth inning was to the opposite field. He later moved to third base on a sacrifice fly by Trevor Plouffe and scored on another sac fly from Steve Pearce.According to baseball-reference.com, just 12 of Valencia's 139 hits in 2011 were to the opposite field. Fifty of his hits were pulled to left, while 77 were up the middle. Already this spring, Valencia has showed the ability to drive the ball the other way."He's so stinking strong. When he doesn't try to get so goosey and hit the ball in the upper deck, he can do a lot of things," Gardenhire said of Valencia. "It's just better fundamentals. He has better balance at the plate and he drove the ball today. You saw that. That ball was crushed into the wind at the time."Arcia shows his power: Twins outfielder Oswaldo Arcia led off the second inning of Saturday's "B" game in Bradenton, and he puton a show with a towering opposite-field homer that cleared a 20-foot fence in left field. Arcia hit 13 home runs last season between Low-A Beloit and High-A Fort Myers.The deep drive by the 20-year-old Venezuela native drew rave reviews from Gardenhire."That was a bomb. Crushed it," Gardenhire said. "All the things you hear about the kid is he's a big, strong, powerful kid. He's got things to learn. He's got things he's going to have to adjust to. He's got a ways to go to get better, but you throw him something out and over the plate like that and he'll crush it, and he did. I really like him. I like the way he goes about his business." Follow Tyler Mason on Twitter.
Original Story:
http://www.foxsportsnorth.com/03/10/1...
THE BACKYARD
BEST OF MAXIM
RELATED ARTICLES
FORT MYERS, Fla. Twins right-hander Jason Marquis labored through his first Grapefruit League start on Monday, lasting just 1 23 innings against Boston. He gave up four runs on three hits and walked three batters. Friday's start against St. Louis was a bit more encouraging for Marquis, who allowed one run on three hits in three innings of work. He didn't labor as deep into...
FORT MYERS, Fla. With the New York Yankees in town, the Minnesota Twins rolled out what looked like a potential Opening Day lineup -- for a few hours, at least. Center fielder Denard Span was scratched from the lineup with a stiff neck just before game time. Span played in just 70 games last season due to a concussion and has also been hampered by vestibular neuritis during his...
FORT MYERS, Fla. Out of the 162 games the Minnesota Twins played last season, manager Ron Gardenhire penciled in 150 different lineups. No batting order was used more than three times all season. Injuries made it nearly impossible for the Twins to have any semblance of consistency in their lineup, and the spring training leading up to the 2011 season was a precursor. Last spring...
FORT MYERS, Fla. Ben Revere's speed nearly got him in trouble last year. As he laced a triple to right field during a mid-July game at Target Field, Revere sprinted around second base and headed for third. But the Twins outfielder was seemingly going too fast and stumbled over his own feet. After a nifty somersault, Revere popped back up in stride and slid safely into third...
The Minnesota Twins have started a series of new commercials entitled "Sorta Deep Thoughts from Twins Territory", which seems to be a take on the Saturday Night Live classic "Deep Thoughts by Jack Handey" series. This commercial features thoughts from catcher Joe Mauer and manager Ron Gardenhire. H/T Sportress of Blogitude. Holdout Sports is now a...
Danny Valencia hit a three-run homer among his two hits Saturday as the Minnesota Twins broke out of a hitting funk and beat the Pittsburgh Pirates 4-2. Valencia doubled in the fifth inning and homered in the sixth. It was Twins' first extra-base hit in six games. The Twins did all their scoring off reliever Jo-Jo Reyes, who allowed four hits and a walk in two innings. Twins...
FORT MYERS, Fla. (AP) -- Nick Blackburn pitched three scoreless innings and the Minnesota Twins hit three home runs Sunday to beat a New York Yankees split squad 5-1. Blackburn gave up three hits without a walk. Danny Valencia, Joe Benson and Mike Holliman homered for the Twins. Minnesota had hit just three home runs in its first nine exhibition games. Yankees starter Phil Hughes...
FORT MYERS, Fla. (AP) -- Adam Wainwright pitched two scoreless innings in his first start in over a year, leading the St. Louis Cardinals to a 3-2 win over the Minnesota Twins on Friday. Wainwright missed all of last season after having elbow ligament replacement surgery and hadn't pitched since Sept. 24, 2010. He walked one and struck out two Friday. Wainwright's return...
Nick Blackburn pitched three scoreless innings and the Minnesota Twins hit three home runs Sunday to beat a New York Yankees split squad 5-1. Blackburn gave up three hits without a walk. Danny Valencia, Joe Benson and Mike Holliman homered for the Twins. Minnesota had hit just six home runs in its first nine exhibition games. Yankees starter Phil Hughes threw three shutout innings...
MLB News

Delivered to your inbox

You'll also receive Yardbarker's daily Top 10, featuring the best sports stories from around the web. Customize your newsletter to get articles on your favorite sports and teams. And the best part? It's free!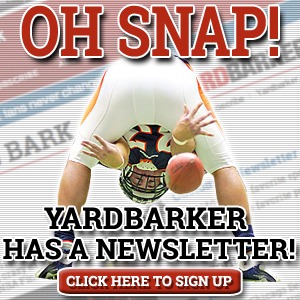 Latest Rumors
The Backyard

Today's Best Stuff

For Bloggers

Join the Yardbarker Network for more promotion, traffic, and money.

Company Info

Help

What is Yardbarker?

Yardbarker is the largest network of sports blogs and pro athlete blogs on the web. This site is the hub of the Yardbarker Network, where our editors and algorithms curate the best sports content from our network and beyond.