Found April 12, 2013 on Fox Sports North:
MINNEAPOLIS After an impressive spring, Aaron Hicks' first eight games as a major leaguer have presented a tough learning curve. The 23-year-old center fielder has just two hits in 35 at-bats while striking out 16 times. But despite his struggles at the plate, Hicks was still in the leadoff spot for the Twins on Friday as they opened a three-game series with the New York Mets at Target Field. Manager Ron Gardenhire knows the young outfielder may be pressing, but he'll give Hicks the chance to work everything out at the plate. "We want to do what's best for our baseball team, and that would be to take off and get some hits and run with it. But we want to protect him, too," manager Ron Gardenhire said before Friday's game. "It's only 30-plus at-bats against some really good teams. The weather's not been conducive for anything. We're going to give him a chance here to right himself. He's a good player, had a heck of a spring. Hopefully he'll come up with a couple hits, get some confidence going and take off from there." Hicks won the starting center field job this spring and put on an impressive display offensively in Fort Myers. He hit four home runs including three in one game and had a team-high 18 RBI in spring training. That same success hasn't carried with him to Minnesota after bypassing Triple-A altogether. "In this game, you fail so much. Three out of 10, you're a Hall of Famer," Hicks said Friday. "I'm going up to the plate ready to do what I can to get a hit. They're just not falling. I've still got to go out there every day and do what I can to help the team win on defense." Gardenhire was asked if he had considered moving Hicks out of the leadoff spot to take some pressure off the rookie, but the manager said he wants to keep Hicks at the top of the order for now. On top of that, the Twins don't have many options in the leadoff spot. Patience was a big part of Hicks' game in the minor leagues. He had an on-base percentage of .384 last year after drawing 79 walks. This season, though, his patience has almost worked against him as he's found himself in plenty of 0-1 and 0-2 counts. "That's the kind of hitter I am. I typically take a lot of pitches and let the guys behind me see what the pitcher has," Hicks said. "First (at-bat) is typically when I like to take a lot of pitches, see if the guy has a fastball, curveball, changeup. When I'm done with that at-bat, whether I get a hit or not, tell the guys behind me." Hicks' 16 strikeouts are tied for second-most in the majors and are the most among all American League batters. He did strike out a career-high 116 times at Double-A New Britain last year, but he also batted .286 with 13 homers and 61 RBI. Minnesota is hopeful Hicks can turn things around, and the Twins are still willing to be patient with the rookie center fielder. "He's started off slow in the minor leagues. We've looked at his career. He's had some times when he's struggled in the minor leagues," Gardenhire said. "We're just hoping he can find a couple good swings. Sometimes all it takes is a couple hits in a row and the next thing you know, you forget about everything and you take off from there." Diamond rejoins teammates: Twins left-hander Scott Diamond was back in Minnesota's clubhouse Friday, one day before he's scheduled to make his 2013 debut following offseason elbow surgery. The 26-year-old underwent arthroscopic surgery on his left elbow in December, which kept him on the disabled list to begin the season. After a rehab stint in Fort Myers, Diamond is set to take the mound Saturday against the Mets. Minnesota's best starting pitcher from a year ago is hoping to pick up where he left off at the end of 2012. "I'm going to try to repeat last year," Diamond said Friday. "Whether or not the numbers look the same, I know there's a lot of positives I focused on last year and mental triggers that as they continue on through this year, I hope to try to repeat. It is a new year. It's like a fresh start. I'm just excited to be back." Diamond was 12-9 with a 3.54 ERA in 27 starts with the Twins last year and also pitched 173 innings, easily the most of any starter in Minnesota's struggling rotation. The Twins added several pieces to the rotation this offseason to join Diamond. Now, after missing the first two weeks of the season, Diamond will finally join his new teammates. He said he'd be able to reach the 100-pitch mark if need be despite throwing just 82 pitches in his last rehab outing. Gardenhire said the Twins will keep an eye on Diamond's pitch count, especially with the chilly conditions at Target Field this weekend. "It just depends on how he's going, if he labors through the course of it and how the game's going," Gardenhire said. "You never know how a guy's going to be feeling. He's been throwing in about 90-degree temperature. That always makes it a little easier. We'll definitely watch and pay attention and we won't push the limit, let's put it that way." Follow Tyler Mason on Twitter.
Original Story:
http://www.foxsportsnorth.com/mlb/min...
THE BACKYARD
BEST OF MAXIM
RELATED ARTICLES
As a lifelong resident of the great State of Minnesota, I have grown more than accustomed to its harsh winters and far-too-short summers (although autumn can be wonderful, but not all the time). But it has been an absolutely brutal experience the past few weeks: Far-below-average temperatures, snow, sleet and so on have made the transition from winter to spring up here in the Land...
MINNEAPOLIS The Minnesota Twins have optioned right-hander Liam Hendriks to Triple-A Rochester to make room for left-hander Scott Diamond on the 25-man roster. Diamond is making his 2013 debut Saturday against the New York Mets. Hendriks made two starts this year for the Twins and was 0-1 with a 4.66 ERA. He is 1-11 with a 5.63 ERA in 22 career starts in the majors. Diamond began...
MINNEAPOLIS Through four innings, Scott Diamond's 2013 debut was about as smooth as the left-hander could have asked for. Then, Diamond hung a pitch to Marlon Byrd to lead off the fifth inning and things unraveled for the 26-year-old pitcher. He wound up allowing four runs in the inning and recorded just one out in the fifth before his season debut was over. Diamond took the...
MINNEAPOLIS It's April 12, and the Minnesota Twins are playing the New York Mets. Something about that just doesn't seem right aside from the snow that fell prior to Friday's game. Just 10 games into the 2013 season, the Twins are playing in their first interleague series of the year. Thanks to the Houston Astros moving to the American League prior to this season,...
The Minnesota Twins have optioned starting pitcher Liam Hendriks to Triple-A Rochester to make room for Scott Diamond. Diamond will be on the mound Saturday against the New York Mets at chilly Target Field. The Mets routed the Twins 16-5 on Friday night as snow fell. It will be the left-hander's first start since having bone chips removed from his pitching elbow in December...
The Minnesota Twins are trying to not let a spring snowstorm prevent them from playing the New York Mets this weekend at Target Field. About five inches of heavy, wet snow fell Thursday in the Twin Cities area, and a crew of dozens worked throughout the morning, afternoon and evening to remove snow from the seating bowl and other areas at the ballpark. Twins President Dave St....
I have tickets for today's Twins game, the first of my 20 game season ticket package. My friend Kyle who has the other ticket in our set also has season tickets for the Timberwolves. He has offered me a ticket to tonight's Timberwolves game after today's Twins game. If things go as planned, we will be able to leave the Twins game and go directly to the Timberwolves game. By...
Cold temperatures and snowy weather hasn't stopped the Minnesota Twins from starting their series against the New York Mets. About 4 inches of snow fell off and on over the past three days in Minneapolis, forcing the Target Field grounds crew to work late into Thursday night to remove the excess from the playing surface. But workers had the diamond and the outfield ready by...
Matt Harvey didn't allow a hit until Justin Morneau homered off the right-field foul pole with two outs in the seventh inning and led the New York Mets over the Minnesota Twins 4-2 Saturday. Harvey (3-0) pitched past the seventh for the first time in 13 career major league starts, allowing one run and two hits in eight innings with six strikeouts and two walks. His ERA rose...
MLB News

Delivered to your inbox

You'll also receive Yardbarker's daily Top 10, featuring the best sports stories from around the web. Customize your newsletter to get articles on your favorite sports and teams. And the best part? It's free!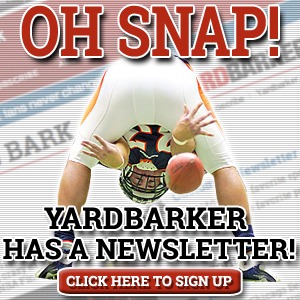 Latest Rumors
The Backyard

Today's Best Stuff

For Bloggers

Join the Yardbarker Network for more promotion, traffic, and money.

Company Info

Help

What is Yardbarker?

Yardbarker is the largest network of sports blogs and pro athlete blogs on the web. This site is the hub of the Yardbarker Network, where our editors and algorithms curate the best sports content from our network and beyond.