Found March 08, 2012 on Fox Sports North:
FORT MYERS, Fla. The Minnesota Twins have signed reliever Glen Perkins to a three-year contract extension worth a guaranteed 10.3 million, the team announced Thursday. The contract also includes a club option for the 2016 season. That means Perkins, who grew up in Stillwater, Minn., will be staying with his hometown team for the foreseeable future. "I think the most important thing for me was taking care of my family, first and foremost, and getting that out of the way," Perkins said Thursday. "I think to be able to have that in the back of my mind, you worry about a lot of things. To know that I can, the clich, go out and pitch and not worry about anything else, I know where I'm going to be and what I'm going to be doing for the next three, four years. I think that's awesome." Perkins, 29, signed a one-year, 1.55 million contract to avoid arbitration this offseason. The contract extension he signed Thursday will kick in for the 2013 season. "We had interest in extending him. He was absolutely interested in trying to do something," said Twins assistant general manager Rob Antony. "He likes it here. He lives here. He's from here. This was an opportunity for Glen to get security. It was an opportunity for us to lock up a key piece of our bullpen for the next four years-plus." Perkins would have been eligible for free agency after the 2013 season and could have commanded more money if he continued to produce out of the bullpen like he did in 2011. In the end, though, it wasn't all about the dollar amounts for Perkins. "I've always maintained that that's enough money for me," Perkins said of his 10.3 million deal. "To come out and play baseball not to take away from anybody making more money than that but that's enough for me to be able to just go play baseball." Perkins had a breakout season in 2011 and was perhaps the Twins' best reliever all season. The left-hander became Minnesota's setup man and posted a 2.48 ERA in 61-23 innings. Before 2011, however, Perkins struggled. He was a starter for Minnesota in 2008 and 2009 but was moved to the bullpen in 2010. Along the way, he and the organization have butted heads over differences on various issues. He filed a grievance against the team in 2009 when it optioned him to Triple-A Rochester after activating him from the disabled list in August of that season. The 2010 season was also tough for Perkins, who again spent time at Rochester after struggling in the majors. He pitched only 13 games for the Twins that year and posted a 5.82 ERA. "That was probably the low point," Perkins said of his 2010 season. "I mean, I had some success at the big leagues and to not have a clue in Triple-A, that's pretty tough. It's one thing to struggle here, but it's another if you've had success here to go back and struggle there. You really have to check yourself. There were times where it was hard to motivate myself to keep doing it because the struggles were immense struggles." But after the year he had in 2011, all the wrinkles have been ironed out between the two sides. "We came into spring training (last year), and we didn't know if he was going to make this club," Antony said. "He was out of options. We were hoping he would and we were looking for somebody to step up in the bullpen, and he did just that." Like the Twins, Perkins is happy no bridges were burned during the period when the two sides didn't see eye to eye. "I'm glad with all the stuff we've been through, the ups and downs, to keep those relationships intact and strong enough that they wanted to do something like this," he said. "It's exciting for me that we were able to overcome some things and stay here because I'm a Minnesota guy. Through all that, I never really wanted to play anywhere else." Perkins recorded his first two career saves last season, but he'll again be used in the setup role in 2012 ahead of closer Matt Capps. If Perkins does become Minnesota's closer at any point during his new contract, he'll be paid accordingly. By comparison, Capps will make 4.75 million for the 2012 season. "This thing is structured to protect him so if his role is he becomes a closer, there's language for him to be compensated better," Antony said. "The 2012 contract is in place, so it would become 2013 (when) he has protection if he becomes our closer." Antony also noted that Perkins, a former Golden Gophers pitcher, plans to donate money to both the University of Minnesota and the Twins Community Fund. "Obviously, with the Gophers baseball team, those guys have had as big a part of getting me here as anyone," Perkins said. "I owe them a lot. They're going to get a lot. I'm glad that along with being able to take care of my family, those guys are part of my family, as well." Before Perkins headed to the locker room following the Twins' morning workouts, manager Ron Gardenhire announced to a group of autograph-seeking fans that Perkins, the team's new 10.3 million man, would sign for them after talking to the media. Gardenhire noted Perkins' involvement in the community, even without his manager's urging. "Our organization is all about the community. We know that. We're very involved," Gardenhire said. "Perk, unlike a lot of the other guys, is from here. So he knows to get involved and does a really good job of that." Perkins was also asked if he would be buying dinner for his teammates Thursday night, now that he's signed a new deal. "My salary this year didn't change," Perkins said with a laugh. "I think I'll still hit Carl (Pavano) up for that." Follow Tyler Mason on Twitter.
Original Story:
http://www.foxsportsnorth.com/03/08/1...
THE BACKYARD
BEST OF MAXIM
RELATED ARTICLES
FORT MYERS, Fla. Twins right-hander Jason Marquis labored through his first Grapefruit League start on Monday, lasting just 1 23 innings against Boston. He gave up four runs on three hits and walked three batters. Friday's start against St. Louis was a bit more encouraging for Marquis, who allowed one run on three hits in three innings of work. He didn't labor as deep into...
It doesn't get talked about very often, but spring training serves a dual purpose for many teams. Not only is it a time to get their players warmed up and ready for the regular season, but it's also a perfect time for teams and players to finalize contract extensions. Free agent acquisitions are finished for the year and the off-season madness is in the past, so teams have the...
According to a team press release, the Minnesota Twins have signed left-handed pitcher Glen Perkins to a three-year extension that will keep the pitcher under contract through the 2015 season.  The deal is worth a guaranteed $10.3 million. "We are very pleased to reach this agreement with Glen", said Twins Executive Vice President/General Manager Terry Ryan.  "He has been...
FORT MYERS, Fla. Since he was a teenager, Nick Blackburn had thrown from the side of the pitching rubber closest to first base. But the Twins' right-handed sinkerballer made a change this offseason, moving closer to the center of the mound. It's still early in spring, but Blackburn said the change is paying off. "It's been good so far. It's been a great adjustment...
FORT MYERS, Fla. A year ago, Francisco Liriano entered spring training with a nagging shoulder injury that stuck with him for nearly all of the 2011 season. This year is a different story for the Twins left-hander, who says he came to camp feeling healthy. He proved it Thursday, striking out five Rays batters in three innings of work in Minnesota's 1-0 loss at Hammond Stadium...
The Minnesota Twins have been the darlings of small budget baseball for so long.  They may be the best example of money ball as they have consistently been able to win with a low payroll.  The Twins do have talent on their team though, they have built a lot of it through their farm system though.  Here is a look at their team and who I would say are keepers for fantasy baseball...
FORT MYERS, Fla. Underneath Hammond Stadium, two former baseball players throw batting practice to current ones. The scene isn't that unusual for spring training. In this instance, several Minnesota Twins take their swings before a 10 a.m. "B" game against the Boston Red Sox. At the far end of the cage, however, the two former players aren't just any ex-Major...
The Minnesota Twins organization is no stranger to utilizing clever and offbeat ad campaigns to promote their product. Some of last season's ads included Jim Thome as a Paul Bunyan-esque character and current manager Ron Gardenhire and former skipper Tom Kelly donning wigs are just a sampling of how unique the Twins have been in [...]
FORT MYERS, Fla. Japanese pitching sensation Yu Darvish made his spring training debut Wednesday for the Texas Rangers. Between 100 and 150 media members descended on Peoria, Ariz., to watch Darvish.Tsuyoshi Nishioka used to command that type of media attention. Well, maybe not reporters by the hundreds, but there was a time when Japan's media contingency focused their attention...
Francisco Liriano is confident his 2012 season will be more consistent than his last. He gave signs Thursday he may be right. The left-hander struck out five of the nine batters he faced in in three scoreless innings but the Minnesota Twins lost 1-0 loss to a Tampa Bay Rays split squad. ''Nothing's bothering me right now, so it's going to be quite different from...
FORT MYERS, Fla. (AP) -- Adam Wainwright pitched two scoreless innings in his first start in over a year, leading the St. Louis Cardinals to a 3-2 win over the Minnesota Twins on Friday. Wainwright missed all of last season after having elbow ligament replacement surgery and hadn't pitched since Sept. 24, 2010. He walked one and struck out two Friday. Wainwright's return...
Twins News

Delivered to your inbox

You'll also receive Yardbarker's daily Top 10, featuring the best sports stories from around the web. Customize your newsletter to get articles on your favorite sports and teams. And the best part? It's free!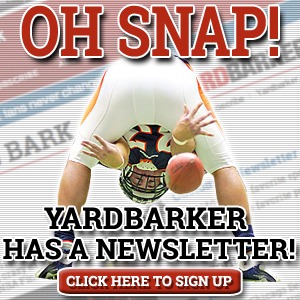 Latest Rumors
The Backyard

Today's Best Stuff

For Bloggers

Join the Yardbarker Network for more promotion, traffic, and money.

Company Info

Help

What is Yardbarker?

Yardbarker is the largest network of sports blogs and pro athlete blogs on the web. This site is the hub of the Yardbarker Network, where our editors and algorithms curate the best sports content from our network and beyond.