Found August 29, 2012 on Fox Sports North:
MINNEAPOLIS Let's not take away from the Twins' 10-0 win over Seattle. Not yet.Wednesday's game was what every Minnesota fan wanted to see: offensive explosion, stellar pitching, long bottoms of innings and short tops. It was hit after hit for the offense and strikeout after strikeout for starting pitcher Samuel Deduno.It was so fun, it almost disguised the Twins' 53-77 record.If this were the first time the Twins had surged to this kind of nearly perfect game all season, there would be more reason for praise. But this has happened before, mostly when Deduno or Scott Diamond has clicked and the offense has gelled. It's happened before, and still, the team struggles.The Twins have defeated their opponent by five or more runs while holding them to fewer than three 11 times this season. Deduno has done it on three occasions, P.J. Walters once, Brian Duensing once and Diamond eight times. None of those pitchers was in the Twins' initial rotation, and yet they're the ones who are dominant and can provide the spark for these watchable, enthusiasm-generating games that erase, for a few seconds, the bigger picture.But when that bigger picture emerges again from the mist of winning and hitting and precise pitching, it can become all the more frustrating. Where were those runs when they mattered? The Twins are squandering their offense all at once, drying up for tomorrow when they'll need it.Why can't it be like this all the time?These are the wishes and despairs and unanswerable questions that surround a losing team, and they can plague the wins. They should, sometimes, but really, they're little more than mental torture. They can't be explained, so much so that it's okay to defer to humor."We never know what happens in this game. I do know this (theory) about why we get hits and why we got hits tonight," Ron Gardenhire said. "Tonight before the game we had three hall of famers in my opinion two are there, one should be there Tony Oliva, (Paul) Molitor and (Rod) Carew standing next to our bats. I could see them shaking before the game, and we started getting hits. So all we have to do is have a hall of famer stand by our bat rack."But for the Twins, there's a reason greater than superstitious humor to take heart. There's no way Gardenhire expected Diamond and Deduno to be tossing his team into these kinds of victories. He didn't count on them, didn't game plan with them in mind in March and April. Yet here they are, the once-every-few-days catalysts of games a 53-77 team can never count on. Next season, they can play a bigger role. Next season, the luster might wear off, or maybe it will oxidize into something more stable and expected.Because we're at the point where next season is looming ever more important, and it's only nights like Wednesday that the Twins should strive to remember. These are the nights they should build off of, when things go right and a system seems in place. Next season isn't quite a cop out, but a chance for these glimpses to become less fleeting.A pessimist whines that games like Wednesday's are nothing new, nothing special to consider when the team will go back to losing again tomorrow. An optimist sets himself up for disappointment. A realist knows that this can never be expected not now, at least and enjoys it for what it is.At least games like these give the Twins hope that there's something to build around next year. There certainly appears to be. They're what's left in the waning days of August, and they won't suffice next year, not if they're mixed with the losses that have surrounded this season's gems.Follow Joan Niesen on Twitter.
Original Story:
http://www.foxsportsnorth.com/08/29/1...
THE BACKYARD
BEST OF MAXIM
RELATED ARTICLES
MINNEAPOLIS The Twins announced Thursday that pitching prospect Lester Oliveros had Tommy John surgery on his right elbow.Before going into surgery, the Twins doctors were unsure whether Tommy John would be necessary, but theyd received prior authorization from the team, Oliveros and his agent to perform the procedure if it was necessary. Upon closer examination, it was."He...
MINNEAPOLIS After sitting out his third game in a row, Twins outfielder Denard Span was officially placed on the 15-day disabled list after Thursday's 5-4 loss to the Mariners. He has been suffering from a strained right sternoclavicular joint in his right shoulder, which an MRI revealed on Wednesday.Span, who missed nine games between Aug. 13 and Aug. 22 with the same injury...
MINNEAPOLIS Baseball owed this one to Minnesota. And really, it owed it to itself.There are lots of beautiful ballparks across the nation. There are lots of beautiful new ballparks across the nation. There are so many other reasons to host the All-Star Game, from the sheer aesthetics to an anniversary to a simple "it's our turn" mentality, and really, Minnesota shouldn...
Minnesota Twins left-hander Scott Diamond has dropped his appeal of a six-game suspension for throwing behind Texas Rangers star Josh Hamilton. The Twins announced Diamond's decision Wednesday, one day after he allowed five runs in seven innings of a loss to the Seattle Mariners. He started serving his suspension on Wednesday and will miss one turn in the rotation. Diamond...
The Minnesota Twins have recalled first baseman Chris Parmelee from Triple-A Rochester. The Twins announced the move on Wednesday, a few hours before playing the Seattle Mariners. Parmelee has struggled in three stints with the Twins this season, hitting .204 with two homers and six RBIs in 40 games. He has fared much better in Rochester, hitting .338 with 17 homers and 49 RBIs...
A person with knowledge of the decision says the 2014 All-Star Game will be played at Target Field in Minneapolis. The person spoke to The Associated Press on Tuesday on condition of anonymity because the news has not yet been announced by the Twins or Major League Baseball. The news was first reported by the Star Tribune. The Twins scheduled a news conference for Wednesday afternoon...
The Boston Red Sox have coveted Minnesota Twins catcher ever since the hometown product was selected as the No. 1 overall pick in the 2001 MLB First Year Player Draft. It was not as if the Red Sox ever had a chance at drafting Mauer, as they did not even possess a pick in the first round that year, but they have always wanted Mauer in Boston. After the Twins signed Mauer...
Samuel Deduno dominated for seven innings, Trevor Plouffe homered and had four RBIs, and the Minnesota Twins beat the Seattle Mariners 10-0 on Wednesday night. The normally wild Deduno (5-2) struck out a career-high nine with no walks to help the Twins snap a seven-game losing streak against Seattle and win for just the fourth time in their last 20 games overall. After Trayvon...
It wasn't long ago when Joe Mauer was considered the premier catcher in the game. He was a St. Paul native and the face of the franchise when the Twins rewarded him with a long term deal. Just one year later they put him on waivers to check out the landscape for dumping his salary. This happened less than a year after three other teams locked committed $200M+ to first basemen.
MINNEAPOLIS Major League Baseball commissioner Bud Selig will be at Target Field on Wednesday to make what the Minnesota Twins are calling a "significant announcement" for an upcoming event to be held at the team's ballpark. By the time the announcement is made, it will be old news: The 2014 MLB All-Star Game will be held at Target Field. The team has yet to officially...
I was considering making this a live blog of the Gopher/UNLV tilt, but there area few issues with that: 1.  I don't care enough about the Gopher football team to write about it exclusively, even in one post.  Honestly off the top of my head right now I can name exactly one player, MarQueis Gray, and that's probably only because his name is so sweet.  It's not that...
Twins News

Delivered to your inbox

You'll also receive Yardbarker's daily Top 10, featuring the best sports stories from around the web. Customize your newsletter to get articles on your favorite sports and teams. And the best part? It's free!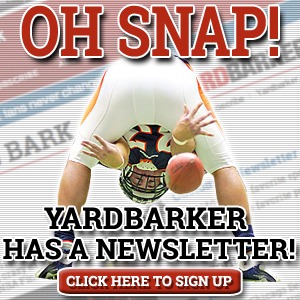 Latest Rumors
The Backyard

Today's Best Stuff

For Bloggers

Join the Yardbarker Network for more promotion, traffic, and money.

Company Info

Help

What is Yardbarker?

Yardbarker is the largest network of sports blogs and pro athlete blogs on the web. This site is the hub of the Yardbarker Network, where our editors and algorithms curate the best sports content from our network and beyond.