Found July 19, 2013 on Fox Sports North:
MINNEAPOLIS -- Justin Morneau knew the questions would be asked. His name has been flying amid trade rumors as the July 31 non-waiver trade deadline quickly approaches. Sitting at fourth place in the division, the Minnesota Twins will almost assuredly be sellers, not buyers, by the end of the month. Perhaps the most valuable trade chip is Morneau, who leads the team in RBI with 52 and is batting .273. If Morneau does get traded, it would mean leaving behind the team he's spent his entire career with. So how much does Minnesota's first baseman allow himself to think about playing for a different organization? "It's part of the game. It's part of the business of baseball," Morneau said Friday, before the first game after the All-Star break. "Everyone would like to play their entire career somewhere but sometimes it's not an option or doesn't work out that way or the timing isn't right. I'm still here and I'm still happy to be here. I'm still a member of the team and I hope to be in the future. But beyond that, there's not really much I can control." Morneau was the Twins' third-round pick in the 1999 draft and debuted with Minnesota in 2003. Since then, he's hit 211 home runs, was the 2006 American League MVP and a four-time All-Star. Recently, though, Morneau's numbers have dipped, especially his power numbers. Since a concussion in 2010 that cut his season short, Morneau has struggled to hit for power. He finished with 19 homers a year ago, but the player who was once a 30-homer hitter has just seven entering Friday's game against Cleveland. Even with his power outage, though, the 32-year-old Morneau could be a hot commodity for contending teams needing a first baseman or a left-handed bat as the deadline nears. He is a free agent at the end of the season and said Friday that there have been no recent discussions with the Twins about a potential contract extension. He also reiterated that he has a limited no-trade clause that includes six teams -- he wouldn't specify which ones -- that he can't be traded to. "It's pretty limited," Morneau said of the no-trade clause. "It's probably not anyone who would have an impact on it. That list has to be in November or whenever it is before teams even have their rosters. But you always have an idea of where you'd like to go or not want to go. If it doesn't fit, there are reasons for it." Morneau was featured in a bobblehead giveaway Friday, along with teammate Joe Mauer. The first baseman's No. 33 jersey is among the most common jerseys worn by fans at Target Field, save for Mauer's No. 7. Indeed, Morneau has become one of the faces of the Twins over the years. His teammates can't quite imagine what it would be like to see him in a different uniform. "I'm not even going to speculate on that," Mauer said of his closest friend on the team. "I've been around long enough to realize there's a lot of stuff going on out there and try not to react to things like that. What he means to the team, he's a big part of our success over the years here and I hope he's here for a long time." As for Morneau, he continues to avoid listening to the rumors. He's more concerned about helping his club get off to a strong start in the second half of the year. Anything more than that is out of his control. "I'm not going to play the what-if game," Morneau said. "I'm happy to be here. I'll worry about the future when it comes. I've been here long enough to know the future is not guaranteed. So I'll just enjoy the day and the organization that has been so good to me. Hopefully I'm here for a lot longer, but we'll see what happens." Follow Tyler Mason on Twitter
Original Story:
http://www.foxsportsnorth.com/mlb/min...
THE BACKYARD
BEST OF MAXIM
RELATED ARTICLES
The Twins aren't going to the post season again this year. The Twins have been open about their intent to move fixture Justin Morneau. Angry fans are ready to seem him traded, because it's going to "free up payroll" or something. Morneau is a popular player that will be tough to let go. With the attention to the farm system that the internet has allowed, there will be extra...
Twins longtime slugger Justin Morneau is available in trade and likely to be dealt somewhere, but a canvassing of a few possible landing sports suggests a soft market so far. The Twins are sellers at this point -- "If someone calls, we'll listen'' says general manager Terry Ryan -- but Twins-connected people suggest there's almost no chance they'll deal...
The Minnesota Twins have recalled first baseman Chris Colabello from Triple-A Rochester, the last of three replacements in an All-Star break roster shake-up. Colabello joined the team for Thursday's game against Cleveland. The Twins announced before the break they were bringing up catcher/outfielder Chris Herrmann and infielder Doug Bernier, but they waited until after Colabello...
MINNEAPOLIS -- Twins closer Glen Perkins didn't get to pitch in his first All-Star Game. He got as close as warming up in the bullpen in the ninth inning Tuesday, but never saw the field. Friday's game against Cleveland might not have been of the same magnitude, but Perkins got his chance to pitch and was pivotal in Minnesota's 3-2 win over the Indians. The Twins'...
Going into this season, one of the things I told anyone who was interested was that the Twins were bound to be better, because there was no way that their pitching could be as historically bad as it was last year. I mean, last year saw Sam Deduno and PJ Walters get a significant number of starts! Now, however, the Twins find themselves cruising for another dismal record, on pace...
MINNEAPOLIS -- Doug Bernier started to have his doubts. He had a brief taste of the major leagues, but it started looking like he may never get back there again. It's been five years, almost exactly to the day, since Bernier had his first cup of coffee in the major leagues. The utility infielder debuted with the Colorado Rockies for two games in mid-July in 2008. His first action...
- The Bella Twins were at ESPN's ESPYS awards last night:The Twins will be appearing on NFL AM, KTLA Morning News in Los Angeles and E!'s Fashion Police today also.- MVP reportedly has an eye injury. He showed up this past weekend at Booker T's independent wrestling show in South Texas, wearing an eye patch and being unable to wrestle.- WWE Money in the Bank from Philadelphia...
MINNEAPOLIS (AP) -- Joe Mauer's two-out RBI single in the eighth inning lifted the Minnesota Twins to a 3-2 victory over Cleveland on Friday, after an error by Indians first baseman Nick Swisher set up the winning run. Four Twins relievers struck out six over 3 1-3 hitless innings, including Casey Fien (2-2) in the eighth and All-Star Glen Perkins in the ninth for his 22nd save...
MINNEAPOLIS (AP) --Kevin Correia threw six sharp innings for his first win in a month, Joe Mauer and Justin Morneau each had two hits and a walk, and Minnesota beat Cleveland 3-2 on Saturday night for its fourth-straight win. Correia (7-6) allowed only three hits -- one of them a two-run homer by Jason Kipnis -- with one walk and three strikeouts. The Indians entered the day 1 games...
- The Bella Twins were at ESPN's ESPYS awards last night: The Twins will be appearing on NFL AM, KTLA Morning News in Los Angeles and E!'s Fashion Police today also. - MVP reportedly has an eye injury. He showed up this past weekend at Booker T's independent wrestling show in South Texas, wearing an eye patch and being unable to wrestle. - WWE Money in the Bank from Philadelphia...
Happy weekend. I know I'm happy to have finally made it. "Unabated mascot activities" Glen Perkins got the save last night, I assume because the Indians were distracted. Another Big Lead link, but Nate Silver is going to ESPN. CALENDAR MLB Atlanta 6, Chicago 4 – This guy just got under the wire before thunderstorms got into town. Too bad for Chicago. Minnesota 3, Cleveland...
Twins News

Delivered to your inbox

You'll also receive Yardbarker's daily Top 10, featuring the best sports stories from around the web. Customize your newsletter to get articles on your favorite sports and teams. And the best part? It's free!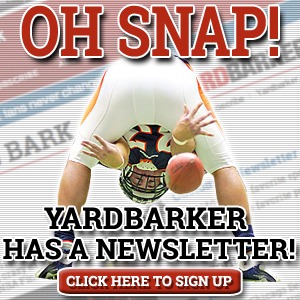 Latest Rumors
The Backyard

Today's Best Stuff

For Bloggers

Join the Yardbarker Network for more promotion, traffic, and money.

Company Info

Help

What is Yardbarker?

Yardbarker is the largest network of sports blogs and pro athlete blogs on the web. This site is the hub of the Yardbarker Network, where our editors and algorithms curate the best sports content from our network and beyond.