Found June 16, 2012 on Fox Sports North:
MINNEAPOLIS Justin Morneau measures his words carefully, speaking with a purpose when a question is asked of him. He had to pause briefly when asked this week about the concussions he's suffered in each of the previous two years, one that cut his 2010 season short and another that hampered him during 2011. Was there ever a thought that concussions could threaten his career?"Of course there is," Morneau said, sitting back in his chair at his corner locker in the Twins clubhouse, taking a moment to ponder the question before continuing. "It's just a reality of the situation. If a guy has arm surgery and he can't throw the ball, obviously it's going to be a possibility. It wasn't something that I really entertained as something that I was thinking about. It was a realistic possibility. If I don't recover, I'm not allowed to play."By most accounts, Morneau, 31,has recovered. It's certainly been a long road back, though, and he'll admit he's not all the way there. After suffering a concussion against Toronto while sliding into second base on July 7, 2010, Morneau missed the remainder of the season. Before the injury,the 2006 AL MVPwas on an All-Star pace, batting .345 with 18 homers and 56 RBI in 81 games.In 2011, Morneau's concussion symptoms came back after he dove for a ball at first base. That, plus several other ailments including neck surgery to remove a herniated disk fragment and wrist surgery at the end of the year caused Morneau to play in just 69 games all season. Last year, Morneau's good friend and teammate Joe Mauer also dealt with injuries and appeared in only 82 games. The two former MVPs shared frustrations over not being able to stay on the field. Mauer could tellthe time missedweighed heavily on Morneau, who is regarded aspossibly the hardest workeron the Twins."It was just a lot of frustration, just trying to do everything you can to get back on the field and it didn't work very well," Mauer said of Morneau. " Obviously (his concussion) lingered for a long time. You never want to see anybody have to end their career for something like that, or anything really, injury-wise."Morneau entertained doubts that his career might be over, but he didn't want to believe that could happen.He underwent rigorous offseason regimens to overcome the concussion symptoms. After missing more than half of the 2010 season, Morneau returned to the Twins' Opening Day lineup on April 1, 2011. It's been a slow, steady climb since then.Morneau has not played at the end of the past three seasons. He missed the Twins' playoff runs in 2009 and 2010 witha back injury and theconcussion and was away from the field for a good part of Minnesota's 99-loss season last year. So far in 2012, Morneau had one brief stint on the disabled list, missing time in early May with a sore left wrist. Since his return, he's batting .240 with six homers and 24 RBI in 27 games through Saturday. On the season, his average sits at just .236.The key for Morneau, however, has been hisability to remain healthy. Manager Ron Gardenhire has been able to plug him into the lineup almost every day over the past month and regularly at first base lately after he was the Twins' designated hitter to start the year."I really don't talk to him too much other than about DH or first base, but he really likes playing first base more than anything else," Gardenhire said. "Every once in a while I know I'm going to give him a DH day. He's going along pretty good, and he's healthy."But simply being on the field every day isn't good enough for Morneau, who is probably his own harshest critic."I'm not somebody that's ever been happy just to play. I want to play well," Morneau said. "I haven't played how I expected myself to play. Hopefully I'll continue to get better and get more comfortable and just play the way I feel like I'm capable of playing and I think I'll be a little bit more content than I am right now. "Even when I'm at my best, I'm still trying to get better."Morneau will be the first to admit that his approach at the plate is still a work in progress. He's third on the Twins with 10 home runs and second in RBI with 33, but he's also second in strikeouts with 41.He hasparticularly struggled against left-handed pitching. After hitting into a rally-killing double play Saturday against Brewers reliever Manny Parra, Morneau is now hitting just 6-for-63 (.095) against lefties this season."At this point it's just trying to be more consistent, have more consistent at-bats, have a better approach every at-bat and not give away at-bats," Morneau said. "I think I've been extremely inconsistent. I think that's the key to this game is being consistent with your approach and your plan and everything, and I don't think I've done that the way I'd have liked. I think I've been too mechanical at times and trying to break that habit."The Twins need a healthy and productive Morneau in the lineup to help make the offense go. Despite everything he's gone through over the past two seasons, all the hurdles he's climbed and the obstacles he's overcome, Morneau is an important cog in Minnesota's lineup. He knows that, and so do his teammates."He's swinging the bat pretty good," Mauer said. "When he steps into the batter's box, other teams know what he's capable of doing. I don't think that's changed."Follow Tyler Mason on Twitter.
Original Story:
http://www.foxsportsnorth.com/06/16/1...
THE BACKYARD
BEST OF MAXIM
RELATED ARTICLES
Minnesota Twins first baseman Justin Morneau is experiencing soreness in his left forearm and is out of the lineup. Manager Ron Gardenhire says Morneau's injury is ''not a big deal'' but ''definitely something that was bothering him'' while swinging the bat during Thursday's game against Philadelphia. Morneau told Gardenhire he felt better...
Minnesota Twins catcher Joe Mauer is out day-to-day with a sore hamstring and first baseman Justin Morneau returned after missing Friday's game with a sore left forearm, MLB.com reported Saturday. Mauer sustained the injury while running the bases in Friday's 5-3 loss to the Milwaukee Brewers. He stayed in the game, but it got worse as the game went along, Twins manager...
Trevor Plouffe got something Sunday only baseball's best hitters get: protection. That would have been unthinkable at any other point in his major-league career, but the reality is Plouffe has been one of baseball's best hitters in June, and Minnesota Twins manager Ron Gardenhire treated him as such for Sunday's series finale against Milwaukee. Through Saturday, Plouffe...
MINNEAPOLIS Minnesota Twins closer Matt Capps is dealing with a sore right shoulder and won't pitch until at least Tuesday, manager Ron Gardenhire said before Sunday's series finale against Milwaukee. Capps last pitched in Friday's 5-3 loss to the Brewers. He entered the ninth inning with a 3-3 tie and was hit with a loss when he gave up a two-run homer to Martin Maldonado...
MINNEAPOLIS Twins catcher Joe Mauer left Sunday's game with a bruised right quad and is listed as day-to-day, the team announced. Mauer suffered the injury during a collision at home plate with Brewers second baseman Rickie Weeks in the second inning. Mauer tagged Weeks for the out but was slow to get up. He stayed in the game but was lifted for a pinch runner in the seventh...
Minnesota Twins catcher Joe Mauer has been held out of the lineup against the Milwaukee Brewers because of a sore hamstring. Twins manager Ron Gardenhire did not specify which hamstring was injured. He says Mauer tweaked it in the loss to the Brewers on Friday night. Gardenhire says Mauer felt discomfort early in the game, played the rest of the way and was being held out as a precaution...
MINNEAPOLIS Liam Hendriks hoped his impressive results in Triple-A Rochester would carry with him after his promotion to the Twins.Not so much.Hendriks got the start Saturday for Minnesota, his first outing after being recalled and first start for the Twins since May 2. The 23-year-old right-hander gave up five runs (two earned) on eight hits including three home runs as the Twins...
The Minnesota Twins have placed closer Matt Capps on the disabled list with inflammation in his right shoulder. The team announced the move on Monday, one day after Capps showed up in Cincinnati with more pain in his shoulder. The issue has bothered Capps for much of the summer. The veteran tried to pitch through the discomfort, but it was hampering his effectiveness. The Twins...
By MATT BEARDMORE, STATS WriterA day after celebrating his 26th birthday with his first career two-homer game, Trevor Plouffe has a chance to become the first Minnesota Twin in 17 years to hit the ball out of the park in five straight contests. Milwaukee right-hander Michael Fiers could stop that from happening a day after turning 27 as the Twins and Brewers continue their three...
During the third inning of Thursday's victory in Minnesota, Jim Thome launched career home run 607 into the flower bed in right-center field at Target Field.  Throughout the the course of the game, the missing ball was a point on the broadcast. Fox Sports North reports the ball has been recovered by Senior Director of Ballpark Systems Gary Glawe. "The situation obviously...
FOXSportsNorth.com Twins beat writerFOXSportsWisconsin.com Brewers beat writer With the second of two border battles between the Minnesota Twins and Milwaukee Brewers starting Friday, FOXSportsNorth.com Twins writer Tyler Mason and FOXSportsWisconsin.com Brewers writer Ryan Kartje have paired up to answer five key questions facing the teams as they meet at Target Field. 1. The Brewers...
MLB News

Delivered to your inbox

You'll also receive Yardbarker's daily Top 10, featuring the best sports stories from around the web. Customize your newsletter to get articles on your favorite sports and teams. And the best part? It's free!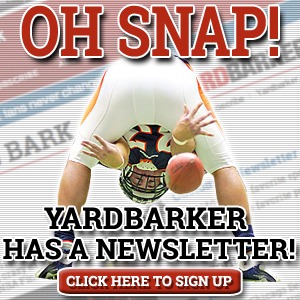 Latest Rumors
The Backyard

Today's Best Stuff

For Bloggers

Join the Yardbarker Network for more promotion, traffic, and money.

Company Info

Help

What is Yardbarker?

Yardbarker is the largest network of sports blogs and pro athlete blogs on the web. This site is the hub of the Yardbarker Network, where our editors and algorithms curate the best sports content from our network and beyond.