Found March 06, 2012 on Fox Sports North:
PLAYERS:
Joe Mauer
,
Justin Morneau
,
Ron Gardenhire
,
Johan Santana
,
Mark Teixeira
,
Denard Span
,
Cameron Maybin
,
Andrew McCutchen
,
Paul Molitor
TEAMS:
Minnesota Twins
,
New York Mets
,
New York Yankees
,
San Diego Padres
,
Pittsburgh Pirates
FORT MYERS, Fla. - This just in: Joe Mauer and Justin Morneau played a baseball game Monday night. I saw them in the flesh at Hammond Stadium. Mauer singled twice and caught five innings. Morneau went 0-for-2. They are preparing for the 2012 season, just like the rest of their Minnesota Twins teammates.To say Mauer and Morneau have returned is accurate. To say the 2009 and 2006 American League MVPs are "back" is premature. A wide chasm exists between the two statements. The near-term future of a proud organization lies somewhere in the middle.Paradoxically, last year's 99-loss debacle revealed much about why the Twins had been so good for so long. Turns out, it wasn't the Metrodome or the mysticism of Ron Gardenhire's goateed grin. It was, instead, the union of superstars (Johan Santana once among them) with a sound supporting cast. That was enough for the Twins to win the AL Central six times in Gardenhire's first nine seasons.But take away the icons, and you wind up with the worst team in baseball this side of the Astros.The lost season made abundantly clear how much the Twins rely on Mauer and Morneau whom Yankees first baseman Mark Teixeira considers "arguably the two best left-handed hitters in baseball." Last year, injuries kept them out of the lineup more than half the time and limited their production when they played: seven home runs combined in 151 games. The Twins didn't have a chance.So, the team's biggest storylines this spring are as follows: How is Mauer feeling? How is Morneau feeling? How is Denard Span feeling?Their pitching doesn't look very good, but that didn't stop them from winning the division in 2010. If Span, Mauer and Morneau produce, Gardenhire will fashion a .500 outfit from the remaining raw materials. That might as well be the Twins' slogan: If our big guys stay healthy, we'll be OK.Don't underestimate Span's importance. The leadoff man was limited to 70 games last year by a concussion and migraine headaches. The Twins need him to be the table-setting presence he was in 2009, when he swiped 23 bases and led the league in triples. Span, 28, said he studied video clips of base-stealing virtuoso Jose Reyes during the offseason to improve his knowledge of the craft.As recent contracts for Cameron Maybin and Andrew McCutchen suggest, teams are desperate to keep two-way center fielders once they find them. Span, at his best, is that type of player."If Denard's health returns and he's looking good his best years are ahead of him in the leadoff spot," said Hall of Famer Paul Molitor, in Twins camp as a special instructor. "He's a big part of the team's offensive flow. We tried other guys in that role, but no one had the on-base percentage or sees the amount of pitches he does on a regular basis. He's critical to our success.In that respect, Monday's 10-2 loss to Boston was a resounding success: Span, Mauer and Morneau started, played and exited in (apparent) good health.Mauer said there's a "night-and-day" difference in how he feels now compared to one year ago. Coming off knee surgery, he appeared in only eight games last spring none before the middle of March. He never seemed completely healthy and ended the season on the disabled list because of pneumonia."I had lot of things going on shoulder, elbow, hip, knee," Mauer said Monday. "You can go up and down the list."Now?"It's nice to do things I haven't been able to do for a long time," he said. "I still have a lot of work to do, but I'm definitely ahead of where I was last year."When I asked him to put a number on how many games he felt at full strength last year, Morneau replied, "Zero. My neck was bothering me the last week or two of spring training, and then everything else came on top of that. There wasn't one day when I felt like myself."The specter of concussions will linger for the rest of Morneau's playing career, even though he said he hasn't experienced symptoms since December or January. (This year, he will wear a batting helmet with enhanced protection.) He can't train quite as long or quite as hard as he could prior to sustaining his season-ending concussion in 2010; those limitations invariably will affect his on-field performance.But he's still here."I've done everything we've done (as a team this spring) and woke up the next day, ready to go," he said.Morneau is willing to put in the work to become an elite run producer again. If he's healthy, he believes he can do it."It's tough to see him go through his injuries, because we came up around the same time," Teixeira said Monday morning at the Yankees' spring base in Tampa. "We're about the same age. I really feel for him, that he's had this string of injuries."I love the way he swings. He always plays the game hard. As a first baseman, when he's up and I'm holding a guy on, I almost fear for my life. He can hit the ball so hard. I'd love to see him back to a hundred percent."So would the Twins. He isn't there yet, but Monday's progress report was good. If you're interested in the Twins' chances for 2012, check back Tuesday ... and the day after that ... and the day after that ...
Original Story:
http://www.foxsportsnorth.com/03/06/1...
THE BACKYARD
BEST OF MAXIM
RELATED ARTICLES
FORT MYERS, Fla. Glen Perkins just turned 29 years old a few days ago, but the Twins' set-up man already feels like one of the old guys on the team. As Minnesota's spring training clubhouse is filled to the brim with 66 players -- including a set of makeshift lockers to accommodate the overflow -- there are plenty of new faces at the Lee County Sports Complex. But now in...
FORT MYERS, Fla. Twins infielder Luke Hughes played Sunday for the first time since straining his right shoulder while playing winter ball in his native Australia. While Hughes went 0-for-3 with a strikeout, he said everything felt good with his shoulder one day later."It was awesome," Hughes said. "A good bit of weight off the shoulders a little bit, to know I can...
The Minnesota Twins organization is no stranger to utilizing clever and offbeat ad campaigns to promote their product. Some of last season's ads included Jim Thome as a Paul Bunyan-esque character and current manager Ron Gardenhire and former skipper Tom Kelly donning wigs are just a sampling of how unique the Twins have been in [...]
PORT CHARLOTTE, Fla. While it had already been announced that reliever Joel Zumaya would undergo Tommy John surgery on his injured right elbow, the Twins said Tuesday that the surgery will take place on March 29 in Pensacola. Dr. James Andrews will perform the surgery.The 27-year-old Zumaya has a history of arm problems and missed all of 2011 after injuring his arm during the 2010...
FORT MYERS, Fla. Since he was a teenager, Nick Blackburn had thrown from the side of the pitching rubber closest to first base. But the Twins' right-handed sinkerballer made a change this offseason, moving closer to the center of the mound. It's still early in spring, but Blackburn said the change is paying off. "It's been good so far. It's been a great adjustment...
The Minnesota Twins reliever Joel Zumaya said he plans to resume his career after undergoing Tommy John surgery. Zumaya tore the ulnar collateral ligament in his right elbow during his first bullpen session of spring training camp after throwing only 13 pitches. After learning of the severity of the injury, the 27-year-old Zumaya said he was contemplating retirement. He will have...
FORT MYERS, Fla. Underneath Hammond Stadium, two former baseball players throw batting practice to current ones. The scene isn't that unusual for spring training. In this instance, several Minnesota Twins take their swings before a 10 a.m. "B" game against the Boston Red Sox. At the far end of the cage, however, the two former players aren't just any ex-Major...
PORT CHARLOTTE, Fla. (AP) -- Scott Baker pitched two hitless innings in his spring debut as the Minnesota Twins beat the Tampa Bay Rays 3-2 on Tuesday. The outing was a good sign for Baker, who went 8-6 with a 3.14 ERA for the Twins before an elbow injury ended his 2011 season. The Rays are winless in their four exhibition games, three of the losses are against Minnesota. Jeff...
Scott Baker pitched two hitless innings in his spring debut as the Minnesota Twins beat the Tamps Bay Rays 3-2 on Tuesday. The outing was a good sign for Baker, who went 8-6 with a 3.14 ERA for the Twins before an elbow injury ended his 2011 season. The Rays are winless in their four exhibition games, three of the losses are against Minnesota. Jeff Niemann made a case to keep...
The Sox are one game closer to winning the Mayor's Cup with another win over the Twins in Spring Training.  This time the Sox beat the Twins on their field just 5 miles down the road.  Clay Buchholz started the game for the Sox and pitched two scoreless innings, giving up 2 walks and K'ing two batters.  Clay had some command issues, but it still was a productive outing...
Auction drafts can eat you alive and spit you out before you even knew you were in the belly of the whale. Unlike the snake draft, an auction has no rhythm, no real sense of order. It takes hours of complete focus and the ability to gauge the consequences of spending or not spending your money early, with regard to what will happen later. Auction drafts are ever-evolving as...
I had a colleague at work who was nice enough to get me involved in a fantasy league over at FanGraphs. I've been in dozens of fantasy leagues through the year of all shapes and sizes, but this time one thing was different. It was an auction draft format. Each owner in this 12-team league has $400 of spending cap money to fill 40 roster spots. On the roster, 24 of those spots...
MLB News

Delivered to your inbox

You'll also receive Yardbarker's daily Top 10, featuring the best sports stories from around the web. Customize your newsletter to get articles on your favorite sports and teams. And the best part? It's free!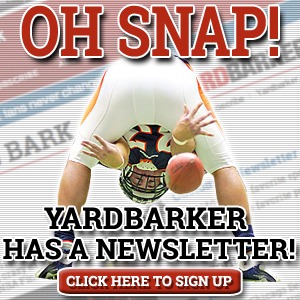 Latest Rumors
The Backyard

Today's Best Stuff

For Bloggers

Join the Yardbarker Network for more promotion, traffic, and money.

Company Info

Help

What is Yardbarker?

Yardbarker is the largest network of sports blogs and pro athlete blogs on the web. This site is the hub of the Yardbarker Network, where our editors and algorithms curate the best sports content from our network and beyond.