Found April 30, 2013 on Fox Sports North:
Glen Perkins insists he's not trying to strike out every batter he faces. It only seems that way for the Minnesota Twins closer. Since taking over as the team's closer midway through last season, Perkins has been lights-out in the ninth inning. This year, the Twins left-hander is a perfect 6-for-6 in save situations. Over his last four outings, he's struck out at least two batters an inning. In the first game against Miami in a double-header last week, Perkins struck out the side to earn his sixth save. "We have great fielders, but any time you can avoid using any fielders or them putting the ball in play, I think that's the best result," Perkins said. "If you strike a guy out, he's out. The ball's not going to fall in. It's not going to find a hole. I don't want to throw a lot of pitches, but if I can strike the guy out on three or four pitches, that's definitely my goal." It's a small sample size, but in nine games this year, Perkins is averaging 13.5 strikeouts per nine innings easily a career high. Last season, which included his first stint as the Twins' closer, Perkins fanned 10.0 batters per nine innings. He's also posted a WHIP (walks and hits per innings pitched) of 0.923 so far in 2013. When it comes to statistics, it's been well documented that Perkins is big into sabermetrics, which tends to delve deeper than the stats traditionally found in the box score. But he admits that sabermetrics numbers don't help him prepare for facing opposing batters. "That's just not a tool for evaluating scouting reports or how I want to pitch guys," Perkins said. "That's just more of a hindsight thing, like this is how I've done or this is things that I could improve. Obviously I'd like to strike the guys out. I don't want to walk them. And you don't want to give up home runs ever. That's really all there is to it. It's avoiding fly balls and it's avoiding walks." Perkins saved 16 games for the Twins last year after Matt Capps was sidelined with injury. This spring was Perkins' first as the full-time closer. Now that he's a month into the 2013 season, Perkins says things aren't much different than they were last season. "I guess I kind of got broken in last year," Perkins said. "For me, it's just been a continuation of what I've done the last couple years. It's just the ninth instead of the eighth or the seventh. It really hasn't been any adjustment or anything like that. You've still got to get them out no matter when it is." Added Twins catcher Joe Mauer: "I think he's just continuing where he left off. The season's still early but we feel pretty good when we give him the ball in the ninth." Perkins and Mauer are both Minnesota natives and both represented the United States in this winter's World Baseball Classic. But the current Twins teammates were also united on another team during their high school days. Perkins attended Stillwater High School while Mauer played at Cretin-Derham Hall. The two were roommates for a weekend during a Lions All-Star Game in Minnesota. "Little did I know he was going to be our closer and I was going to be the catcher," Mauer said. As good as Perkins has been early for the Twins, he's had a few bumps along the way through nine games. He gave up two runs on two walks and a hit in Sunday's 7-2 win over Texas and needed 28 pitches to do so. The only other game he allowed runs in was yet another non-save situation when he gave up a pair of runs in a 16-5 loss to the Mets. Perkins is admittedly not happy with his performance in those two games, although he's still yet to give up a run in a save situation. "The last thing I want to do in a game like (Saturday) is throw 28 pitches," Perkins said. "Those games, I probably don't focus as much on trying to strike guys out. I'd rather have a quick inning. I'd rather throw under 10 pitches if I can. So it's frustrating when I go out there because if it comes up where I pitch now, I'm coming off 28 instead of 10. But I definitely try to get them out every time regardless." The velocity on Perkins' fastball is down a bit early in the season, but that's not unexpected given the colder temperatures. According to FanGraphs, his fastball is averaging 93.8 mph this season compared to 94.9 mph a year ago. Perkins knows that his velocity will come with time. "I think I'm going in the right direction," he said. "I'll get stronger as the season goes on and then as the season goes on further I'll wear down a little bit. I'm not real happy with where my slider's at, more than my fastball. There's some room for improvement with my slider. I'm still working on that one." Even though Perkins is his own harshest critic, the Twins are glad to have him at the back end of the bullpen. After transitioning to that role in 2012, Perkins hasn't seemed to skip a beat in 2013. "He's kind of found his niche, coming in for one inning," Mauer said. "The last two seasons it's been in the ninth. It's been good. It's been fun to see." Follow Tyler Mason on Twitter.
Original Story:
http://www.foxsportsnorth.com/mlb/min...
THE BACKYARD
BEST OF MAXIM
RELATED ARTICLES
More often than not, fans who attempt to interact with their favorite players on Twitter will be ignored. Professional athletes have hundreds of thousands of followers in some instances, and it would be impossible for them to respond to ever fan who tweets at them. But one Twins fan reminded us over the weekend that it's always worth a shot. Alex Berg, a student at Bemidji State...
Minnesota's Glen Perkins is perhaps the most active Twins player on Twitter. On Sunday, he used the social media platform to help out a loyal Twins fan. The Twitter interaction began Sunday morning when Alex Berg, a junior at Bemidji State University, tweeted at Perkins and said he had problems ordering tickets from an online ticketing site for Sunday's series finale against...
COMING THROUGH
Twins pitcher Glen Perkins came through for a fan who had an issue with his tickets. See what took place between them.
MINNEAPOLIS Kevin Correia may be surprising Twins fans with the start he's had to the season, but nobody in Minnesota's clubhouse seems stunned by what the veteran right-hander is doing. With eight scoreless innings in Sunday's 5-0 win over Texas, Correia is now 3-1 with a 2.23 ERA in five starts this season. In all five outings, he's gone at least seven innings...
The Minnesota Twins are rolling out a unique lineup Tuesday, already their 13th different batting order of the young season. Infielder Eduardo Escobar is in the leadoff spot for Tuesday's game against the Detroit Tigers at Comerica Park. The Twins used Aaron Hicks in the leadoff spot for the first week and a half before slotting Brian Dozier into that spot. Dozier had been...
Even batting champs have their struggles. After going 0-for-4 in Monday's loss to Detroit, Twins catcher Joe Mauer is now hitless in his last 20 at-bats. That's the longest hitless streak of his 10-year career. It surpasses the three-time batting champion's 0-for-17 slump during mid-August in the 2007 season. Before Mauer's slump began on Thursday against Texas...
This story has been generously provided by the Minnesota Twins, who provided this piece of gold for all baseball fans – and Twins fans – to enjoy. Here is what the Twins website posted on their website today: For several games this season, Twins Season Ticket Holders can register for the chance to sport one of five Mascot costumes and be on the field for the race before the 5th...
MINNEAPOLIS When the Minnesota Twins traded Ben Revere and Denard Span this offseason, they lost not only two starting outfielders but also two of the faster players on the team. Revere led the Twins with 40 stolen bases last season, while Span swiped 17 bags. Also gone is infielder Alexi Casilla, who was tied for second on the Twins with 21 steals in 2012. With those three no longer...
Thanks to another strong outing from Kevin Correia, the Minnesota Twins are ahead of where they were at this point last season. Way ahead. Correia pitched eight sharp innings, Justin Morneau homered and the Twins beat Texas 5-0 Sunday, handing the Rangers consecutive losses for the first time this year. It took the Twins 37 games to reach 11 wins last season. After Correia'...
MINNEAPOLIS (AP) -- Kevin Correia pitched eight sharp innings, Justin Morneau homered and the Minnesota Twins beat Texas 5-0 Sunday, handing the Rangers consecutive losses for the first time this season. Correia (3-1) gave up six hits, struck out two and walked one. He allowed only one runner to reach third base while lowering his ERA to 2.23. Correia has pitched at least seven...
Miguel Cabrera is surging for the Detroit Tigers while Joe Mauer is enduring a very rare drought without a hit for the Minnesota Twins. These superstars will be in the spotlight Monday night when the Tigers look for a fourth straight victory in the opener of a three-game home set against the surprising Twins. The red-hot Cabrera brings a 12-game hitting streak into this contest....
Rumor has it, there could be an episode of Rhino and Compass Radio tomorrow afternoon. Just rumors at this point. The Twins will win the division now that Trevor Plouffe is out of the lineup. The Wild are going to the playoffs! If you know anyone being drafted by the NFL (who won't) next year, here is a fun trick. SCOREBOARD Football League Championship Blackburn 1, Crystal Palace...
MLB News

Delivered to your inbox

You'll also receive Yardbarker's daily Top 10, featuring the best sports stories from around the web. Customize your newsletter to get articles on your favorite sports and teams. And the best part? It's free!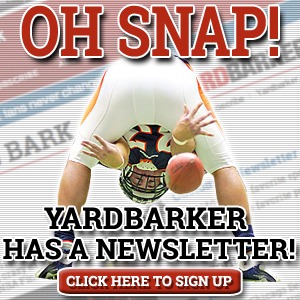 Latest Rumors
The Backyard

Today's Best Stuff

For Bloggers

Join the Yardbarker Network for more promotion, traffic, and money.

Company Info

Help

What is Yardbarker?

Yardbarker is the largest network of sports blogs and pro athlete blogs on the web. This site is the hub of the Yardbarker Network, where our editors and algorithms curate the best sports content from our network and beyond.