Found July 31, 2012 on Down with Goldy:
PLAYERS:
Jason Kubel
,
Michael Cuddyer
,
Joe Nathan
,
Denard Span
,
Justin Morneau
,
Josh Willingham
,
Jared Burton
,
Glen Perkins
,
Homer Bailey
,
Ryan Doumit
,
Carl Pavano
,
Chris Johnson
,
Wandy Rodriguez
,
Brett Myers
,
Brandon Lyon
,
Barry Bonds
,
Jose Tabata
,
Damaso Marte
,
Xavier Nady
,
Nate McLouth
,
Charlie Morton
,
Octavio Dotel
,
James McDonald
,
Joel Hanrahan
,
Lastings Milledge
,
Pedro Alvarez
,
Andrew McCutchen
,
Neil Walker
,
Gerrit Cole
,
Starling Marte
TEAMS:
Arizona Diamondbacks
,
Colorado Rockies
,
Texas Rangers
,
Minnesota Twins
,
Cincinnati Reds
,
Houston Astros
,
Pittsburgh Pirates
,
Chicago White Sox
,
Toronto Blue Jays
,
New York Yankees
,
Washington Nationals
,
Baltimore Orioles
,
Detroit Tigers
Aargh this is frustrating.  Once again, the Twins made no moves at the trade deadline (outside of the Liriano deal) despite being irrefutably out of playoff contention and having players other teams covet but who don't or shouldn't figure in the team's future plans - you know, the perfect combination to make a whole bunch of trades (see:  Astros, Houston).  Last season the team had Jason Kubel, Michael Cuddyer, and Joe Nathan (among others) who were all going to be free agents and all could have been traded away, yet none were.  I was frustrated but understood the thinking at least, given that the Twins would receive a draft pick for each once they signed somewhere else - that isn't the case this year.
There were reports of team's after Denard Span, Justin Morneau, Josh Willingham, Jared Burton, and Glen Perkins, and there was absolutely no reason to hold on to Morneau or Burton (and maybe not Perkins either, depending on your opinion of his future).  At this point the Twins need to realize they're at least two more years if not more away from contending and it's time to figure out who is going to be a part of this team when it comes back around, assuming it does, and then trade everybody else.  Span is still a pure leadoff hitter, and although he and Revere are somewhat redundant he's also signed to a very team friendly deal through 2015 so there's no reason to trade him unless a deal knocks you on your ass, which apparently the Reds didn't do today - although if you could get Homer Bailey and a couple good prospects I'd have pulled the trigger.  Willingham's kind of in the same boat, pretty much the team's only pure power hitter who is also signed to a great contract through 2014, so I get holding on to him too.  But the rest?
Morneau has a big contract, owed $14 million next year and a pro-rated $14 for the rest of this year so it might be a litter tougher to get full value back, but it was reported the Dodgers, Giants, and Blue Jays were all after him, but the Twins were asking for too much back, including a major leaguer in return and having the team that received Morneau pick up his entire contract.  Well guess what?  If you can't get that this year you sure as **** aren't going to get it next year when he's just going to be a two month rental for some team.  At least this year whatever team traded for him would get an entire year and change out of the deal.  Now?  They've basically gambled that he can get himself back to a $14 million a year player, at which point they won't be able to afford to resign him after his contract is up because they're hamstrung by the Mauer deal.  Best case scenario at this point is he plays out of his mind, walks, and they get a pick.  Well played, Terry Ryan. 
And as for Burton and Perkins?  They're relievers.  Relievers pretty much grow on trees.  Reports are the Rangers were going after Burton and that "Perkins was in high demand today."  What?  For what reason would you possibly hold on to middle relievers when you aren't a contender?  Perkins, maybe, if you've decided he's your closer of the future (foolish, but it at least makes some sense) but Burton?  The average lifespan of a middle reliever on a team is 1.2 years, a figure I completely made up but it sounds right.  From year-to-year they're notoriously unreliable, and the odds Burton is on this team when they're back in contention are basically nil.  It just doesn't make a lick of sense. 
Who on this team might possibly matter in the future?  Mauer, because they're stuck with him.  Span, Revere, Willingham, Dozier, Plouffe, and Parmelee?  I mean, I like Ryan Doumit quite a bit, but on a team like the Twins he's just a placeholder so if anybody comes sniffing around him (and it sounds like nobody did this year) he's another one who should be traded.  Diamond's pretty much the only starter worth penciling in your 2014 rotation, and between their lack of value and youth they'll obviously hold on to guys like DeVries, Deduno, Walters, and Hendriks, but pretty much everybody else needs to go and if they don't trade Carl Pavano at the waiver deadline I'm going to start making Molotov Cocktails. 
There's no point to being ****** with old, crappy players who are going to be out of the league by the time you stop sucking.  The Astros have it figured out, trading Chris Johnson, Wandy Rodriguez, Brett Myers, Brandon Lyon, J.A. Happ, and Carlos Lee in the last month.  Basically everybody they knew wasn't a key building block or had no chance of developing into one.  The Pirates used this basic strategy for years, and are now in line to make the playoffs for the first time since Barry Bonds couldn't throw out Sid Bream.  Their leadoff hitter for most of this season (Jose Tabata) and one of their starters (Jeff Karstens) were acquired for Damaso Marte and Xavier Nady in 2008, their second guy off the bench and super utility man was acquired from the Cubs for two middle relievers in 2009, two other starters were acquired in the Nate McLouth trade (Charlie Morton) and Octavio Dotel trade (James McDonald), and they got their closer (Joel Hanrahan) for Lastings Milledge when they gave up on him.  They've also got great organizational depth thanks to the sheer volume of prospects and minor leaguers they've acquired.  Of course, it also helps that they've nailed the draft recently (Pedro Alvarez, Andrew McCutchen, Neil Walker, Gerrit Cole, Jameson Taillon, Starling Marte) but the point stands.
And of course, what do Dick and Bert open up tonight's broadcast with?  How glad they are nobody other than Liriano was traded.  Honest to god I think I'd rather have Hawk Harrelson's over-the-top homer shtick than this aw shucks folksy we love these boys ******** these two keep slingin'.  No wonder the Twins' brass can get away with this, the announcers are feeding the fans this crap and they're eating it up based on what I've heard on the radio and read on the internet.  It's like some sort of crazy collective delusion where everybody thinks this team is team is thisclose to being a contender again - like a cult like those Waco guys or the Mormons or Dyson Vacuum Cleaner Owners.  Guess what, idiots?  This is the worst version of the Twins we've seen in our lifetimes.  FACT.  The 1981 and 1982 editions were a worse combo than 2011 and 2012, but I was too young to care or even realize what was going on, and outside of then this is the worst two year stretch in team history.  There is no quick fix.  When you need to burn your house down for insurance money and then build a new, better house you don't run around swapping out a few chairs for equally ******, but different chairs - you burn that mother down with gasoline and a bazooka.  Like Beavis would.
Original Story:
http://feedproxy.google.com/~r/DownWi...
THE BACKYARD
BEST OF MAXIM
RELATED ARTICLES
MINNEAPOLIS For the second year in a row, the Minnesota Twins are playing host to the Reviving Baseball in Inner Cities (RBI) World Series. This year marks the 20th anniversary of the event, which elicited a visit from Major League Baseball commissioner Bud Selig at Target Field on Tuesday.Selig spoke at a luncheon for the event, addressing a number of topics. Among them was the...
The Minnesota Twins didn't make a move at Tuesday's trade deadline, hanging onto veteran players like Denard Span and Josh Willingham once they saw they weren't going to be able to get the young pitching they wanted in return. General manager Terry Ryan said the Twins never got close to making a deal Tuesday, and by 3:02 p.m. CDT -- two minutes after the deadline -...
MINNEAPOLIS Denard Span was sweating it. The Twins center fielder read Twitter and saw his name mentioned in trade rumors, and received texts from family and friends about it.But 3 p.m. rolled around Tuesday, and Span wasn't dealt. He remained a Minnesota Twin. So, too, did the rest of his teammates, as Minnesota stood pat on the final day before baseball's non-waiver...
MINNEAPOLIS As Major League Baseball's trade deadline looms, Denard Span doesn't know if Monday night was his last game with the Minnesota Twins. If it was, though, Span made it a memorable one. Span turned in a pair of highlight-reel catches and also had a pair of hits to help Minnesota beat the Chicago White Sox by a 7-6 final Monday at Target Field. Span's first...
ROBBED 'EM
Video: Span Spans The Wall for The Grab!
The Minnesota Twins have turned themselves into one of baseball's best running teams this season. They've stolen 86 bases, the second-most in the American League, and have done it efficiently, too, getting thrown out only 26 times. That speed helped them score more runs in July than any other team in baseball. And one of the keys to it, according to manager Ron Gardenhire...
Ben Revere (credits below) Hitters To Start Ben Revere |Minnesota Twins| (58.6%) – Revere could be a cheap source of speed and runs for your team to help round out the stretch-run of the summer.  In 4 of the 7 games scheduled this week Revere will face a left-handed starting pitcher.  This year against lefties Revere is hitting .378 with a .411 OBP. (89 and 87 points higher...
MINNEAPOLIS In a season filled with disappointments for the Minnesota Twins, pitcher Scott Diamond has consistently been a bright spot on the mound. Fans may not have known what to expect from Diamond when the left-hander was called up to the majors in early May, but the Twins had a good idea of what they were getting from the former Rule 5 draft pick. Still, Diamond has exceeded...
MINNEAPOLIS Major League Baseball commissioner Bud Selig was at Target Field on Tuesday to speak at a luncheon for the 20th anniversary of the RBI World Series, which will be hosted by the Minnesota Twins. Inevitably, Selig was asked about the MLB All-Star Game in 2014. Selig has yet to announce where that year's All-Star Game will be hosted, but many indications are that Target...
Jamey Caroll's sacrifice fly in the ninth inning scored Alexi Casilla and the Minnesota Twins won their fourth straight, beating the Chicago White Sox 7-6 Monday night. Denard Span had two hits and two spectacular catches in center field for the Twins, and Danny Valencia added three hits and two RBIs. A.J. Pierzynski homered in his first game after missing five with a strained...
Back in June, the Minnesota Twins held their second annual Hope Week, a series of events in which the team and its players worked in and with the community to show their appreciation and give something back to area charities. At 9:30 p.m. Thursday, FOX Sports North will premiere a look back on the events of that week in a 30-minute special. The show will re-air at 5 p.m. and...
MLB News

Delivered to your inbox

You'll also receive Yardbarker's daily Top 10, featuring the best sports stories from around the web. Customize your newsletter to get articles on your favorite sports and teams. And the best part? It's free!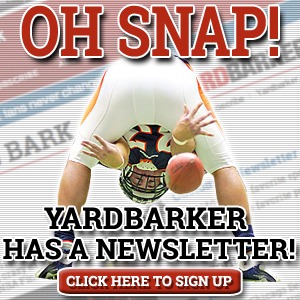 Latest Rumors
Best of Yardbarker

Today's Best Stuff

For Bloggers

Join the Yardbarker Network for more promotion, traffic, and money.

Company Info

Help

What is Yardbarker?

Yardbarker is the largest network of sports blogs and pro athlete blogs on the web. This site is the hub of the Yardbarker Network, where our editors and algorithms curate the best sports content from our network and beyond.