Found April 17, 2013 on Fox Sports North:
MINNEAPOLIS All offseason, the main emphasis for the Minnesota Twins was to improve their starting rotation. To do so, the team signed two veteran free agents and traded for another pitcher in hopes of rebuilding what had been the American League's worst starting staff in 2012. Though it's still early in the 2013 season, it appears those offseason changes have made a difference but there's still plenty of work to do for Minnesota's rotation. Through Tuesday's game, Twins starters are 3-6 with a 5.98 ERA. Unlike so many times in 2012, however, the rotation is pitching deeper into games. That is translating into wins for Minnesota, which is 6-7 after Tuesday's 8-6 win over the Angels. "Guys have done a lot better," Twins manager Ron Gardenhire said. "They've gotten us into games. We've stayed in games. All you ask for is chances, and we've had chances from Day 1. We've had opportunities." The three offseason additions to the rotation were Vance Worley, acquired in a trade with Philadelphia, and free agents Mike Pelfrey and Kevin Correia. Pelfrey started Tuesday's game against the Angels and picked up his second win despite allowing four runs in five innings. Worley, meanwhile, has gotten off to a bit of a slow start. He's allowed 14 earned runs in 12 innings during his first three starts. And then there's Correia. When he was signed, many Twins fans shrugged at the move. Though he may not be a marquee name and has never won more than 12 games in a season during his career, he has been Minnesota's most consistent starter in the early going. In three starts, Correia is 1-1 with a 2.95 ERA. He's pitched at least seven innings in all three outings, something that wasn't always an option during his 10 seasons in the National League. "It's nice. It's an opportunity in the American League where you can go out there and see how long you can pitch," Correia said after beating the Angels on Monday. "In the National League, I might have been out of the game a lot earlier in all three starts just for pinch hitting purposes." As Worley and Pelfrey are still trying to find their way, Correia has been a constant in the rotation and an example for the other starters to draw from. "He goes out there, and he's been doing this longer than anybody in here," Worley said of Correia. "He knows what he can do out there," "He's not going to try to overpower guys. He's going to get his ground balls and he's going to get some quick innings." Twins starters have pitched a total of 64 23 innings in 13 games, an average of just 4.97 innings per start. That number is still way lower than Minnesota would like. The rotation's numbers have been slightly inflated by a few bad games early on. Worley was shelled for nine runs (seven earned) against the Mets last weekend and recorded just three outs. Pelfrey gave up six runs in just two innings of work against the Royals on April 9. Outside of those two starts, though, Minnesota's starters have given up four or fewer runs in the other 11 outings. "Even with those couple outings, we're still battling and still going deeper than maybe what we would last year," Diamond said. "I think we're all guys that want to learn and want to improve on even what we've been able to do so far, especially myself; I can't speak so much for the other guys. It's been a real good step in the right direction." Diamond has made just one start so far after his 2013 debut was delayed as he rehabbed from offseason elbow surgery. He was Minnesota's most (and, really, only) consistent starter in 2012. Last weekend, he gave up four runs on eight hits in 4 13 innings of work in his first start of the season. Because of scheduled off days and another game postponed due to weather, the Twins have been able to skip their fifth starter in the rotation. That spot has so far been filled by 24-year-old left-hander Pedro Hernandez, who gave up three runs in five innings against Baltimore in a 4-3 Twins win. It's still plenty early, and this rotation has a lot of work to do. It's been bailed out at times by high-scoring games from the offense, as was the case Tuesday when Minnesota's lineup drove in eight runs to help out Pelfrey. With that said, there have been several signs to indicate that this year's rotation will be an improvement over last year's. After all, it couldn't get much worse. "Our bullpen has been solid two straight years now," Diamond said. "We know if we can hand it off to them, we're going to win a lot of games if we have a lead. The biggest concern was starting pitching, and I think we're doing a pretty good job so far covering that." Follow Tyler Mason on Twitter.
Original Story:
http://www.foxsportsnorth.com/mlb/min...
THE BACKYARD
BEST OF MAXIM
RELATED ARTICLES
MINNEAPOLIS Lost in the shuffle of Joe Mauer's four-hit night on Tuesday was the performance of the guy hitting ahead of him in the Twins' lineup. Second baseman Brian Dozier led off against the Angels, his first career start as Minnesota's leadoff man. His 2-for-4 night was enough to convince manager Ron Gardenhire to put Dozier back in the leadoff spot for the second...
MINNEAPOLIS Last season, at the ripe old age of 38, Twins infielder Jamey Carroll was an every-day player. He played in 138 games, just shy of his career high. One year later, Carroll's role in Minnesota has changed drastically. Through the first two weeks of the 2013 season, the 39-year-old Carroll is no longer an every-day player. In fact, he's made just two starts this...
The Minnesota Twins made some relatively under-the-radar moves yesterday.  They placed left fielder Darin Mastroianni on the disabled list while recalling Oswaldo Arcia to fill out the 25-man roster.  Mastroianni had been battling a sore left ankle and was scratched from last night's game before eventually being placed on the DL. Darin Mastroianni is headed to the DL...
The Minnesota Twins have placed outfielder Darin Mastroianni on the 15-day disabled list with a stress reaction in his left ankle. Mastroianni injured his ankle on Monday night against the Los Angeles Angels and was a late scratch on Tuesday when he couldn't run on it. He left Target Field in a walking boot and will be replaced on the roster by outfielder Oswaldo Arcia. Arcia...
It's no secret that it's easier for a left-hander to pitch to Joe Mauer and Justin Morneau. The Minnesota Twins can hope that a big hit by Mauer off a southpaw in the series opener against the Los Angeles Angels will help turn things around. The Twins will be up against a left-handed starter for the second time this season Tuesday night when they face Jason Vargas, who has...
Joe Mauer had another four hits and three RBIs to lead the Minnesota Twins to an 8-6 victory over the Los Angeles Angels on Tuesday. Mauer sprayed four singles into the Target Field outfield, making him 8 for 10 in the series through two games and raising his average to .386. Brian Dozier added two hits and two RBIs in his first career game batting leadoff for the Twins. Left-hander...
MINNEAPOLIS (AP) -- Joe Mauer had another four hits and three RBIs to lead the Minnesota Twins to an 8-6 victory over the Los Angeles Angels on Tuesday. Mauer sprayed four singles into the Target Field outfield, making him 8 for 10 in the series through two games and raising his average to .386. Brian Dozier added two hits and two RBIs in his first career game batting leadoff for...
MINNEAPOLIS (AP) -- The Los Angeles Angels and Minnesota Twins have had their series finale at Target Field postponed by rain. The decision was made about 15 minutes before the scheduled start of Wednesday night's game. The Twins won the first two games of the series to drop the Angels to 4-10, matching their worst start in franchise history. The Twins said the makeup date...
MINNEAPOLIS (AP) -- Joe Mauer had a home run among his four hits and drove in three runs for the Minnesota Twins in an 8-2 victory over the Los Angeles Angels on a cold, windy Monday night that helped send several fly balls to the deepest parts of Target Field. Kevin Correia (1-1) earned his first American League win after finishing seven innings for the third time in as many starts...
Twins News

Delivered to your inbox

You'll also receive Yardbarker's daily Top 10, featuring the best sports stories from around the web. Customize your newsletter to get articles on your favorite sports and teams. And the best part? It's free!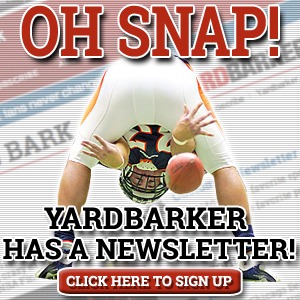 Latest Rumors
The Backyard

Today's Best Stuff

For Bloggers

Join the Yardbarker Network for more promotion, traffic, and money.

Company Info

Help

What is Yardbarker?

Yardbarker is the largest network of sports blogs and pro athlete blogs on the web. This site is the hub of the Yardbarker Network, where our editors and algorithms curate the best sports content from our network and beyond.