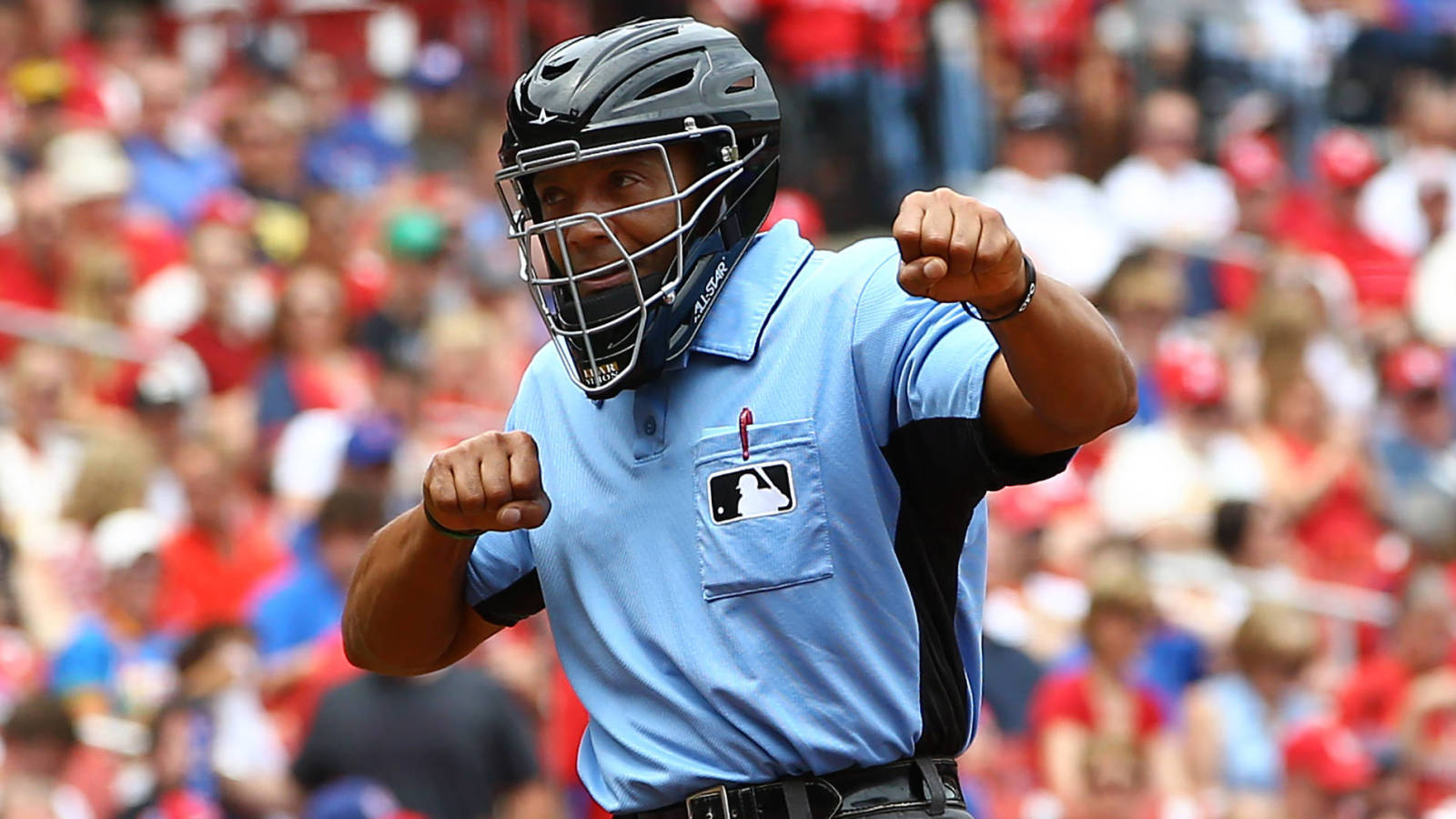 May 25, 2016; St. Louis, MO, USA; Home plate umpire CB Bucknor makes a called third strike during a game between the St. Louis Cardinals and the Chicago Cubs at Busch Stadium. 
Billy Hurst-USA TODAY Sports
Umpire CB Bucknor faced some backlash on Tuesday night after making a horrendous call to give the Atlanta Braves a second chance against the Washington Nationals.
Chase d'Arnaud was up for the Braves with the bases loaded and two outs in the 9th, with his team trailing 3-1. Facing a 1-2 count, d'Arnaud swung and clearly missed a pitch that bounced in the dirt.
Possibly because the ball had bounced in the dirt, Bucknor called that a foul ball, giving d'Arnaud a second chance. D'Arnaud struck out a second time, ending the game. There was a big mess because Bucknor originally called it foul, then seemed to indicate the game was over, then called it a foul ball again.
Afterwards Nats outfielder Jayson Werth called on MLB to do something about Bucknor:
Jayson Werth on C.B. Bucknor: "When it's consistently not with the standards of the league, something needs to be done."

— Dan Kolko (@masnKolko) April 19, 2017
Werth had words for Bucknor after the game. He probably was not happy about the way Bucknor called this at-bat for him:
MASN analyst Ray Knight was critical of Bucknor:
Max Scherzer's wife wanted Bucknor to have to answer for his poor calls:
When will umpires be held accountable after games? Players and managers face the media, might be time umps do too…

— Erica May-Scherzer (@emaysway) April 19, 2017
This sort of thing is nothing new for Bucknor, who is consistently ranked by players as one of the worst umps in the game. One of his biggest blunders was this one from 2013. MLB needs to address this.
MORE FROM YARDBARKER
MLB News

Delivered to your inbox

You'll also receive Yardbarker's daily Top 10, featuring the best sports stories from around the web. Customize your newsletter to get articles on your favorite sports and teams. And the best part? It's free!