Found March 20, 2013 on NESN.com:
Spring training turned into Little League for half an inning on Tuesday. After home plate umpire Seth Buckminster broke his hand on and errant pitch by Wily Peralta, the Angels-Brewers game was left without a home plate umpire. Anthony Johnson scurried to the back to change into home plate gear, and veteran umpires Tim McClelland and Jim Joyce decided to keep the game moving. That meant McClelland would call strikes from behind the mound. It was a reminder of the days of Little League when sometimes the equipment shed was locked and the game's umpires had no choice but to work without padding. Or when someone's dad had to call the game's balls and strikes and he didn't feel comfortable squatting behind the catcher. Four batters went by with the unusual umpiring alignment before Johnson emerged from the dugout to cheers from the crowd. While McClelland was behind the mound, Josh Hamilton grounded out to end the top of the first, Norichika Aoki singled to second and Rickie Weeks hit a...
Original Story:
http://nesn.com/2013/03/umpire-has-to...
THE BACKYARD
BEST OF MAXIM
RELATED ARTICLES
THAT'S DIFFERENT
During Tuesday's Angels-Brewers game, home plate umpire Seth Buckminster got hit in the hand with a pitch from Brewers pitcher Wily Peralta. The injury was apparently severe enough to force Buckminster to leave the game, and since there are typically only three umpires at Spring Training games, that turned into quite the issue. Third base umpire Tim McClelland then took up...
COMING FOR YOU
A report says MLB is targeting Ryan Braun in its investigation of the Biogenesis Clinic. See some of the details of their investigation.
With apologies to Phil Collins for melting his lyrics... You can tell everyone that Braun's a down disgrace, drag his name all over the place, I don't care anymore. You can protect all you want the state ball is in, I just want to watch and hope my team wins I don't care anymore. I don't care anymore. I don't care what you say. I don't like the games that...
MILWAUKEE -- While the bone-chilling cold wind made it hard to believe Opening Day is less than two weeks away, the Milwaukee Brewers on Tuesday unveiled a few changes to Miller Park when fans come through the gates April 1. On the club level, the SKYY Lounge formerly known as the Home Plate Lounge - has been upgraded. Located on the concourse of the club level behind home plate...
Here are some of the local media outlets following the MILWAUKEE BREWERS. Newspaper-  The Milwaukee Journal-Sentinel is the large daily covering the Brewers. Tom Haudricourt (Twitter) and Todd Rosiak (Twitter) work the Brewers section at the paper.  They also maintain the Brewers Blog.  Columnist Bob Wolfley will also chime in on the Brewers from time to
The Milwaukee Brewers acquired third baseman Stephen Parker from the Oakland Athletics in exchange for right-handed pitcher Darren Byrd on Wednesday. Over four seasons in the minors, the 25-year-old Parker has batted .277 with 43 home runs and 262 RBIs in 448 games. His best season was 2010, when he batted .296 with 21 homers and 98 RBIs in 139 games at Class-A Stockton. The 26...
The Oakland A's and the Milwaukee Brewers swapped minor leaguers Stephen Parker and Darren Byrd on Wednesday. We have details and analysis of the deal inside.
We've posted some pretty interesting moments from 2013 MLB spring training so far but this moment from last Tuesday's Los Angeles Angels/Milwaukee Brewers game might take the cake. In the first inning, home plate umpire Seth Buckminster was injured after a pitch thrown by Milwaukee Brewers pitcher Willie Peralta deflected off Angels slugger Albert Pujols and then hit...
In a game where balls and strikes were briefly called from behind the pitcher's mound after an umpire was injured, Albert Pujols made his spring debut at first base for the Los Angeles Angels in a 6-1 loss Tuesday to the Milwaukee Brewers. Pujols played the field for the first time since offseason surgery on his right knee. The slugger went 0 for 2. Rickie Weeks, Aramis Ramirez...
SCOTTSDALE (AP) -- San Francisco's Ryan Vogelsong and Milwaukee's Chris Narveson each pitched six impressive innings Wednesday and the Giants and Brewers played a neat 0-0, 10-inning tie in a game between split squads. Vogelsong, fresh off a stint with the U.S. team in the World Baseball Classic, gave up three hits, walked one and struck out seven. Narveson had his best...
(Image: Footbasket.com) (Editor's note: this is the debut post by new contributor Enrique Bakemeyer.)   Opening day is just over a week away, and it sure feels a lot different than last year.  There is the relatively untested starting rotation without experienced major leaguers Zack Greinke, Shaun Marcum, and Randy Wolf.  There is the bullpen that is completely...
PHOENIX (AP) -- In a throwback to Little League days, balls and strikes were called from behind the pitcher's mound for a brief period in Tuesday's exhibition between the Los Angeles Angels and Milwaukee after an umpire was injured. Home plate Seth Buckminster was hurt with two outs in the top of first inning. Brewers starter Wily Peralta threw a pitch that hit Albert Pujols...
MLB News

Delivered to your inbox

You'll also receive Yardbarker's daily Top 10, featuring the best sports stories from around the web. Customize your newsletter to get articles on your favorite sports and teams. And the best part? It's free!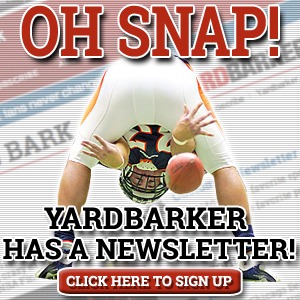 Latest Rumors
Best of Yardbarker

Today's Best Stuff

For Bloggers

Join the Yardbarker Network for more promotion, traffic, and money.

Company Info

Help

What is Yardbarker?

Yardbarker is the largest network of sports blogs and pro athlete blogs on the web. This site is the hub of the Yardbarker Network, where our editors and algorithms curate the best sports content from our network and beyond.