Found May 08, 2013 on Online Sports Guys:
((HT: CSN California/MLB)) Let's face it... The Oakland A's lost a game today because the umps fouled it up... Evidence below involving Adam Rosales, replay, and a huge #umpfail Justin Masterson got the win, Chris Perez collected his fifth save on the season... Oakland is now 6-13 in their last 19 games... And the fact it was Angel Hernandez makes it that much better... Or worse...
Original Story:
http://feedproxy.google.com/~r/blogsp...
THE BACKYARD
BEST OF MAXIM
RELATED ARTICLES
Athletics utility guy Adam Rosales is known for his home run trot — rather than the slow jog of most players, he sprints all 360 feet around the bases. Rosales didn't get that chance during the ninth inning of Oakland's Wednesday game against the Indians, hitting a ball that appeared to be off the wall and parking himself happily on second base. Except that on second look,...
At the top of the 9th inning, Oakland A's INF Adam Rosales appeared to hit a game-tying home run on Wednesday. The ball hit off the top of the fence in centerfield and then it came back down. The homerun was under review and after the review, the umpires decided that it was only a double. Everybody was shocked, even the Cleveland Indians broadcasters and players knew that it was...
Oakland A's shortstop Adam Rosales hit a home run against the Cleveland Indians, however, umpire Angel Hernandez didn't see it that way, completely botching the call.
An apparent game-tying homer by Oakland's Adam Rosales was ruled a double by umpires in the ninth inning, and the Cleveland Indians held on to beat the Athletics 4-3 on Wednesday night. Rosales sent a drive off Indians closer Chris Perez that looked as if it cleared the left-field wall. However, second-base umpire Angel Hernandez called it a double, and the crew concurred after...
What did umpire Angel Hernandez see and how did he see it? The question became a hot topic Thursday amid the uproar surrounding Hernandez's failure to make the correct call on an apparent ninth-inning, game-tying home run by the Athletics' Adam Rosales. Hernandez indicated to a pool reporter that the umpires might not have seen the same replays in the same broadcast quality...
An unreal turn of events on Wednesday led to the A's going from tying the game in the ninth inning and being in position to steal a win to dropping their third straight. The A's were down one with two outs in the top of the ninth when Adam Rosales sent a pitch from Indians closer Chris Perez to deep left. The ball was ruled by umpires to have hit off Progressive Field's high...
CLEVELAND -- Baseball admitted Thursday afternoon what the world knew Wednesday night: The call that took a home run from Oaklands Adam Rosales against the Indians was wrong.Given what we saw, we recognize that an improper call was made, MLB Executive Vice President Joe Torre said in a statement released Thursday. Perfection is an impossible standard in any endeavor, but our goal...
CLEVELAND (AP) -- Major League Baseball says the umpires were wrong. That doesn't help the Oakland Athletics. One day after umpire Angel Hernandez and his crew failed to reverse an obvious home run by A's infielder Adam Rosales following a video review, MLB executive vice president Joe Torre said an "improper call" was made in the ninth inning of Wednesday's...
You might have missed this last night. And who could blame you, since you were probably watching the Mets get bludgeoned with a blow-up mallet by the White Sox, which is the equivalent of "living under a rock" that people would accuse you of if you have gotten this long without seeing what happened in last nights A's/Indians game: So to sum up, Angel Hernandez...
Instant replay  for baseball is supposed to help get it right,  and many people are of the opinion that baseball needs more instant replay. After the fiasco in Cleveland last night with Angel Hernandez  missing a call not once, but twice, you have to wonder about the wisdom of such a move. Last night in Cleveland, Adam Rosales hit a 1-1 pitch delivered by Indians closer Chris...
I've often wondered what would happen if a group of umpires came together to make a call that was so obviously wrong, so over-the-top blatantly inaccurate as to be completely nonsensical. Like, what if a pitcher threw a pitch, and the batter grounded out, and the umpires signaled for an automatic double? Obviously, the defensive team's manager would get ejected, and a bunch of...
Perhaps a hangover from the previous night's blown home run ruling caused the A's to come out flat in Cleveland Thursday morning, as they were blown out by the Indians. A night after the infamous Angel Hernandez replay debacle of what would have been a game tying home run by Adam Rosales in the ninth inning, Oakland's bats were near nonexistent resulting in a four game sweep...
MLB News

Delivered to your inbox

You'll also receive Yardbarker's daily Top 10, featuring the best sports stories from around the web. Customize your newsletter to get articles on your favorite sports and teams. And the best part? It's free!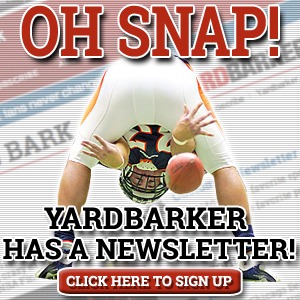 Latest Rumors
The Backyard

Today's Best Stuff

For Bloggers

Join the Yardbarker Network for more promotion, traffic, and money.

Company Info

Help

What is Yardbarker?

Yardbarker is the largest network of sports blogs and pro athlete blogs on the web. This site is the hub of the Yardbarker Network, where our editors and algorithms curate the best sports content from our network and beyond.