Found June 20, 2012 on Sports With Mr. Factoid:
Roger Clemens walked out of court earlier this week a free man after jurors found him not guilty on multiple counts of perjury. Clemens, like Barry Bonds before him, beat the system and will now be able to move on with his life. Now just because he escaped jail, that doesn't mean the court of public opinion is ready to let him rest. Check out this Taiwanese Animation video of Clemens and his
Original Story:
http://mrfactoidssportsworld.blogspot...
THE BACKYARD
BEST OF MAXIM
RELATED ARTICLES
WHAT, ME WORRY?
On Monday Roger Clemens was acquitted on charges of obstruction and lying to Congress when he denied using performance-enhancing drugs during his 24-year Major League Baseball career. The court of public opinion may not probably doesn't agree, but the jury has spoken. Now the focus turns to whether or not Clemens and his two World Series [...]
Astros owner Jim Crane said Tuesday night that he has reached out to Roger Clemens in an attempt to invite the former pitcher to be a member of the Astros organization. Clemens signed a personal services contract with the Astros while Drayton McLane owned the team but never actually worked for the team after his retirement. "I gave Roger a call today and left him a message...
The books are officially closed on the Roger Clemens perjury and obstruction trial, and the heat-hurling righty has been exonerated of all wrongdoing. After a trial lasting eight weeks and costing millions in taxpayer money, Clemens was found not guilty on three counts of making false statements, two counts of perjury and one count of obstruction of justice. This was Clemens'...
Perjury is a really, really difficult legal case to make, and although the government typically doesn't pursue such legal action unless it feels its case is very strong, everyone knew that it was going to have a difficult time getting a conviction of Roger Clemens. Now that the former Rocket has been acquitted of all charges against him, the focus now undoubtedly turns to what...
Roger Clemens is not guilty. Great. Can this be over now? Of course it can't. It never will. For now until the end of time we'll still be talking about the steroid era and those who made it infamous. Clemens is just one of many. Still, I think it is safe to say his role in the overall picture of the steroid era is a bit larger than the rest. He's up there alongside Barry,...
"Led League in Cap Size Growth for Nine Seasons"
By FREDERIC J. FROMMER Associated Press WASHINGTON (AP) -- Roger Clemens rejected a plea deal that would have spared him prison time. Instead, he risked his freedom by going to trial. Clemens lawyer Rusty Hardin says in a telephone interview that prosecutors offered to let the former pitcher plead guilty to one count of lying to Congress when he denied using human growth hormone...
Roger Clemens aka "The Rocket" has escaped federal perjury charges after a jury acquitted the New York Yankees pitching great of the six criminal counts against him. The charges stem from 2008 testimony to Congress in which he denied using steroids, or performance-enhancing drugs. Clemens had been charged with one count of obstruction of Congress, three counts of making a false...
A 12 member jury told Federal prosecutors in strong terms, "get a life." They totally rejected prosecutors 6 charges against one of baseball's greatest pitchers Roger Clemens and hopefully puts an end to the government, and department of Justice involvement in our major league sports. They interjected themselves in the initial issues of steroid and...
Goose Gossage doesn't want "cheating" Roger Clemens to join him in the Hall of Fame.
A.J. Perez from FoxSports.com joins Rob and Amy to discuss the Roger Clemens verdict.
MLB News

Delivered to your inbox

You'll also receive Yardbarker's daily Top 10, featuring the best sports stories from around the web. Customize your newsletter to get articles on your favorite sports and teams. And the best part? It's free!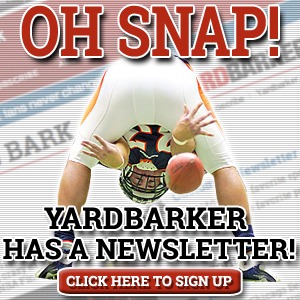 Latest Rumors
The Backyard

Today's Best Stuff

For Bloggers

Join the Yardbarker Network for more promotion, traffic, and money.

Company Info

Help

What is Yardbarker?

Yardbarker is the largest network of sports blogs and pro athlete blogs on the web. This site is the hub of the Yardbarker Network, where our editors and algorithms curate the best sports content from our network and beyond.