Found May 02, 2012 on Waiting For Next Year:
PLAYERS:
Ubaldo Jimenez
,
Kevin Slowey
,
Zach McAllister
,
Corey Kluber
,
Scott Barnes
,
Drew Pomeranz
,
Alex White
,
Troy Tulowitzki
,
Carlos Gonzalez
,
Manny Acta
,
Josh Tomlin
,
Jeanmar Gomez
TEAMS:
Cleveland Indians
,
Chicago White Sox
,
Colorado Rockies
This is getting downright disgraceful.
After his last start, I proclaimed to be officially off "the Ubaldo Jimenez will turn it around" bandwagon. Many of you told me that I was hasty and needed to give him more time to find himself. Was last night's horrific performance where he lasted just four and two-thirds innings while walking six Chicago White Sox, enough for you to sound your alarms?
I don't care that it is May 2nd, it is time for everyone to face the facts – to use a Texas Hold em' analogy, the Indians went all in on a pair of threes. They were fleeced. Rooked. Jobbed. Whatever you want to call it.
It's one thing to be struggling as Ubaldo. It's another to be completely lost mechanically. Couple that with the fact that his velocity, which we were told was down last year because of injury, has still yet to return. It may never. This wouldn't be that big of a deal of this were some average pitcher that the Wahoos didn't have much stake in. They would just send him down to AAA and replace him with either Kevin Slowey, Zach McAllister, Corey Kluber, or Scott Barnes. But the Indians don't have that luxury, because we are talking about the guy they mortgaged the future for.
It is immaterial at this point as to what happens with Drew Pomeranz and Alex White. Even if they turn out to be average pitchers during their Major League careers, the Rockies will have won this deal.
GM Chris Antonetti decided last year that he was going to make a bold move that he believed would be his signature trade. At the time, I was on board for this deal, despite Ubaldo's struggles in 2011. I, like Antonetti and his lieutenants, should have seen the red flags a mile away. Why would the Rockies, a team that competes for a division title with young stars Troy Tulowitzki and Carlos Gonzalez and looking for more starting pitching, be so willing to dump their supposed "ace" with a club friendly contract for another two and a half years?
We were sold on the "he was disgruntled in Colorado because they wouldn't extend him" bit because we didn't care. We were getting a then 27-year old front line starter with a Cleveland-esque contract to boot. So what if it would cost them both of their top pitching prospects, they wanted to win now.
But now we look up, Ubaldo is a mess, they have zero depth in AAA or AA in terms of position players, left field and first base will need long term upgrades, and you don't have Pomeranz or White to use as trade chips to make a deal.
Ugh.
We are stuck with Ubaldo too. Antonetti's backup plan if the Indians didn't contend with Jimenez on board was to spin him off at the 2013 trade deadline and hold a bidding war to contenders. They gave up two former first round picks to get him and the way things are going, they wouldn't get more than a fringe prospect or two for him. Sure, some team could think they could turn him around, but anyone who has watched him this last year plus knows he is not the same.
According to a great piece on http://www.fangraphs.com/blogs/index.php/the-decline-of-ubaldo-jimenez/ , Ubaldo's average velocity has fallen from 96.1 in 2009 and 2010 to 93.5 in 2011 to 92.0 in 2012. And the command? Forget it. This was a guy who was a strikeout machine from 08-10. Thus far this season, Ubaldo has 20 walks and 14 K's in 28.1 innings pitched. He's been erratic and a strain on the bullpen. It's not like we are talking about the fifth starter here. This is the guy who was hailed as the key to the rotation's success.
Instead, he is the guy you would least like to take the ball from Manny Acta if his team needed one win. Ask yourself these questions. Who would you rather start right now – Josh Tomlin or Ubaldo? Jeanmar Gomez or Ubaldo?
The whole thing is disappointing beyond words.
Antonetti, a GM running a team with zero margin, cannot swing and miss on a big trade like this one. We are only a half year into the deal, and it looks like a colossal mistake.
Original Story:
http://www.waitingfornextyear.com/201...
THE BACKYARD
BEST OF MAXIM
RELATED ARTICLES
With his two run shot in the ninth inning, Travis Hafner passed Rocky Colavito for ninth place on the Indians' all-time home run list. Hafner now has 191 career homers for the Indians. (He hit one as a member of the Rangers.) Hafner now has three home runs on the season. He hit 13 in each of the last two seasons. He has 12 RBI on the year and an OPS of .860. The updated list- 1...
In order to add OF Johnny Damon to the roster, the Indians had to make a subsequent move. According to Paul Hoynes, infielder Jose Lopez is the odd man out. Lopez was hitting .190 with one home run and three RBI in five games and 21 at-bats with the Indians. Jimenez starts for the Indians, against left-hander Chris Sale of the White Sox. Lopez was part of Manny Acta's right-handed...
Save Us Obi-John Kenobi. You're Our Only Hope! So now it's official: Johnny Damon will be joining the Indians in Chicago today.  He'll wear No. 33.  He might wear a beard.  He'll almost certainly play a good deal of left field. I'm not here to beat up the Indians for entering the season with such a crummy corps of corner outfield options.   But I'm going to anyway...
Prior to their 7-2 loss to the Chicago White Sox Tuesday, the Indians officially added outfielder Johnny Damon to their roster. To make room on the roster for Damon, the Indians designated infielder Jose Lopez for assignment. The corresponding roster move to the addition of Damon, removing an infielder, was somewhat of a surprise. It was believed that outfielder Aaron Cunningham...
We discussed it here, but in the event you missed it live, MLB.com allows fans to see the miscue for themselves. Notice the completely different, and expected, reactions from the two broadcasting crews. [Related: Matt LaPorta: We Won't Get Fooled Again…Will We?]
Carlos Santana and Travis Hafner homered to lead the Cleveland Indians to a 6-3 win over the Chicago White Sox on Wednesday night. Santana hit his fourth homer of the season, a three-run shot in the fifth inning that landed well behind the Indians' bullpen in right field. Hafner added a two-run shot in the ninth. Jack Hannahan doubled home Michael Brantley with the go-ahead...
CHICAGO (AP) -- Carlos Santana and Travis Hafner homered to lead the Cleveland Indians to a 6-3 win over the Chicago White Sox on Wednesday night. Santana hit his fourth homer of the season, a three-run shot in the fifth inning that landed well behind the Indians' bullpen in right field. Hafner added a two-run shot in the ninth. Jack Hannahan doubled home Michael Brantley with...
CHICAGO (AP) -- Jason Kipnis hit a three-run homer and finished with a career-high four RBIs, leading the Cleveland Indians to a 7-5 victory over the Chicago White Sox on Thursday night. Kipnis, a native of suburban Chicago, also tripled in a run, walked and scored twice. Justin Masterson (1-2) picked up his first win of the season, holding the White Sox to three runs over 6 1...
The early-April Chicago rain gave way to fireworks, smoke and free passes from the Indians' stirrup-wearing starter. After an hour delay, the White Sox played host to the Cleveland Indians who would go on to play one of their fundamentally worst games of the still-young 2012 season. Errant pitches, botched grounders, dropped pop-ups and miscommunication on stolen base attempts...
Player of the Game In what could be his last game as a starter, Shelley Duncan went 2-3 with a double, home run and walk to win tonight's Player of the Game. He earned a total score of 4.68, aided by his two runs scored and the RBI from the home run. It was his highest score since April 15th and the first Indians home run in over a week. With a -4.45, Asdrubal Cabrera had...
Player of the Game Jason Kipnis dominated in today's win. Kipnis went 2-3 with a walk. His two hits included an RBI triple in the 3rd inning, scoring Johnny Damon's first run as an Indian. In the 7th inning, Kipnis lined a 3-run home run over the right field wall. Kipnis scored 2 runs today and knocked in 4. His effort today amounted for the highest Player of the Game...
There have been many shortstops that get talked about as prospects in the minor leagues, but the majority of them end up being utility players or second-division starters. That's just what happens when you play the most demanding position on the infield, as the tools to succeed at the Major League level are higher than perhaps any other position. But for the Cleveland Indians...
MLB News

Delivered to your inbox

You'll also receive Yardbarker's daily Top 10, featuring the best sports stories from around the web. Customize your newsletter to get articles on your favorite sports and teams. And the best part? It's free!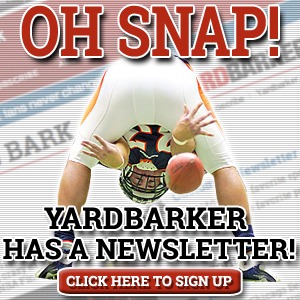 Latest Rumors
Best of Yardbarker

Today's Best Stuff

For Bloggers

Join the Yardbarker Network for more promotion, traffic, and money.

Company Info

Help

What is Yardbarker?

Yardbarker is the largest network of sports blogs and pro athlete blogs on the web. This site is the hub of the Yardbarker Network, where our editors and algorithms curate the best sports content from our network and beyond.