Found January 16, 2013 on Fox Sports:
PLAYERS:
Derek Jeter
,
Joe Torre
,
Buster Posey
,
Mike Trout
,
Bryce Harper
,
Justin Verlander
,
Clayton Kershaw
,
Miguel Cabrera
,
Pablo Sandoval
,
Felix Hernandez
,
LeBron James
,
Kobe Bryant
TEAMS:
New York Yankees
,
San Francisco Giants
,
Los Angeles Angels
,
Washington Nationals
,
Detroit Tigers
,
Los Angeles Dodgers
,
Seattle Mariners
,
Miami Heat
,
Los Angeles Lakers
Derek Jeter has been the face of American baseball for nearly two decades. He plays the marquee position for the sport's flagship franchise. He has five World Series rings and a .308 postseason batting average. You name the category, he's the active leader -- championships, endorsements, tabloid ink spilled in the name of his dating life. And when the call came to play for his country in the World Baseball Classic, he answered. Twice. Jeter batted a combined .347 in the 2006 and 2009 tournaments, which surprised no one. He wins at life, and he does it on merit. But Jeter won't play for his country at this year's WBC, now barely more than six weeks away. He's still recovering from the broken ankle he suffered during last year's American League Championship Series. Otherwise, he would play -- particularly when considering his friend and mentor Joe Torre is managing Team USA. In all likelihood, this was Jeter's last chance to play in the WBC. He faces enough skepticism about his ability to handle shortstop this year at age 38 -- let alone in an international competition four years from now. Sooner rather than later, the unofficial consortium of Major League Baseball, USA Baseball, Madison Avenue, and (of course!) the media will settle on the new avatar for our national pastime. We have no shortage of candidates: Buster Posey, Mike Trout, Bryce Harper, Justin Verlander, Clayton Kershaw and David Price are some of the first names that come to mind. How convenient that the WBC will take place this March, so these stars can make an even greater imprint on fans across the country, and... Wait. What? They aren't going to play? Oh. Of the six names I mentioned, Posey, Trout, Harper and Price have been definitively ruled out for Team USA. Verlander and Kershaw are leaning toward not playing, according to sources. Yes, Team USA's roster will include young, charismatic stars like Adam Jones and Giancarlo Stanton when it is announced live Thursday morning on MLB Network. But the collective no-show of their peers is, in a word, disappointing. This is not to question the character or patriotism of the players who have opted out. Some may be feeling pressure from their teams to stay in camp. (Such arm-twisting, by the way, is prohibited under the MLB-sanctioned WBC charter.) Others may be concerned with the injury risk, which is misguided. MLB research shows there were more April disabled list assignments, by percentage, in '06 and '09 for players who did not play in the WBC than for those who did. Rather, the big-name abstentions point to an underlying flaw with a tournament that can -- and should -- grow to become baseball's answer to the soccer World Cup. And the source of that problem is the attitude of some American players, executives, fans, and, yes, reporters. Any understanding of this dynamic begins with the acknowledgement that Team USA's WBC performance has, to date, been quite poor: 7-7 with zero appearances in the title game. (Japan is the two-time defending champion, with wins over Cuba and South Korea.) So, it's not as if we dominated the rest of the world and fell victim to a bad bounce or two in the medal round. We should want to reassert our supremacy in the sport, particularly when considering our all-time WBC record suggests precisely such a statement is needed. Instead, it seems several American stars see the WBC as a matter of convenience, rather than an obligation to country and sport. They don't want to play entering their walk year. They don't want to play if they just changed teams, signed a big contract, or went to the postseason. They will do it, only if the timing is exactly right. For just about every other participating nation, the opposite is true: Players offer an immediate "yes" unless they are injured. Miguel Cabrera and Pablo Sandoval were on the field in Detroit Oct. 28 for the final game of the 2012 World Series; they were the first players to commit for Team Venezuela. They will be joined by ace Felix Hernandez, who is as close to free agency as Kershaw and Verlander and has averaged close to 240 innings per season over the past four years. Why do American players buy into the myth of increased injury risk more than players from other countries? Sure, there is inherent risk in the WBC. But no one has come up with hard evidence to suggest the tournament is any more dangerous than a spring-training game. Particularly for position players, one could argue that they are safer in the WBC, facing pitchers who are further along in their preseason throwing progression, as opposed to a live-armed 19-year-old called up from Class A to pitch in a big-league spring training game. And if a long-term injury does occur in WBC play, the player's MLB club is insured at 100 percent for the salary he earns while on the disabled list. The rationalization du jour is the desire for a "regular spring-training preparation," as Trout's agent, Craig Landis, explained to the Los Angeles Times. That is a dubious explanation on two levels: In 2012, Trout had one of the best seasons in any of our lifetimes after health problems prevented him "regular spring-training preparation." Furthermore, any visitor to a major-league clubhouse in early- to mid-March -- when the World Baseball Classic is held -- will hear players grumbling that spring training is too long and they can't wait to get the hell out of there. Nonetheless, with Trout & Co. on the sidelines, the lame excuse is there in case we need it: Oh, no one cares about the tournament because we don't send all of our best players. Well, here's a radical concept: How about we lend greater legitimacy and profile to the event by sending the best of our best, the way the other countries have, and then accept the results as they are? USA Basketball demanded a similar commitment from superstars like LeBron James and Kobe Bryant after the 2004 Olympic debacle. The result has been a 16-0 record and two gold medals. A similar movement could take place in baseball, if a Jeter (or LeBron) figure emerges as the new Captain America and demands more of his countrymen. But it doesn't appear that will happen in 2013. So the fans will probably take a cue from their idle heroes, following the WBC but not fully investing their emotions in it, because that's easier on our egos, anyway. In the event of a defeat, we'd much rather complain about the timing of the event than acknowledge what that 7-7 record says: The world is catching up to us. The U.S. remains the structural center of the baseball universe, producing more than 70 percent of current major-league players and serving as the base for 29 of its 30 teams. The game is richer, greater and more diverse than it's ever been. Those are manifestly positive developments. Yet, because of how the history of our nation is intertwined with the history of the sport, the U.S. bears a unique responsibility to grow the WBC as the sport's premier international tournament. A large part of that obligation is showing up. And it would be nice to win once in a while, too.
Original Story:
http://msn.foxsports.com/mlb/story/ba...
THE BACKYARD
BEST OF MAXIM
RELATED ARTICLES
    Doctors have cleared The Captain for workouts Derek Jeter says he has been cleared to workout by doctors, according to sources. "I've got the OK to start," said Jeter, the 38-year-old captain of the New York Yankees, at a launch party for his Turn 2 Foundation Celebrity Golf Classic. He added, "But I don't start until next week or the week after, anyway. In terms...
Here's some more news on the injury front via CBS New York:Yankees shortstop Derek Jeter says he's been cleared to start baseball activity in his recovery from a broken left ankle. The 38-year-old team captain reiterated Wednesday that he is on track to be in New York's starting lineup for the opener on April 1. Jeter won't take the field for workouts until later...
It looks like Derek Jeter's post-surgery rehabbing is coming along right on schedule and his offseason prediction that he expects to be ready for Opening day in the Bronx is not a forgone boast. Tuesday, the New York Yankees shortstop was pictured for the first time without a special boot to protect his repaired left ankle that he fractured during the ALCS. Jeter, who underwent...
Derek Jeter hasn't done anything baseball-related since fracturing his ankle in the playoffs this past season.  He has simply been rehabbing and strengthening his ankle.  Now, though, he is ready to start participating in baseball activities and workouts. According to an Associated Press report, Jeter has been cleared by doctors to participate in baseball drills but he...
Yankees shortstop Derek Jeter says he's been cleared to start baseball activity in his recovery from a broken left ankle. The 38-year-old team captain reiterated Wednesday that he is on track to be in New York's starting lineup for the opener on April 1. Jeter won't take the field for workouts until later this month. The 13-time All-Star said that is his normal pre...
Derek Jeter is progressing nicely in his recovery from left ankle surgery, and he's aiming for an Opening Day return to the New York Yankees' lineup. Speaking Wednesday to reporters at his charity golf tournament in Tampa, Jeter said he's received clearance to resume baseball activities, but that he normally doesn't start his offseason routine until late January...
Derek Jeter has been the face of American baseball for nearly two decades. When the World Baseball Classic (WBC) came knocking, he played not once…but twice. Jeter batted a combined .347 in the 2006 and 2009 tournaments. Jeter will not play in this year's WBC. It's barely six weeks away, and he's still recovering from a broken ankle. Otherwise, Jon Paul Morosi of Fox Sports...
By the end of last year's postseason, the Yankees' two biggest stars were battered and bruised. Now the rehabilitation of both Derek Jeter and Alex Rodriguez is going as planned, though you can expect to see the former on the diamond much sooner than the latter. The Associated Press reports that Jeter, who broke his ankle in Game 1 of the American League Championship Series...
We're a long way from the days of the Rodriguez/Nomar/Jeter/Tejada days at shorstop, where offense was the primary focus of the position and defense took a bit of a back seat. In 2013, defense is becoming the main factor teams look for when choosing a shortstop, and as a result, the overall state of the position is a bit different than it was a few years ago. Hell, only eight...
DC's CFO and app developer Chuck gave us the idea to run FanPics posts this season to get you guys more involved in the site and help spread the word about DC and you responded with force...sending us great shots every week and leading us to our biggest year ever. Thank you to everyone who sent pics in all year. Here's one last batch from the 2012-13 bowl season. Let&...
MLB News

Delivered to your inbox

You'll also receive Yardbarker's daily Top 10, featuring the best sports stories from around the web. Customize your newsletter to get articles on your favorite sports and teams. And the best part? It's free!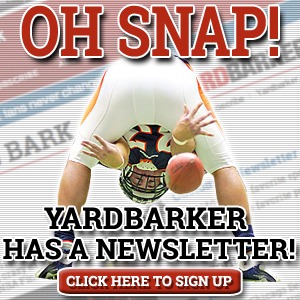 Latest Rumors
The Backyard

Today's Best Stuff

For Bloggers

Join the Yardbarker Network for more promotion, traffic, and money.

Company Info

Help

What is Yardbarker?

Yardbarker is the largest network of sports blogs and pro athlete blogs on the web. This site is the hub of the Yardbarker Network, where our editors and algorithms curate the best sports content from our network and beyond.