Found August 18, 2012 on Fox Sports West:
ANAHEIM, Calif. -- Day after day, night after night, the Angels' successes and failures this season can usually be summarized in one word: pitching. When they win, it's usually because their pitching has held steady. When they lose -- and there's been a little too much of that lately -- it's because their pitching has been frustratingly undependable. But Jered Weaver? If he struggles, what hope is there for the Angels this season? Their best pitcher, their Cy Young Award candidate, couldn't retire a batter in the fourth inning Friday night against the Tampa Bay Rays at Angel Stadium. He faced seven batters, surrendered five hits, walked two and allowed seven runs. Combined with the two home runs he allowed in the first two innings, Weaver gave up a career-high nine earned runs in the Angels 12-3 loss to the Rays, who have beaten them seven times in eight meetings this season. Until Friday, Weaver had allowed just nine earned runs at home all season. "There's going to be times when this stuff happens," he said. "It's just not a good time of year for it. What do they say -- you're going to have about four of these a year? This is the second. It's just a matter of how you bounce back." The Angels are beginning to run out of time to bounce back. A home stand that had so much promise has now spiraled into a deflating stretch. They are 3-5 against Seattle, Cleveland and Tampa Bay with two games left against the Rays before they go back on the road. Pitching had been the one part of the game the Angels believed they could rely on this season, but both the bullpen and the rotation have endured their struggles. The ERA of the Angels' starting rotation this month is a league-worst 6.54; by comparison, the Rays' starting rotation's ERA is a league-best 1.72. "It's been rare for our starters to pitch as poorly as they have," manager Mike Scioscia said, "but we've seen a lot of it this year." It's been Ervin Santana and CJ Wilson and Dan Haren, who was unable to escape the fourth inning Thursday night against the Rays. Right now, there isn't one starter who can be considered a sure thing -- not even Weaver, who was 15-1 at one point and had won nine consecutive starts. Now he's lost two in a row. "That's the trouble with getting a lot of wins in a row," he said. "Everybody expects it out of you every time out. That's not the case. This is the major leagues. You're going to have games like this. Those guys came out and swung the bats well and were able to get some key hits that found gaps." Weaver said his primary problem was his fastball command. The Rays hopped on every fat pitch they saw until Scioscia finally pulled the right-hander. "It looked like he was going to settle down and keep us in the game, and then that one inning got away from him," Scioscia said. "He was behind some hitters, and he had trouble putting some guys away. We just have to forget about this one." About the only good thing the Angels did was end their scoreless streak against the Rays at 34 innings. Erick Aybar's leadoff home run in the third off right-hander James Shields broke the streak, but it was one of the rare moments of glee for the Angels. They didn't lose any ground on the first-place Texas Rangers, but the wild-card spot is slowly slipping away. The Rays, Baltimore and Detroit are essentially tied for the two play-in berths, with the Oakland A's fourth and the Angels fifth, 2 games behind. "We're at a time right now where it's in front of us," Scioscia said. "The way we play is going to dictate where we end up, and right now we're not playing at the high level we need to be playing. "When you're down early, you're handing it to the other team to set up their bullpen and making it tough for yourself. It's where we've been for the last month far too often." Unless they figure out a way to turn it around, September may soon become meaningless to their chances.
Original Story:
http://www.foxsportswest.com/08/18/12...
THE BACKYARD
BEST OF MAXIM
RELATED ARTICLES
Sabermetric Spotlight: Jered Weaver, SP, Los Angeles Angels of Anaheim The Reason - Being located in the Eastern Time Zone of the US, updates on pitchers not named Felix Hernandez are slow to arrive. Whispers of Jered Weaver's stellar year have been beginning to creep into media and radio broadcasts of games I listen to, of course after the mention of the phenom, Mike Trout. If...
ANAHEIM, Calif. -- Subtle as they may have been, there were definite signs the Angels were slowly getting their starting rotation back in order. Then came Thursday night. Right-hander Dan Haren, a pillar of consistency throughout his major league career, stumbled again. It was bad enough that you could read the look of concern on manager Mike Scioscia's face after the game....
Not often you seen an umpire take a shot to the face unless it's a passed ball that the catcher couldn't handle.  Last night Torii Hunter kicked the plate umpire in the face with his spikes when sliding into home.  Luckily for him Hunter was wearing rubber spikes for the first time in a while and not metal spikes.  The umpire still needed a few stitches, but made off...
The Los Angeles Angels have been losing too many games they shouldn't have lately. And it doesn't get much worse than what Tampa Bay did to them Saturday night. C.J. Wilson couldn't protect an eight-run lead, giving back seven of them in one inning, and Kevin Jepsen allowed a tiebreaking, two-run homer to pinch-hitter Carlos Pena in the eighth as the Angels absorbed...
ANAHEIM, Calif. (AP) -- B.J. Upton went 4 for 5 with a home run and three RBIs, Ben Zobrist and Jose Molina also homered and the Tampa Bay Rays battered Jered Weaver for a career-worst nine earned runs in a 12-3 victory over the Los Angeles Angels on Friday night. James Shields (11-7) allowed three runs, seven hits and no walks in six innings while striking out eight, helping the...
By Tanner Shurtz - AngelsWin.com Columnist According to Cot's baseball contracts the Angels have 151MM committed to this years payroll, with only 87.5MM committed to next years squad. The team's payroll has risen just about every year and this offseason Arte Moreno has shown that he will spend lots of money to contend. Last offseason ownership said they could spend...
ANAHEIM, Calif. -- The Angels brought back their past Saturday night, and it couldn't have come at a better time. Their current team is struggling. The season is slowly beginning to slip away. So why not honor the 2002 World Series champions and see if something rubs off? On the 10-year anniversary of their first and only title, the Angels brought back 27 players and coaches...
There is bad juju in the village. Production is low, defense of the land is slipping and it seems like that which has given people hope has faded. There is only one way to appease the mystic forces that govern: Sacrifice must be given! Sadly, this isn't a scene happening on a remote island in a tribal ritual, nor is this a documentary on a long-passed civilization. This plot line...
Of all the things that Jerry DiPoto thought would be issues going into the season, the last thing he thought he would have to worry about was his starting pitching staff. Jered Weaver was coming off a Cy Young runner up season, Dan Haren was touted as an ace for his second half closing kick, Ervin Santana appeared to have figured out his mental issues, CJ Wilson was the biggest offseason...
ANAHEIM, Calif. (AP) -- Pinch-hitter Carlos Pena delivered a tiebreaking homer in the eighth inning, Evan Longoria also hit a two-run shot and the Tampa Bay Rays overcame an eight-run deficit to beat the Los Angeles Angels 10-8 on Saturday night. Jake McGee (4-2) earned the win with a perfect seventh and Fernando Rodney got three outs for his major league-leading 38th save. The...
The Los Angeles Angels of Anaheim are collapsing. Since the All-Star Break, the Angels have gone 14-20. They've gone from three games up in the wild card standings to 2.5 back. In the AL West, the Angels have lost three games in the standings, falling to seven back behind a Rangers team that has been a .500 team since the break. Last night was the nadir of the Angels...
I'm not sure I can properly process all that happened tonight. I can say one thing for sure, the Angels are not making the playoffs this year. What on paper was supposed to be a World Series contender will instead be remembered as the signature disappointment of the season. With the splashy spending spree of the offseason now turning into a sour aftertaste of the realization...
MLB News

Delivered to your inbox

You'll also receive Yardbarker's daily Top 10, featuring the best sports stories from around the web. Customize your newsletter to get articles on your favorite sports and teams. And the best part? It's free!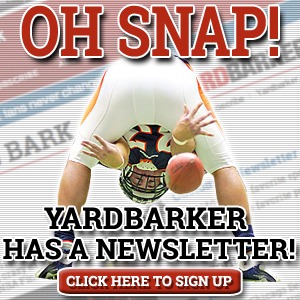 Latest Rumors
The Backyard

Today's Best Stuff

For Bloggers

Join the Yardbarker Network for more promotion, traffic, and money.

Company Info

Help

What is Yardbarker?

Yardbarker is the largest network of sports blogs and pro athlete blogs on the web. This site is the hub of the Yardbarker Network, where our editors and algorithms curate the best sports content from our network and beyond.