Found December 19, 2011 on Pirates Prospects:
Frank Coonelly stopped by the booth to buy his copy of the 2012 Prospect Guide.
This weekend I was at PirateFest, selling the 2012 Prospect Guide and meeting Pirates fans and Pirates Prospects readers. Before I get to my thoughts on the event, I've got a few people to thank.
A big thanks to Kevin Creagh and Matt Bandi for their help throughout the weekend. Kevin joined me at the booth on Friday and Saturday. Matt joined us on Friday, and he and Kevin joined Bucs Dugout, Rumbunter, Raise the Jolly Roger, and McEffect in interviewing Clint Barmes and Chris Resop plus Neal Huntington and Frank Coonelly.
Thanks to everyone who stopped by the booth. It was great to put a face to the screen names from Twitter or the comments section of the site. Or for those of you who read the site daily but don't comment, it was great to meet you and hear that you enjoy the site.
Thanks to Vinnie Richichi, Joe Starkey, and Josh Miller of 93.7 The FAN for having me on the air live on Saturday afternoon.
To everyone who is new to the site, I hope you enjoy the content and check back often. There will be a post going up later today that will serve as a sort of tour of the site.
The biggest thanks goes to the people who have bought the Prospect Guide, whether that's online or at the event. I spent three and a half months writing the book, then put myself at financial risk to self-publish the book. That doesn't include all of the research that went in to the book. So a "thank you" can't really express my gratitude for those of you who bought the Prospect Guide. Chances are the site probably doesn't exist without that support.
I went in to PirateFest with high expectations. I wanted to sell enough books to cover Spring Training for the entire month of March. I wanted to get in a position to hire a beat writer to provide daily updates on the major league team, and report live from PNC Park for every home game. That would allow me to focus more on the minors, including more games than last year. Unfortunately my lofty goal fell way short, and even if my goals had been more modest, I probably would have still been disappointed.
I drove back to Virginia last night, and thought about whether I'd go to PirateFest next year. I probably wouldn't do it at this point, unless the booth was in a different location. We were in the middle of all of the sports memorabilia and baseball card vendors, which really isn't the site's target audience. I got in to the event last minute, so there wasn't much I could have done there. The booth was hard to find for the audience I was trying to reach. Even people who knew we were there and were looking for the booth had trouble finding it.
There's also the issue of the booth being very expensive, and coming with added fees, such as access to electricity. The costs equaled all of the book sales from day one, which kind of made the event a wash. I'd imagine it would be more expensive to move to a different area next year.
The best part of the weekend was the opportunity to talk to everyone who reads the site. However, that's something that could probably be done in a much cheaper fashion with a meet and greet event, which is something I'd like to do in the future. I'm not going to rule out PirateFest for next year, but the goals I was going for this year weren't accomplished, which makes it unlikely that I'd spend the money to have a booth next year.
Original Story:
http://feedproxy.google.com/~r/BuccoF...
THE BACKYARD
BEST OF MAXIM
RELATED ARTICLES
  Tim Williams and Frank Coonelly at the Pirates Prospects booth at Piratefest First and foremost, Tim and I would like to thank all of you that bought the 2012 Pirates Prospects Guide at Piratefest this past weekend, plus all of you that purchased it online (Tim gets an email to his phone every time an online transaction is made).  We also really enjoyed meeting all of you that...
The Pittsburgh Pirates have signed first baseman Jeff Clement and right handed pitcher Ryota Igarashi to minor league deals, per a team press release. Both players will receive invites to Spring Training. We heard about Igarashi at the end of last week. The right hander has struggled in his Major League career since coming over from Japan in 2010. Last year he had a 4.66 ERA in 38...
Born on this date in 1964 was relief pitcher Mike Fetters, who pitched for the Pittsburgh Pirates in 2001-02. Fetters was in his 13th season in the majors when the Pirates acquired him from the Dodgers along with Adrian Burnside in exchange for Terry Mulholland on July 31, 2001. Mike finished the year going 1-1 4.58 in 17.2 innings over 20 games with the Pirates, recording eight...
In November, the Mets released Ryota Igarashi and he has now signed with a new team. There are reports out saying that Igarashi signed a split contract with the Pittsburgh Pirates. If you are like me, and were unsure what a split contract is, well here you go: A split contract is a contract that includes separate salary for time in the minor leagues vs time in the major leagues....
Talks about a long-term contract extension between the Pirates and Andrew McCutchen didn't progress much this summer, but GM Neal Huntington told fans that he's "optimistic" about reaching an agreement with the star outfielder at PirateFest yesterday, reports Bill Brink of The Pittsburgh Post-Gazette. "When you enter a negotiation, you're at X, the player...
This offseason wasn't the first time Pirates closer Joel Hanrahan has heard his name come up in trade rumors. By...
Andrew McCutchen's production at the plate in 2011 resembled a bell curve. This offseason, he is working to straighten it out for 2012. "Just to get myself right, get myself in shape to be able to withstand 162 games-plus," the Pirates center fielder said Sunday on the final day of PirateFest at the David L. Lawrence Convention Center. "That's my goal and that...
Pirates outfielder Jose Tabata, who fractured a bone in his left hand in September, resumed swinging a bat last week after receiving a clean bill of health from the club's medical staff.
Mondays in the winter leagues are typically slow:   VENEZUELAN LEAGUE Leones del Caracas  5,  Tigres de Aragua  4 Los Leones won this battle of the Big Cats with 3 runs n the bottom of the 9th.  Los Tigres scored single runs in four different innings, including their last 3 at-bats.  SS Ronny Cedeno doubled with one out in the 4th, moved to third on 1B Hector Gimenez's single...
There hasn't been much going on since Piratefest, but here are some tidbits: The Bucs signed Jeff Clement to a minor league deal today. This is possibly the least exciting news ever, but like I said, it's a slow news week. Clement basically fell off the face of the earth after failing miserably in his chance to become the everyday first baseman once he was acquired from Seattle...
Pirates News

Delivered to your inbox

You'll also receive Yardbarker's daily Top 10, featuring the best sports stories from around the web. Customize your newsletter to get articles on your favorite sports and teams. And the best part? It's free!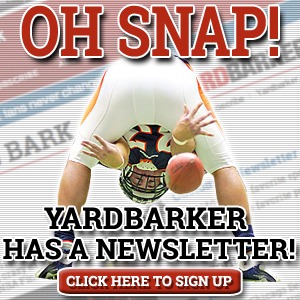 Latest Rumors
The Backyard

Today's Best Stuff

For Bloggers

Join the Yardbarker Network for more promotion, traffic, and money.

Company Info

Help

What is Yardbarker?

Yardbarker is the largest network of sports blogs and pro athlete blogs on the web. This site is the hub of the Yardbarker Network, where our editors and algorithms curate the best sports content from our network and beyond.