Found March 20, 2012 on Baseball Prospectus:
PLAYERS:
Sammy Sosa
,
Tony La Russa
,
Ryne Sandberg
,
Mark Bellhorn
,
Greg Maddux
,
Jamie Moyer
,
Frank Thomas
,
Harold Baines
,
Alex Fernandez
,
Paul Konerko
TEAMS:
Chicago White Sox
,
St. Louis Cardinals
Thanks to everyone who reached out to me about the cryptography challenge this week and to those who worked on it silently. I hope it was at least a mildly fun diversion. The winner of my undying admiration is myshkin, who had already solved the puzzle by the time I woke up the next morning. It's not much of a prize, but it's his!   Before I reveal the actual phrases, I'll describe my encryption method. As I said in the comments earlier, it's not the most bullet-proof encryption, but it works well enough for these purposes. Just don't use this method to smuggle secrets out of Moscow, okay?   The Method   Here are the two encoded phrases again: Phrase #1 98/21-416-198-9 93/28-75.1-53-1993 90/23-7-.354-.306-16-116-16-30 84/40-16-560-1-1-3 02/28-.374-0 92/31-20-68-268-35-11-65-1992 87/49-7-201-114-15-28   Phrase #2 93/35-41-549-112-54 93/29-261-981-104-104-96-10-4-.314-2 85/41-238.2-6 84/03-308-2...
Original Story:
http://www.baseballprospectus.com/art...
THE BACKYARD
BEST OF MAXIM
RELATED ARTICLES
From yesterday's White Sox season preview... Burning QuestionIs Alex Rios a five tool player, or a five cent player? Here is the thing about Alex Rios: he's shown flashes of absolute brilliance in the past. He has three seasons of at least 30 steals, and two 5+ fWAR seasons. But there are a lot of factors about Rios that scare the hell out of me. He's only hit .300...
The White Sox had a successful St. Patrick's Day weekend defeating the Seattle Mariners and crosstown rival Cubs. These victories mark the first time the team has won two games in a row during Spring Training. These wins put the team's total at 5-10, which is by no means satisfactory, but there is still plenty of time to fall into a groove before opening day. Peavy showing flashes...
Oh, the White Sox. 2011 was pretty much a lost year for the team, highlighted by struggles nearly everywhere on the team. Despite all of the downslides, the Sox only finished four games under .500. GM Kenny Williams responded by pretty much blowing up the team, which leaves Chicago with a brand spanking new White Sox team for 2012...well, not totally new. Some guys just couldn'...
Chris Sale was disappointed after a pair of rough starts. He rebounded by pitching two-hit ball over six innings and striking out six Monday as the Chicago White Sox lost to the Cincinnati Reds 1-0. ''I want to finish this spring strong,'' Sale said. ''My first couple (outings) were not where I wanted to be. It was nice to go out there and do what I did...
It was a pretty quiet season last year in Chicago.  The White Sox were relatively anonymous among the relevant in baseball.  The AL Central news was dominated by the Royals, and Indians fast starts, and the Verlander-led Detroit Tigers.  Meanwhile, the White Sox were just playing ball, and had that eerie "calm before the storm" feeling. 
White Sox Off Day is a new regular podcast I am hosting with KVB that will take place during every regularly schedule off day for the White Sox in 2012. For now, episodes will be hosted here at MSF, and you can follow us on Twitter (@WhiteSoxOffDay) for White Sox commentary, links, and in-game tweets. In the first episode, Kevin and I interview Jim Margalus of South Side Sox to discuss...
GLENDALE, Ariz. (AP) -- Chris Sale pitched two-hit ball over six innings and struck out six Monday as the Chicago White Sox lost to the Cincinnati Reds 1-0. Sale allowed a one-out double to Zack Cozart in the first inning and a single to Cozart leading off the fourth. Sale, who had allowed eight runs in 7 1-3 innings in his previous two starts, is moving to the rotation following...
MLB News

Delivered to your inbox

You'll also receive Yardbarker's daily Top 10, featuring the best sports stories from around the web. Customize your newsletter to get articles on your favorite sports and teams. And the best part? It's free!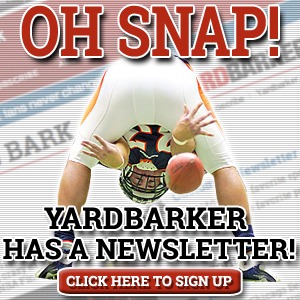 Latest Rumors
Best of Yardbarker

Today's Best Stuff

For Bloggers

Join the Yardbarker Network for more promotion, traffic, and money.

Company Info

Help

What is Yardbarker?

Yardbarker is the largest network of sports blogs and pro athlete blogs on the web. This site is the hub of the Yardbarker Network, where our editors and algorithms curate the best sports content from our network and beyond.