Found September 30, 2012 on The Rhino and Compass:
Yesterday, because I had some time, and know how to live it up on Saturdays, I brought the Perceived Value chart up to date. Keeping in mind that I believe there are generally two frames of reference for evaluating players, if one is not so sabermetrically inclined. 1st) There is the "clutch" idea. Runs batted in is still an often used statistic when people are talking about a players' effectiveness at the plate. People complain (especially in Minnesota) about ducks left on the pond as well, as some sort of failure to execute. In the RBI/LOB ratio, Joe Mauer is 2nd on the team, with the first being Eduardo Escobar who has been very clutch in his short time in the Twin Cities. 2nd among the regulars? Josh Willingham. Mauer is the only person with more RBI's than runners left on base, however, with an 84/62 ratio. That's mind blowingly effective in the clutch, or at least my definition of it, using commonly spouted stats. 2nd) Raw effectiveness. Most people, even if they don't know all the numbers, can pretty much tell if a hitter is any good. It comes down to how often they get on base, and how many bases they get. There is a ready made statistic, a comparative statistic that couples these things, called OPS+. It's on base plus slugging, weighted against the rest of the league. The best OPS+ on the team belongs to Willingham at 144. A close second is the 142 of Joe Mauer. If you combine these two methods of player evaluation, which is what the Perceived Value does, Joe Mauer should be perceived as so much better than everyone else on the team, there shouldn't even be a comparison. So why does everyone still try to assert that he isn't good, or hasn't had a good season? I only have one logical explanation… Hater's gon' hate.
Original Story:
http://ryanhenning.com/?p=4557
THE BACKYARD
BEST OF MAXIM
RELATED ARTICLES
MINNEAPOLIS Twins catcher Joe Mauer and Tigers third baseman Miguel Cabrera entered this past weekend's series as two of the top hitters in baseball. Cabrera held the lead in the American League batting title race, but Mauer was close behind him. After three games between Detroit and Minnesota at Target Field, Mauer crept to within .002 of Cabrera following Sunday's series...
The Minnesota Twins and Toronto Blue Jays have long been out of the playoff race in the AL, but their matchup in the penultimate game of 2012 won't go totally unnoticed. That's because Twins All-Star Joe Mauer has an outside chance of winning his fourth batting title, and he'll likely need a big game Tuesday night when he faces Blue Jays rookie Chad Jenkins for the first...
It's been over a decade since the Minnesota Twins have had a player steal 40 bases. But speedy center fielder Ben Revere accomplished that feat in Monday's 6-5 extra-innings loss to the Toronto Blue Jays. After leading off the seventh inning with a single to left field, Revere stole second base. It was his 40th steal of the season, as he became the first Twins player since...
MINNEAPOLIS Ryan Doumit gave them something to cheer for.An inning later, Denard Span gave them a chance. But Ben Revere, Joe Mauer and Justin Morneau could not deliver, the ultimate frustration after the most promising of hopes. The chances were there for the stars to be heroes, but in Saturday's 6-4 loss to the Tigers, Doumit's eighth-inning grand slam was just theatrics...
Because the Minnesota Twins haven't cracked .500 all season, the team's focus has been on the future for some time. That doesn't mean answers have been forthcoming. With two games left in the season, the Twins not only don't know who will compose fourth-fifths of next year's rotation, but they also don't know whether their coaching staff will return intact...
Last year was the first time in over a decade that the Minnesota Twins experienced a 90-loss season. The Twins had to beat the Kansas City Royals on the last day of the 2011 season to avoid losing 100 games for just the second time in franchise history. One year later, things haven't been much better for Minnesota, which again flirted with the notion of 100 losses. With just...
The Toronto Blue Jays and Minnesota Twins are done playing games that have any playoff implications. They'll both be done with the season following a three-game series that starts Monday night at Rogers Centre. After splitting a four-game set with the New York Yankees, who are tied with Baltimore for the AL East lead, the Blue Jays (70-89) are closing what's been a rough...
Now, does everyone have their Tsuyoshi Nishioka jokes out of their system? All right, good. We get it now. The Twins added Tsuyoshi Nishioka for a pretty price after he had put up gaudy numbers and projected as a solid defensive infielder. Instead, he likely had some anxiety issues that came with high expectations, and those were fueled by off the field problems, none more explicit...
MINNEAPOLIS The 2012 season has been a roller coaster ride for Twins right-hander Liam Hendriks, but he ended it on a high note Sunday in his final start of the year. Hendriks didn't walk away from the game with a win, but he held the high-powered Tigers offense scoreless for seven innings before Detroit came from behind for a 2-1 win at Target Field. For Hendriks, Sunday&...
Last day of September. I'm already sick of Halloween decorations. Alex Burnett isn't special. Strange to say, but I don't know anyone who went to Minnesota Crookston. Looking at this, I have to assume that they got lost on their way to the Twin Cities. If the NHL comes back this year… who are the teams you should hate as a Wild fan? SCOREBOARD NCAAF Iowa 31, Minnesota 13...
Twins News

Delivered to your inbox

You'll also receive Yardbarker's daily Top 10, featuring the best sports stories from around the web. Customize your newsletter to get articles on your favorite sports and teams. And the best part? It's free!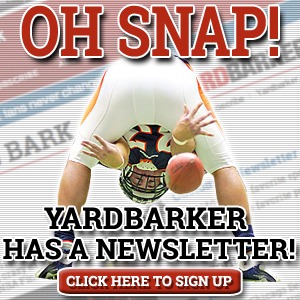 Latest Rumors
Best of Yardbarker

Today's Best Stuff

For Bloggers

Join the Yardbarker Network for more promotion, traffic, and money.

Company Info

Help

What is Yardbarker?

Yardbarker is the largest network of sports blogs and pro athlete blogs on the web. This site is the hub of the Yardbarker Network, where our editors and algorithms curate the best sports content from our network and beyond.