Found July 28, 2012 on Reading Between The Seams:
The Angels made yet another splash. First was the signings of Albert Pujols, and C.J. Wilson. Then it was the call up of Mike Trout. Now the Angels have acquired the 2009 AL Cy Young winner, Zack Greinke. This creates a super rotation that will consist of Jared Weaver, Dan Haren, C.J. Wilson, Zack Greinke, and Ervin Santana. While Santana has struggled, the other four have pitched well up until this point. I believe Greinke is the second best pitcher on this staff, right behind Weaver. So when the Angels have Wilson as their fourth best pitcher in their rotation, the other American League teams must worry. Especially when Wilson was the American League Champion Rangers ace just a season ago. The Halos sit 4.0 games back of the Rangers in the AL West Division race, and lead the Wild Card race by 1.5 games. Things are tight in the American League right now. Meaning nothing is guaranteed to any team. Which is why the Angels felt the need to make this move for Greinke. The Angels biggest foes right now are the Rangers and A's. People have this phobia of bringing National League pitchers to the American League, but don't worry NL Pitcher phobics, Greinke has an excellent track record against American League teams. I did mention earlier he won the 2009 AL Cy Young award. But if that's not enough to assure you he can pitch in a big market like Los Angeles against quality hitting teams then this recent post from ESPN should.
*Greinke has pitched well in his career against the Rangers and Athletics, the teams the Angels are chasing/fighting off. Here are his numbers vs. each AL West opponent: vs. Texas: 3-5, 2.81 ERA, 1.16 WHIP, .242 opponent BA, 4.5 K/BB
vs. Oakland: 5-1, 3.00 ERA, 1.33 WHIP, .264 opponent BA, 2.7 K/BB
vs. Seattle: 4-1, 2.27 ERA, 0.91 WHIP, .218 opponent BA, 5.9 K/BB
These are very good numbers, and if you dig deeper through that post you'll notice his spectacular numbers in AL West ballparks. The one number that stands out is Greinke's 1.02 ERA in Angel Stadium. I believe the Angels locked themselves a playoff birth with this move. They assured themselves at least a Wild Card, and a chance to fight for the AL West Division with the Rangers, and even the A's. The AL West Race should be the most exciting one of them all come September.   The post What Greinke To The Angels Means For The Rest Of The American League appeared first on Reading Between The Seams.
Original Story:
http://sports-kings.com/readingbetwee...
THE BACKYARD
BEST OF MAXIM
RELATED ARTICLES
MILWAUKEE As the baseball world swirled for weeks with trade rumors involving Milwaukee pitcher Zack Greinke, the Brewers' clubhouse remained relatively mum in regard to one of the trade deadline's most discussed commodities. But on Thursday, it was clear that dynamic has changed. A television in the clubhouse prominently featured two analysts discussing potential trade...
ANAHEIM, Calif. -- As debuts go, Zack Greinke's wasn't bad. The Angels' new starting pitcher put his team in position to win, which is virtually all you can ask. He pitched deep into the game, survived a few potential trouble spots and gave every indication he's going to be exactly what the Angels are hoping for as they approach the final two months of the regular...
The trade deadline rush has not disappointed so far, and the latest big news is that Brewers General Manager Doug Melvin delivered on his promise to move Zack Greinke. Greinke is now an Angel. Marc Hulet already covered the prospects that the Angels sent to Milwaukee. Was it a "good" trade? Well, the Brewers are not going anywhere, and Greinke is going to be a free agent who...
It always stings when you trade away a high caliber pitcher like Zack Greinke. The blow is lessened, however, when you net the type of prospects Milwaukee did in exchange for Greinke. While it's difficult to say who came away the winner of this near deadline trade, it's safe to say that the Angels did pay a hefty price for Greinke's services.
Zack Greinke is returning to the American League, reports Jon Morosi ; the 2009 AL Cy Young Award winner has been traded to the Los Angeles Angels in exchange for three of the top 10 prospects in the Angels system. The Angels have gained yet another pitcher with ace abilities; Greinke joins 2011 Cy Young runner-up Jered Weaver and 77.5 million dollar southpaw CJ Wilson. This relegates...
Going into this season, the Los Angeles Angels thought they might have the best rotation in the American League, if not all of the majors. They have good reason to think that way again. The Angels sent top infield prospect Jean Segura and two well-regarded minor league pitchers to the Milwaukee Brewers on Friday in exchange for Zack Greinke. The right-hander joins a rotation that...
Deal is done: Greinke to #Angels, sources tell me and @jonmorosi. @Ken_Rosenthal #Brewers getting shortstop Jean Segura and two Double A pitchers from #Angels for Greinke. "Finishing touches" being applied. Deal is done. @Ken_Rosenthal If the Angels weren't already one of the favorites to win it all, they are now. In a playoffs series they will be throwing Jered Weaver, Zack...
RHP Zack Greinke is on his way to the LA Angels Since the Ryan Dempster deal that almost was fell apart, fans have been waiting anxiously to see if the Braves will be able to pull off deal to bolster their shaky starting rotation before Tuesday's non-waiver trade deadline. And the man atop the wishlist of everyone in Atlanta (fans and team officials alike) was Brewers' ace Zack...
Zack Greinke is heading to Los Angeles. The Angels have reportedly traded for the Brewers right-hander, according to multiple reports, in exchange for a package of prospects including shortstop Jean Segura. Brewers general manager Doug Melvin had said previously that his ace pitcher was definitely going to be traded before the July 31 deadline, and now he's made good on that...
Last week, reports started swirling around the interwebs that the Angels had entered the race for Zack Greinke. It would be an ideal fit for the Angels as Dan Haren has been hurt, and Ervin Santana has been nothing short of inconsistent. Just to tease Angels fans, here is their possible rotation if they acquire Greinke: Jered Weaver Zack Greinke CJ Wilson Dan Haren - Assuming he...
A few days ago Zack Greinke hinted that he liked the Angels organization, and praise them, Anaheim made it happen, pulling off perhaps what will be the biggest trade of the season. They acquired the Greinkster for three prospects: shortstop Jean Segura and pitchers Johnny Hellweg and Ariel Pena. The Catatafish never saw this coming. Admit it Zack, you just can't get enough of...
Table of Contents Here's the table of contents for today's edition of Daily Notes. 1. Featured Game: Tampa Bay at Los Angeles AL, 15:35 ET 2. Other Notable Games (Including MLB.TV Free Game) 3. Today's Complete Schedule Featured Game: Tampa Bay at Los Angeles AL, 15:35 ET Regarding What the People Want What the people want — mostly owing to the unstoppable force that is human...
Angels News

Delivered to your inbox

You'll also receive Yardbarker's daily Top 10, featuring the best sports stories from around the web. Customize your newsletter to get articles on your favorite sports and teams. And the best part? It's free!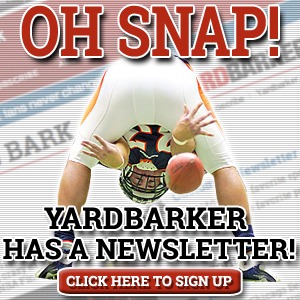 Latest Rumors
Best of Yardbarker

Today's Best Stuff

For Bloggers

Join the Yardbarker Network for more promotion, traffic, and money.

Company Info

Help

What is Yardbarker?

Yardbarker is the largest network of sports blogs and pro athlete blogs on the web. This site is the hub of the Yardbarker Network, where our editors and algorithms curate the best sports content from our network and beyond.