Found November 14, 2012 on Monkey with a Halo:
PLAYERS:
Albert Pujols
,
CJ Wilson
,
Jeffrey Loria
,
Howie Kendrick
,
Vernon Wells
,
Jeff Mathis
,
Maicer Izturis
,
Zack Greinke
,
Anibal Sanchez
,
Josh Hamilton
,
Chase Headley
,
Justin Upton
TEAMS:
Los Angeles Angels
,
Miami Marlins
,
Toronto Blue Jays
,
Detroit Tigers
,
Texas Rangers
,
San Diego Padres
,
Arizona Diamondbacks
The baseball world is still frothing with rage over the latest and greatest Marlins fire sale trade.  Actually, calling it a fire sale trade isn't fair, it is really more of a raging inferno sale trade what with them dumping their two biggest free agent purchases from the off-season before along with pretty much every other player on their roster making even a little bit of money. But as crazy as that trade was, it actually could have been even crazier.  Surely we all remember how close the Marlins came to signing both Albert Pujols and C.J. Wilson, who of course ended up signing with the Angels.  As it turns out, a major reason that Albert and C.J. passed on Miami's respective offers was that they didn't include no-trade clauses, which is a Marlins club policy.  So, yeah, good call, fellas. That got me thinking though.  The Marlins essentially decided that their spending spree went awry and that they needed to cut their losses, blow things up and start over (and pocket a lot of cash, because Jeffrey Loria is an epic scumbag).  One could say that the Angels big purchases didn't pan out either, though obviously not quite on the same level as Miami.  So, what if the Halos made good on that hypothetical and followed the Marlins' example by selling off Pujols, Wilson and maybe another bloated contract so that they could start over? I know it seems kind of crazy to imagine, but I also think there is some logic to it.  Allow me to explain and then judge for yourself whether or not it is a worthwhile tact. Let's assume, for the sake of this exercise, that the Angels could dump Pujols, Wilson and Howie Kendrick on someone (I know, you probably want to include Vernon Wells, but that takes this from hypothetical fiction to pure science fiction).  And using the Toronto package as an example, let's say the Angels get in return a league average second baseman to replace Kendrick, a pre-arbitration fringy starting pitcher, a mid-rotation starting pitcher prospect that is near the majors, a big league-ready non-closer relief prospect, a reliable veteran back-up catcher (not Jeff Mathis, I promise) and a pre-arbitration utility infielder.  Oh, and let's not forget about the money involved seeing how that really is the most important part.  The Angels would be moving over $321 million long-term contracts, which is a lot, so let's say they kick in some cash and cover the salary of the players they acquired to put their trade partner's bill at $280 million. All in all, that's a pretty impressive haul.  The Angels plug one of their rotation holes, effectively replace Maicer Izturis, upgrade at back-up catcher, get another young arm in the bullpen, add some real minor league rotation depth and improve the overall depth of their farm system with the high ceiling hitting prospect.  Last, but certainly not least, they reduce their 2012 payroll obligations from around $115 million to about $80 million.  Of course, they now lack a franchise first baseman and have two huge holes in their rotation.  But, hey, they still have Trout, Trumbo, Weaver and $70 million burning a hole in their pocket, so they really aren't in that bad of a position. The obvious benefit of all that money is that it would put them in great position to keep Zack Greinke as there wouldn't be anymore budgetary concerns.  They'd still have plenty leftover to then make major purchases to replace Wilson and Pujols.  For example, they could sign Anibal Sanchez as well as Josh Hamilton.  I think I'm being rather realistic when I say that Greink, Sanchez and Hamilton could all be had for roughly $60 million in average annual value.  Backload those deals over five or six years and the Angels could potentially still leave themselves with $15 million in spending money and the most definitely improve their long-term financial flexibility since the escape the potentially franchise-crippling ten-year contract of Albert Pujols. Using that money and their improved prospect depth, the Angels would have more than enough flexibility to seek out upgrades elsewhere.   Maybe they use it to find a way to pry Chase Headley loose from the Padres.  Or maybe they go after Arizona's Justin Upton.  Really, the sky is the limit, if they can pull it off, after all, it is a lot of moving parts to orchestrate. They also need to convince players that they won't pull off the same gag if they don't win in 2013.  That last part is really the most difficult part of the equation.  Making big money offers is the easy part, convincing high profile free agents that they are chaining themselves to a team committed to winning is quite another.  As a result, I think this is where the whole notion falls apart.  While the Marlins might be excited about the prospects they acquired and the money they saved, they seem to have grossly underestimated how much ill will they have created with prospective free agents.  I'd probably like it a bit better too if there were more attractive free agents on the market than Sanchez and Hamilton.  Still, it is an idea that is worth considering and maybe the Angels will really consider it if 2013 doesn't work out any better than 2012. [follow]
Original Story:
http://www.monkeywithahalo.com/2012-a...
THE BACKYARD
BEST OF MAXIM
RELATED ARTICLES
Miami Marlins stud outfielder Giancarlo Stanton summed up the feeling of the team's fans in one tweet: Alright, I'm pissed off!!! Plain & Simple — Giancarlo Stanton (@Giancarlo818) November 13, 2012 Who can blame him? The Marlins traded away their top players in a surprise deal. They have decimated their payroll, and are now firmly entrenched in rebuilding mode. This all...
IT'S AN OUTRAGE
Giancarlo Stanton is one of the few remaining good players on the Marlins following the team's fire sale, and he is not happy about it.
Jose Reyes is now a Toronto Blue Jay ... not even one calendar year after he signed a six year, $106 million contract with the Miami Marlins. Don't cry for Reyes too much. He made his own bed by going after the largest deal on the table (and pretty much the only deal on the table), while assuming all risks in signing a backloaded deal with a franchise known for its garage sales...
Here is a scary thought, Kevin Jepsen.  That's it, just the idea of him. That probably seems like an awfully mean thing to say about the one member of the Angel bullpen who wasn't a greasefire in the second half of the 2012 season.  But the fact of the matter is that we've all been fooled before by Jepsen.  Let's not forget how great Jepsen looked in 2010. ...
Well, the Florida Miami Marlins have certainly perfected the art of the "fire sale." The Marlins dumped shortstop Jose Reyes, pitchers Mark Buehrle and Josh Johnson, utility player Emilio Bonifacio and catcher John Buck in a trade with the Toronto Blue Jays on Tuesday night, successfully dumping approximately $165 million in salary in the process. Miami got shortstops Yunel Escobar...
The Miami Marlins are conducting another one of their infamously appalling fire sales, having already traded away half their team during the 2012 MLB season, with basically the rest going to the Toronto Blue Jays this week. With very few players remaining on the team who even makes more than six figures per year, it seems as if it is only a matter of time before they trade their...
The Miami Marlins didn't have a good first year. Even with a new stadium, a new name, new unis, it was still the same old Marlins as it related to...
Well, so goes the "Stock Up for the New Stadium" drive in Miami. According to multiple reports, the Miami Marlins have given up on the quest to buy an NL East title. They are trading ace Josh Johnson, SS Jose Reyes and P Mark Buehrle along with C John Buck and utility guy Emilio Bonafacio to the Toronto Blue Jays for among others SS Yunel Escobar and a handful of...
I went into TurboTax and entered the Marlins $100 million payroll going into last season, subtracted Jose Reyes, Hanley, Josh Johnson, Buehrle, Bonifacio, Buck, Infante, Gaby, Anibal, Heath Bell and Ozzie Guillen's salary, then I added in Gorkys, Ruggiano, Giancarlo, Wade LeBlanc, Eovaldi, Jacob Turner, Adeiny Hechavarria and Yunel's salary and it says the Marlins can get an EBT...
The Miami Marlins disgrace to baseball continues.   Two reports have surfaced that the Marlins are unloading even more of their talent.   First, Bob Nightengale of USA Today reports that the Marlins are letting teams know that "virtually everyone" is available.   Then, Jon Morosi of Fox Sports just reported that the Marlins are close to sending the Marlins' best...
The Toronto Blue Jays are on the verge of acquiring Josh Johnson, Mark Buehrle, Jose Reyes, John Buck and  Emilio Bonifacio from the Miami Marlins,  Jon Morosi of FOX Sports reports. The Marlins will receive Yunel Escobar, Justin Nicolino, Henderson Alvarez and Adeiny Hechavarria among other pieces. Word is also surfacing that Jose Reyes may be on his way to Toronto also. Image...
MLB News

Delivered to your inbox

You'll also receive Yardbarker's daily Top 10, featuring the best sports stories from around the web. Customize your newsletter to get articles on your favorite sports and teams. And the best part? It's free!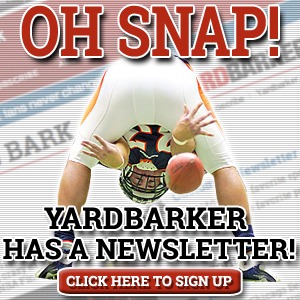 Latest Rumors
Best of Yardbarker

Today's Best Stuff

For Bloggers

Join the Yardbarker Network for more promotion, traffic, and money.

Company Info

Help

What is Yardbarker?

Yardbarker is the largest network of sports blogs and pro athlete blogs on the web. This site is the hub of the Yardbarker Network, where our editors and algorithms curate the best sports content from our network and beyond.