The Washington Nationals have won ten consecutive games, the first time they have hit that size of a winning streak since their relocation to the District in 2005.   They have won five of their last six games in dramatic walk off fashion, an incredible feat that is fascinating the baseball world.  In all, the Nationals have built a seven game lead in the NL East.  The Atlanta Brave shave won six of their last seven, and the Nationals have cancelled that out with this ten game winning streak.  Things are looking up for DC baseball and potential post-season play. So what are the pundits saying out there?  Let's take a look . . . Jerry Crasnick, ESPN It's taken almost five months, but the March prognostications have developed a sense of clarity. As the Braves bounce from winning streaks to losing streaks and try to put together an extended run to escape the wild-card mosh pit, it's becoming evident the Nationals are who we thought they were. And The NL East is starting to have a "foregone conclusion" feel to it as September approaches. The Nats, who've earned a reputation as a puzzling and sometimes underachieving bunch, are putting together a season-defining run under first-year manager Matt Williams. And The biggest reason to buy stock in Washington right now is its pitching. During the Nationals' 10-game streak, the rotation has a 1.34 ERA and the entire staff has allowed a total of 23 runs.  "They might have the best pitching staff from 1 through 12 not only in the league, but in all of baseball," said a National League personnel man. "And they have power pitching. It wouldn't shock me if they go very far [in the postseason]." Mike Oz, Yahoo Sports, Big League Stew The players have started to rally around a gnome of Jayson Werth as a good-luck charm (it was there Thursday). Fans are using a Vine of Elmo dancing as their victory celebration. This has all the pillars of baseball winning streaks going weird. And wonderful. On the field each night, there's a different reason to celebrate and a different guy in the middle of it. As the always-great Adam Kilgore at the Washington Post put it, Thursday's win "perpetuated the most ridiculous stretch of baseball this town has ever seen, a winning streak that reached 10 games and infinite degrees of silliness." Which is good, because baseball could always stand to be a little more silly. Dayn Perry, CBS Sports This all serves as a reminder that the MLB season is a snaking, meandering path, not a straight line from expectations stated to expectations realized or squelched. Rare is the wire-to-wire division champ. Considering the breadth of the Braves' early injury problems, I think many of us expected the Nats to seize an early lead and methodically build upon it. Obviously, that hasn't happened. However, the Braves' post-April mediocrity (they're seven games under .500 since May 1) in tandem with the Nationals' recent surge (15-5 in August) has put us where we expected to be, albeit via a less assured route.    So the Nats have powered through significant injuries to Fister, Gio Gonzalez, Bryce Harper,Adam LaRoche and Ryan Zimmerman (still ongoing in Zimmerman's case), and here they are with a healthy division lead and the second-best run differential in baseball (+102). They've been a bit lucky when it comes to sequencing their hits, but even by that measure just the Angels and Athletics have been better this season. There's still time for the Braves to pull off a minor miracle, but now the Nats are looking like the Nats we expected to see. It's taken a while, but here they are. Just like we thought they'd be. Tom Boswell, Washington Post A win Friday night at Nationals Park would be the longest winning streak by any D.C. big league team since 1933, when the Senators won 13 in a row — yes, that's the last year a D.C. team won the pennant. On the five walk off wins … How rare is five walk-off wins in six games? It has happened only seven times in baseball history. The last time, in 1986, the Astros actually won five straight that way. So combine the intoxication of a big winning streak — which has knocked the Atlanta Braves seven games behind in the NL East — with the ludicrously wonderful ways in which the Nats have won and you have late-game insanity squared. And why it is so important that the Washington Nationals coaching staff stay in shape, physically  . . . Williams and his staff, creatures of baseball superstition, have other streak-induced issues that are far more pressing. Sometimes Williams and several coaches, including Randy Knorr, Tony Tarasco, Bob Henley and Mark Weidemaier, take a three-and-a-half mile mid-day jog from Nats Park around the U.S. Capitol building and back. It's a trek they don't do every day. But they did it the day the streak started, then the next. "Let's just say my staff is exhausted," said Williams. "We've run it every day." Daniel Popper and Bill Ladson, MLB.com But once the Nationals take the field, the demeanor changes. One can often find players laughing, talking and smiling, particularly third baseman Anthony Rendon. When Doug Fister is pitching, the right-hander almost always finishes his warmups early. That's when the infielders congregate behind the mound with their starter and have an easy-going conversation, complete with overflowing positive body language. Jason Catania, The Bleacher Report With the win, the Nationals are now a season-high 20 games above .500 at 73-53. Not only that, but they also have the best record in the Senior Circuit, and it's starting to feel like this club isn't going to give up that throne any time soon. Especially after how things played out last season. On the importance of pitching in the latest Nats surge . . The Nationals certainly have been doing "all that" over the past 10 games. In fact, they've been doing a lot of that for most of the season.  They have a 3.03 team ERA, the second-lowest overall and best in the NL. That's been achieved through both the rotation and the bullpen.  With the explosive Stephen Strasburg (3.41 ERA, 1.17 WHIP, NL-best 198 strikeouts), steady Jordan Zimmermann (2.97, 1.15), underrated Doug Fister (2.20, 1.05), unheralded Tanner Roark (2.80, 1.09) and lone lefty Gio Gonzalez, Washington's rotation is among the best and deepest in baseball. Better late than never . . . The way things are shaping up now—not to mention, the way they're playing lately—the Nationals are making good on all those expectations. They're just doing it a year later than expected.
Original Story:
http://dcprosportsreport.com/what-the...
MORE FROM YARDBARKER
MLB News

Delivered to your inbox

You'll also receive Yardbarker's daily Top 10, featuring the best sports stories from around the web. Customize your newsletter to get articles on your favorite sports and teams. And the best part? It's free!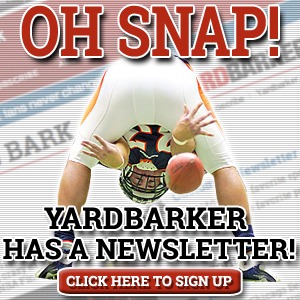 Latest Rumors
Best of Yardbarker

Today's Best Stuff

For Bloggers

Join the Yardbarker Network for more promotion, traffic, and money.

Company Info

Help

What is Yardbarker?

Yardbarker is the largest network of sports blogs and pro athlete blogs on the web. This site is the hub of the Yardbarker Network, where our editors and algorithms curate the best sports content from our network and beyond.