Found May 06, 2012 on hardballchat.com:
The Angels finally had enough yesterday and decided to insert Mark Trumbo in at first base in place of the slumping Albert Pujols. I'm sure it's only temporary. The general idea is to give the world-class slugger a day or two away from it all to clear his head. Luckily for the Angels, they have plenty of bats to insert in his place while he figures things out. The numbers speak for themselves. Most in the press focus on the homerless streak that has surpassed 100 plate appearances, but there are much more alarming numbers to look at. We could start with his .202 batting average, but even that is not the most alarming statistic on the board. That might be his five RBIs. For those that look at performance more in depth, it is his dwindling walk rate that is the most alarming. His career walk rate of 13 percent is among the best in baseball. Couple that with a strikeout rate of 9.5 percent and you can see why he is perhaps the best hitter of our generation. Those numbers have flip flopped this season has he walking only five percent of the time and striking out 13 percent of the time. That isn't horrible. Span the league and you will find hitters that strikeout  in nearly 30 percent of their plate appearances. There are hitters that walk less often. However, given where he has been, these numbers are nothing less than remarkable. There is bound to be some regression to the mean, but he is clearly in decline. Occasionally, we have looked at Pitch F/X data to get a very detailed look at a player. Pitch F/X data breaks down the numbers directly to help us understand why these things are occurring. Below is a table showing his basic numbers from the past five seasons with some advanced metrics from Pitch F/X thrown in.   BB% SO% HR/FB LD% O-Swing% Swing% 2012 5.3 13.2 0.0 24.7 34.0 47.0 2011 9.4 8.9 18.3 17.0 28.4 43.9 2010 14.7 10.9 18.3 17.2 24.3 40.8 2009 16.4 9.1 20.1 15.6 25.3 40.2 2008 16.2 8.4 20.7 22.4 22.7 39.2 As you can see, this trend has been happening for awhile, with the exception of his line drive rate, all of the numbers are trending down. It is easy to see what's happening when we look at the last two categories on the table. Those two numbers are our pitch f/x numbers. O-Swing% is the percentage of pitches outside of the strike zone that a hitter swings at. The major league average tends to be around 30 percent. As we can see, when Pujols was in his prime he was far better than the league average. Now, he is worse than the league average in that category. The swing percentage is not as big a deal, but you do see the same general theme. Pujols is far less patient than he used to be. This is where the rubber meets the road.  Pitch f/x data shows us what is going on, but it doesn't tell us why it is happening. There are any number of things going on. It could be that pitchers have figured out a way to pitch to Pujols in the intervening years. It's also possible that Pujols just isn't seeing the ball as well as he used to. What is more likely is that he is pressing. This is where the line drive rate comes into play. Normally, the higher the line drive rate the higher the batting average on balls in play. So far, he has a .226 average on balls in play. It must be difficult to live up to the pressure from a 250 million dollar contract when you are suffering from the effects of a slump. Obviously, he is doing some things well and those efforts are not being rewarded. Hopefully, the day off will refocus him into using the approach he did before.   In addition to being the editor of hardballchat.com, Scott Barzilla is also the proud father of one and the author of four books. His books can be found at Amazon and Barnes and Noble. Barzilla's Hall of Fame Index was nominated for the Sporting News Award for statistical advancement.
Original Story:
http://www.hardballchat.com/2012/05/w...
THE BACKYARD
BEST OF MAXIM
RELATED ARTICLES
Albert Pujols has hit his first regular-season home run since joining the Los Angeles Angels, ending the longest drought of his 12-year career after 33 games and 139 at-bats. Pujols' two-run shot into the left-field bullpen Sunday came in the fifth inning against Toronto's Drew Hutchison. Pujols was playing his 28th game for the Angels since leaving St. Louis and signing...
Booed and benched in the previous two games, first baseman Albert Pujols finally broke out with his first home run as an Angel on Sunday. Pujols was booed as he went hitless in Friday's shutout by the Blue Jays. Angels fans were frustrated with the sub-.200, 0-homer start by their $246 million man. After the game, Pujols said he deserved it but promised there would be...
A man in a new uniform How quickly things change. How quickly fans turn. Just last October, Albert Pujols was celebrating his second World Series Championship, and as the best player, on the world's best team, Pujols sat on top of the baseball world. Unfortunately for Los Angeles Angels fans, the championship trophy Pujols held was while he was in a St. Louis Cardinals' uniform...
Albert Pujols, meet rock bottom. Rock bottom, I'd like to introduce you to Albert Pujols. As if Pujols' now infamous homerless streak wasn't already bad enough, you can add a new ignominious achievement to his 2012 resume: he's dropped below the Mendoza line. After going 0-for-4 against Henderson Alvarez and Toronto tonight, Albert's batting average on the season...
The Albert Pujols sideshow finally ended on May 6, 2012, in the 111th AB of what has so far been a season of well-paid misery for the former King of St Louis.  It ended with that long-awaited first official home run (although he hit seven in Spring Training) as an Angel; a wait that was so excruciatingly long and drawn-out, it reminded me of the similarly long and drawn-out death...
Struggling Angels slugger Albert Pujols predicts he'll bounce back, shrugs off boos.
@Los Angeles Angels of Anaheim (2-2) @ Minnesota Twins (7-20)Pitching Probables: LAA – Jered Weaver (12-17, 1.61 ERA)  MIN – Francisco Liriano (0-4, 9.97 ERA)Game Info: 5:10 PM PT; TV - Fox Sports West; Radio - KLAA 830 First thing I want to address, this is something that's been itching in the back of my mind for some time, but HOLY HELL WHY IN THE WORLD DOES EVERYONE...
The May 7th, 2012 edition of daily news for the Los Angeles Angels ...
Photo Credit: Marianne O'Leary Although baseball is well underway and the season is chugging along as usual, there are a number of absolute studs that have been seriously underperforming. Obviously everybody and their mother knows of Albert Pujols' struggles, but Jose Bautista and Robinson Cano are also putting up duds on the regular nowadays. Moving down the totem pole a...
With so many massive signings, the Los Angeles Angels were the talk of baseball. Similar in tune to the Boston Red Sox of 2011, who made huge splashes with 1B Adrian Gonzalez and LF Carl Crawford. Like those Red Sox, the Los Angeles Angels are sputtering in a monumentally disappointing fashion. The problems start with their two free agent signings. A major concern was...
I had a dream.  In this dream, I negotiated a contract where I would be paid beyond my useful years for doing absolutely nothing at all.  Once any talent I had was completely gone, instead of living off my pension or social security, I would get paid a ridiculously large sum of money for my "personal services," but only if I chose to accept it. I mean, you never know.  It's...
Albert Pujols, Prince Fielder, Mark Teixeira, Jose Bautista, Ryan Howard, Miguel Cabrera, Dan Uggla, Adrian Gonzalez, Paul Konerko. Nice group, yeah? Those are 9 of the 10 leaders in HR from 2009-2011. Pujols, Fielder, Teixeira, Howard, Cabrera, Uggla. Listed there are 6 of the 7 players to hit at least 30 HR in every season from 2009 through 2011. The player not mentioned in both...
Angels News

Delivered to your inbox

You'll also receive Yardbarker's daily Top 10, featuring the best sports stories from around the web. Customize your newsletter to get articles on your favorite sports and teams. And the best part? It's free!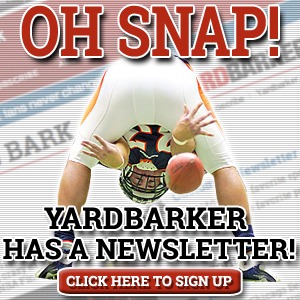 Latest Rumors
Best of Yardbarker

Today's Best Stuff

For Bloggers

Join the Yardbarker Network for more promotion, traffic, and money.

Company Info

Help

What is Yardbarker?

Yardbarker is the largest network of sports blogs and pro athlete blogs on the web. This site is the hub of the Yardbarker Network, where our editors and algorithms curate the best sports content from our network and beyond.