Found May 16, 2012 on Waiting For Next Year:
When the Indians traded for Derek Lowe immediately after the 2011 season, I thought it was a pretty shrewd move.  They were buying low—PUNS!!—on a pitcher who had run into some incredibly tough luck during the 2011 campaign.  Atlanta seemed a bit eager to cut bait with him due to his terrible close to the 2011 season: from August 2nd until the end of the season, opposing batters hit .316/.370.485 off Lowe over 57.2 innings resulting in a 6.24 ERA.
But anyone with even a cursory grasp of pitching peripherals could see that Lowe's 2011 season had all the traditional markings of an outlier. His batting average on balls in play was unusually high at .327. He stranded fewer than 66% of his base runners.  His walks were up a bit from his career rate, sure, but he actually increased his strikeout rate too.  Have a look:
GB%
BABiP
LOB%
K%
BB%
Career 62.6% 0.296 69.7% 15.4% 7.0% 2011 59.0% 0.327 65.9% 16.5% 8.4%
More than anything, 2011 looked like one of those unfortunate seasons where everything seemed to go wrong: batted balls became hits and base runners became runs more often than normal. That stuff is mostly random—pitchers tend to hover around .300 on batted balls and a 70% strand-rate no matter who they are—and the Indians were right to jump on the bargain when they did.
So for $5 million (the Barves, by the by, are paying Derek Lowe $10 million this season not to pitch for them) and a non-prospect, it seemed more than worth the risk. The Indians had every reason to believe that Derek Lowe would revert to the pitcher he'd been throughout his career.  For reference, here are Lowe's career numbers as a starter:
ERA
WHIP
K/9
K/BB
4.07 1.335 5.6 2.09
Those are good numbers. Not great numbers, mind, but combine them with veteran leadership, durability, and any other intangibles you want to tack on for good measure and they're plenty worth a $5 million gamble.
So as I said: I was onboard with this move.  Seemed to make good sense—never too much middle-of-the-road pitching, and whatnot.
But what we've seen so far in 2012 has been anything but middle-of-the-road.  After yesterday's complete game shutout of the Minnesota Twins, Lowe is sitting pretty with a 6-1 record and a 2.05 ERA.  Among qualified AL starters he now ranks first in ERA, first in groundball percentage, first in pitcher wins and twelfth in innings pitched.  He has done all this while sustaining a completely normal BABiP, by the way, of 0.300.
So what gives?  How did a mid-rotation, soon-to-be 39 year old groundballer just become Roy Halladay?  I'll be honest: I have no idea.
All the normal places I look suggest that this just shouldn't be happening.  For instance, if Lowe has a completely normal BABiP rate of .300, how is he stranding almost 85% of his base runners (he's fourth in the league)?  You'd think that if his batted balls drop in for hits at a normal rate, he's bound to have more of those runners score, no?
Furthermore, his peripherals so far this season are actually much worse than they were last year.  As mentioned above, Lowe struck out 16.5% of the batters he faced in 2011 and has struck out 15.4% for his career.  So far in 2012?  It's only 5.8% (!), which makes him, BY FAR, the least strikeout-prone pitcher in the AL this season.
I should mention here that I have a piece in the works that would argue that low K-rates are no big deal, as long as your walk-rate goes down accordingly.  You want to maintain between 2 and 3 strikeouts for every walk you issue, no matter if you strikeout 25% of batters or 6%.  After all, Josh Tomlin struck out only 4.84 batters per nine innings pitched last season but still had a brilliant K/BB of 4.24—good for fourth best in the AL—due to his excellent command.
So back to Lowe: who cares if he's not striking anyone out, as long as he's not walking anyone either, right?  But he is walking people—a lot of them, in fact.  At least in relation to his strikeouts.  Right now, Lowe's K/BB ratio is 0.76, meaning that for every strikeout he records, he allows about 1.3 walks.  Remember, you want that K/BB ratio to be above 2.00. Last season the worst AL K/BB rate belonged to Brad Penny at 1.19.  No one else sustained a rate below 1.63.  Right now the Indians have two starters below 1.00—with Ubaldo checking in at an execrable 0.80.  For the record, Derek Lowe's current K/BB ratio of 0.76 is the worst among MLB starters this year.
So if his peripherals are bad and his luck is average, how is Lowe sustaining this run?  It seems to contradict what we know about the way baseball works.
Well, there are probably a few reasons.
First, his luck isn't exactly "average" so far this year.  While his BABiP is plenty normal, he's allowing home runs on only 5.7% of his flyballs, compared to about 12.3% for his career.  We probably shouldn't expect that to continue: flyballs typically become home runs at a pretty steady rate, and 5.7% is really low.
On top of the home runs, Lowe has already induced 10 ground ball double plays in only 223 plate appearances, which leads the Major Leagues.  For his career, he's recorded a GIDP once every 36 plate appearances, but this season it's once every 22.  That's a huge jump—and probably unsustainable, what with old dogs and new tricks being what they are—that likely contributes significantly to his oddly high strand-rate this season.
Maybe the Luck Fairy is just paying Lowe back for all the trouble heaped on him in his final few months in Atlanta?  After all, for someone who just couldn't catch a break near the end of last season, it would seem just if there were some cosmic redistribution—recompense for all those seeing-eye singles that drove him out of Atlanta in such infamy.
But that's not how luck works—at least not in this instance.  Because when we say luck, what we really mean is "random variation".  And anyone who's ever sat at a roulette wheel knows that the next spin has nothing to do with the previous five.  Just because the ball landed black five times in a row doesn't mean it's any more likely to land red on the next spin.  That's not how probability works, and when we measure the random statistics like HR/FB and LOB%, the story is the same.  Blips and streaks happen, but that doesn't mean the roulette ball is weighted, and it doesn't mean the Derek Lowe is Sandy Koufax.
I know these sorts of pieces are not typically well-received: it comes off as cynical pessimism of the worst sort, when all I'm really trying to do is answer the questions that pop into my mind.  I'm not trying to beat up on Derek Lowe, honest.  As I said above, I loved the trade that brought him here, and I think he's going to be a valuable piece of our team, both because of his on-field performance and his clubhouse leadership.  I think the trade looked even smarter in retrospect, when Fausto got held up at a Dominican airport, and smarter still on May 16, with Lowe leading the AL in everything that matters.
This was a good trade, and I'm happy we made it.  We're a better team for rostering Derek Lowe, and even though I'd be pretty surprised if Derek Lowe wins the ERA title this season, the numbers he's putting up now—perhaps against all odds—still count.
We're a first place team with a pitcher who's leading the league in ERA.  While it might not last, that doesn't mean we can't enjoy it.
Original Story:
http://www.waitingfornextyear.com/201...
THE BACKYARD
BEST OF MAXIM
RELATED ARTICLES
It's getting to the point now where it's safe to say that Derek Lowe is saving the Indians' rotation. Without Lowe, the Indians' spotty rotation would be an even bigger mess than it already is. Tuesday, in his best start of the season, and his best start in several seasons, Lowe pitched a six-hit shutout over Minnesota in leading the Indians to a 5-0 victory. ...
Derek Lowe pitched a complete game shutout and the Indians hit three home runs in a sound defeat of the Twins.  Cleveland AB R H RBI HR BB K SB LOB Season Avg S. Choo rf 4 2 2 1 1 1 0 0 0 .245 J. Kipnis 2b 5 0 0 0 0 0 1 0 2 .271 A. Cabrera ss 5 1 2 2 1 0 0 0 0 .319 C. Santana dh 4 2 2 1 1 0 0 0 1 .260 M. Brantley cf 4 0 2 0 0 0 0 1 1 .268 J. Lopez 3b 4 0 1...
An MRI performed on the back of Cleveland Indians third baseman Jack Hannahan has revealed mild inflammation around the area of the facet joints. The facet joints are found at every spinal level — except at the top — and provide about 20% of the twisting stability in the neck and low back. Hannahan, listed as day-to-day with the back inflammation, has not played since May 13...
MINNEAPOLIS (AP) -- Derek Lowe pitched his first shutout in nearly seven years, throwing a six-hitter Tuesday and leading the Cleveland Indians over the Minnesota Twins 5-0. Shin-Soo Choo scored after a leadoff double in the third inning, then hit the first of three Indians home runs in the fifth against Jason Marquis (2-3). Asdrubal Cabrera and Carlos Santana also homered to break...
While some believed Derek Lowe's better years may be behind him following a disappointing 2011, it's safe to say he still has plenty left in the tank. The right-hander, however, hasn't experienced much success against the Minnesota Twins over the course of his career. Seeking a fourth consecutive win, Lowe looks to help the visiting Cleveland Indians continue their...
Derek Lowe pitched his first shutout in nearly seven years, throwing a six-hitter Tuesday and leading the Cleveland Indians over the Minnesota Twins 5-0. Shin-Soo Choo, the Indians' new leadoff man, scored after a leadoff double in the third inning and then hit the first of three Cleveland home runs in the fifth against Jason Marquis (2-3). Asdrubal Cabrera and Carlos Santana...
Now these are the games that make baseball so fun and so frustrating at the same time. For the first seven innings, the Cleveland Indians looked well on their way to an easy win against the Minnesota Twins at Target Field. Starting Pitcher Jeanmar Gomez, coming off his first bad outing of the season, dominated the Twins to the tune of one unearned run on three hits. His sinker was...
Indians third baseman Jack Hannahan is out of the lineup for the fourth straight game with lower back soreness. The team said Thursday that an MRI revealed mild back inflammation. Hannahan, who hasn't played since Sunday, remains day-to-day. He missed a week in spring training with back soreness. Jose Lopez started at third base against Seattle. The team said it will provide...
Derek Lowe is a very talkative guy, but even he couldn't muster up words following a classy gesture by the Red Sox organization. John Henry, Larry Lucchino and Tom Werner presented Lowe with a 2004 World Series ring to replace the one that was stolen from his Florida home last month, and the Indians hurler couldn't have been any more pleased. "You know me, I can talk...
MINNEAPOLIS Numbers are betraying Manny Acta in the best possible way.This is a man of spreadsheets, of analytics. The Cleveland Indians' manager has moved beyond spray charts to something more complex, to infield shifts and defensive adjustments. Acta plays the odds "If a guy hits 80 percent of balls to one side of the infield, you've got to go that way," he...
Ubaldo Jimenez overcame a shaky start to get the win and the Cleveland Indians pounded out a season-best five doubles to beat the Seattle Mariners 9-3 Wednesday night. Jimenez (4-3) gave up five hits and three runs over six innings. He threw 107 pitches - 27 in a long first inning - walked two and struck out four. Seattle starter Felix Hernandez (3-3) gave up 10 hits and six earned...
Fifteen years ago this fall, the Florida Marlins beat the Cleveland Indians in seven games to win their first World Series. Since then, the Marlins have remained successful in their rare meetings with the Indians. Carlos Zambrano hopes for another strong outing as the Miami Marlins look to prevent the AL Central-leading Indians from a season-high fifth straight victory Friday night...
MLB News

Delivered to your inbox

You'll also receive Yardbarker's daily Top 10, featuring the best sports stories from around the web. Customize your newsletter to get articles on your favorite sports and teams. And the best part? It's free!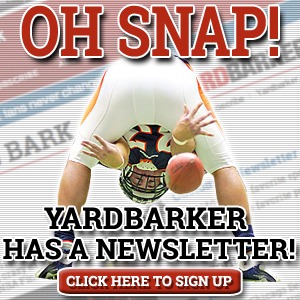 Latest Rumors
The Backyard

Today's Best Stuff

For Bloggers

Join the Yardbarker Network for more promotion, traffic, and money.

Company Info

Help

What is Yardbarker?

Yardbarker is the largest network of sports blogs and pro athlete blogs on the web. This site is the hub of the Yardbarker Network, where our editors and algorithms curate the best sports content from our network and beyond.