Found May 15, 2012 on The Scores Report:
Closer. It's one of the toughest jobs in baseball, in all of sports even. Or so we're lead to believe. What is it about getting three outs in the ninth inning that's so different from getting three outs in the seventh? Why do managers make situational decisions in the seventh (e.g. bringing in lefties to face lefties) but insist on using their pre-assigned "closer" in the ninth? What if the situation in the seventh is far more dire than that of the ninth (e.g. if the three, four, and five hitters are due up or the bases are loaded)? Why isn't the best pitcher on the mound in the biggest spots? I'll tell you why: saves, the only statistic that changes the way the game is played, as well as the way it's financed. A save situation is the only time a manager makes a decision based on arbitrary numerals rather than what's going to help his team win. The only time he'd do it on purpose anyway. To quote Michael Lewis in Moneyball: The central insight that led [Billy Beane] to turn minor le...
Original Story:
http://www.scoresreport.com/2012/05/1...
THE BACKYARD
BEST OF MAXIM
RELATED ARTICLES
The New York Mets lost another heart breaker on Sunday afternoon as they were defeated in walk-off fashion by the Miami Marlins: For the second time during this three-game weekend series, New York Mets closer Frank Francisco was given the task of protecting a ninth inning lead and failed. With NY clinging to a 4-2 lead, Francisco entered the game to start the bottom half of the...
New York Mets closer Frank Francisco has blown a lot of games this season but yesterday he blew his top and it may have cost him his job. Francisco didn't even retire a batter in the top of the ninth against the Miami Marlins before he was pulled from the game, walked towards home plate and started to unload a barrage of expletives at home plate umpire Todd Tichenor. With the...
Based on the events of the past three days (and some other events before then), it might be time for Terry Collins to make some changes in the Mets bullpen. Frank Francisco has done a terrible job in the ninth inning so far, but that doesn't mean that moving him to the seventh or eighth will automatically straighten him out. Just leaving him in the ninth would almost definitely...
Frank Francisco, the biggest culprit in the New York Mets' second bullpen meltdown in three games, could be losing his grip on the closer's role -- if he hasn't lost it already. Francisco gave up three runs and did not retire a batter in Sunday's 8-4 loss to the Marlins, leading manager Terry Collins to admit afterward that he is considering a change at closer....
Many were taken aback when the New York Mets traded Francisco Rodriguez to the Milwaukee Brewers last season. New York could be on the verge of making another change at closer given its recent inability to secure late leads. The Mets return home Monday night hoping to get back on track in the first of two against a Brewers club looking to extend its winning streak at Citi Field...
NEW YORK -- Frank Francisco heard the boos in the ninth inning at Citi Field on Monday, as he threatened to blow his second straight save. Earlier, the New York Mets had used a suicide squeeze play, an error and an RBI single to build a three-run lead while starter Miguel Batista and a pair of relievers shut out the Milwaukee Brewers for the first eight innings. Now, a few hours...
After the Mets lost another frustrating game against the Marlins today, Terry Collins spoke about the possibility of removing Frank Francisco from the closer role. "We'll address it. I have eight options.  But, I'm not going to address that right now, when emotions are running high." Before I get into the whole Frank Francisco situation, I am impressed with how Terry Collins...
Tonight's Mets-Brewers game is in doubt due to heavy rain in the Metropolitan New York area. MLB will look to get this game in since it is the only/last time the Brew Crew are in Flushing...not like this one game will determine either teams fate this year. The Mets scored three runs on only three hits last night in defeating the Brewers 3-1. Frank Francisco was only lousy, as opposed to being
Chris Capuano took his first loss of the year last night after getting off to a 5-0 start. After going 6 1/3 innings allowing four runs (three earned) Capuano raised his ERA to a gaudy 2.34 ERA. Who would pay 2 years and $10 million for that? I would much rather have a guy like Frank Francisco and his 8.59 ERA and 2.045 WHIP at $12 million over two years! But seriously, Capuano has...
Well that was a doozy of a blown save, wasn't it? Even Armando Benitez slow clapped that one for that one.The parallels have all been pointed out: Francisco, Benitez. Benitez, Francisco. The build, the stare, the strut, the fastball, the blown saves ... all eerily the same between Francisco and Benitez. And you might think that the Mother's Day Meltdown would cement their...
Terry Collins was right…twice.  First, he stood up for Miguel Batista, saying he was going to get many more chances to prove himself as a starting pitcher.  Well, tonight he did more than prove himself, throwing 7 scoreless innings of 4-hit ball.  He stymied the Brewers tonight, with Tim Byrdak and Bobby Parnell taking care of the 8th inning.  On a side note, Bobby Parnell...
The trick to navigating life is perception. For example, you might think Miguel Batista is old, but Jamie Moyer wants Batista off his lawn.So did the Brewers. But they only got four hits off him in seven innings, so maybe get some more hits off him if you want him off the lawn sooner. (Age ain't nothin' but a number.) Batista led the Mets to a 3-1 victory in which Frank Francisco...
MLB News

Delivered to your inbox

You'll also receive Yardbarker's daily Top 10, featuring the best sports stories from around the web. Customize your newsletter to get articles on your favorite sports and teams. And the best part? It's free!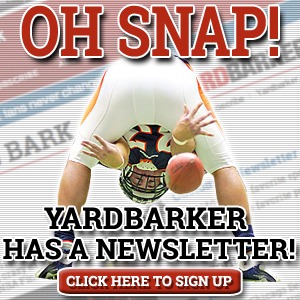 Latest Rumors
Best of Yardbarker

Today's Best Stuff

For Bloggers

Join the Yardbarker Network for more promotion, traffic, and money.

Company Info

Help

What is Yardbarker?

Yardbarker is the largest network of sports blogs and pro athlete blogs on the web. This site is the hub of the Yardbarker Network, where our editors and algorithms curate the best sports content from our network and beyond.