Found December 13, 2012 on Monkey with a Halo:
PLAYERS:
Zack Greinke
,
Joe Blanton
,
Tommy Hanson
,
Ryan Madson
,
Sean Burnett
,
Danny Haren
,
Tim Lincecum
,
Matt Garza
,
Edinson Volquez
,
Josh Johnson
,
Robinson Cano
,
Josh Hamilton
,
Howie Kendrick
,
Clayton Kershaw
TEAMS:
Los Angeles Dodgers
,
Los Angeles Angels
,
Washington Nationals
,
San Francisco Giants
,
Chicago Cubs
,
New York Yankees
,
Texas Rangers
As much as I hate tooting on this worn-out horn, this offseason has been remarkably underwhelming for the Angels. Coming into this free agency class the Angels were almost expected to shell out the cash to retain free agent pitcher Zack Greinke, only to get monumentally burned when he signed with the Dodgers for $147 million. I don't blame Dipoto for letting Greinke go at that price, he simply is not worth even close to that much and it would hamper the Angels more in the long-run by signing him to that kind of contract. Free agency is all about who is willing to shell out a ridiculous contract way above a players value, which we all personally witnessed with last year's huge $300 million spending spree by the Angels on Pujols and Wilson last year.  In fact, I actually think it's a great thing that Dipoto showed restraint when it came to Greinke, we don't need to throw another bad long-term contract at a free agent no matter how good they may be. While many of us expected the Angels to spend big money again they managed to shed an abundance of cash with the departures of Santana, Hunter, and Haren among others. The Angels are now free of plenty of dead weight and wasted cash, evident by the drop in their annual payroll from almost $155 million in 2011 to the 130-140 range.  Based off all this cash Dipoto is saving you have to think he has something left for a big free agent splurge, right?  Well, not this offseason no. The starting pitching rotation has been filled with Joe Blanton and Tommy Hanson on the cheap and the bullpen has been fortified with former Phillies closer Ryan Madson and Sean Burnett formerly of the Nationals. There isn't really much left in terms of holes to fill by way of free agency, as Dipoto has already stated he's done with the free agent market. Either that means there's one more trade left in him for a mid-rotation starter or this is the team the Angels will be fielding come 2013. All that unspent money will be sitting in some super-secret vault this coming season, but once the next offseason hits the Angels will be more than prepared spending wise. Hell, they might even return to the big-spending they were so fond of last offseason.  But who could the Angels spend big on next offseason? Unfortunately the free agent class next year is relatively thin, almost as thin as this year's save for a few more quality starting pitchers. Now, the Angels could go hard in on one of the top starters on the market like Dan Haren or Tim Lincecum. I wouldn't be shocked if Dan Haren has a great bounce back season and expressed an interest in returning to the Angels at a hometown discount. The only starting pitchers the Angels would do well to spend relatively big on would be maybe Matt Garza or Edinson Volquez, though if they could land pitchers like Lincecum or Josh Johnson on the discount it could be worth the risk. Right now we aren't interestedc in who the Angels could get a good rate, we're interested in who the Angels could throw BIG BIG money at. In my eyes, and probably everyone else's, there is only one player in the next free agent class worth going big on.  The annual MVP threat and best 2nd baseman in all of baseball, Robinson Cano. The only problem is the Angels would have to throw insane money at him to land his talents; he's already expressed his desires to land a 10 year contract to his teammates. Just because he wants one doesn't mean it's going to happen, but the precedent he's set makes me think he might get somewhere in the 6-8 year range. A similar free agent this offseason, Josh Hamilton of the Texas Rangers, expressed his desires for a 7 year 170 million contract early in the offseason though it looks like he won't come away with more than a 3-5 year contract. The difference between Hamilton and Cano is that Hamilton has had many mental and off-field issues that make him a player to be wary of, though if he receives a lower contract it could be used as a precedent towards a cheaper Cano deal. There will be no hometown discount for the Yankees, so things are going to get crazy expensive for Cano. The Angels have total leverage in this situation though, they hold Howie Kendrick on a team-friendly 4 year $33.5 million deal and have already expressed interest in trading him, though it's be very slight and only popped up around the trade deadline this past season. Using Howie Kendrick as a trade chip could be huge; this gives them extra leverage in Cano negotiations and allows them to trade him away for quality prospects to reload the farm after the razing it's faced the past few seasons. Even if the Angels don't plan on entering the Cano sweepstakes they could still offer up Kendrick as a consolation prize to whichever teams lost out on Cano. The team friendly contract Kendrick is on only makes him all the more alluring.  Let's say the Angels play it safe next offseason and only bring on a few cost friendly options to the team, thus saving even more money! If they just hoard cash over the next offseason as well what could waiting for them 2 years from now? How about Clayton Kershaw? The Dodgers kind of shot themselves in the foot with the Greinke deal, Kershaw will use that a precedent to try and pull in a $200 million dollar contract, whether it be by extension under the Dodgers or free agency. In relative terms if Greinke is good enough to get $147 million then Kershaw is more than qualified to earn $200 mil. The only thing that could hamper his search for a record contract is his hip issues, if that continues to be a problem then his price can be driven down a bit. The Dodgers currently have the highest payroll in baseball history at $220 million, I'm not sure if that indicates whether they've spent enough and won't go high on Kershaw or rather they'll have no problems throwing even more money at Kershaw. Clayton Kershaw, depending on whether he continues to trend upwards, will be made in to the richest pitcher in baseball history; I have no doubts about this. The only real question is which team will be making him the richest pitcher ever, the Dodgers or the Angels? [follow]  
Original Story:
http://www.monkeywithahalo.com/2012-a...
THE BACKYARD
BEST OF MAXIM
RELATED ARTICLES
With the news that the Los Angeles Angels just signed Josh Hamilton to a five-year contract for a reported $125 million, it begs the question: Five...
Sean Burnett's deal with the Angels is worth a guaranteed $8 million over two years, but the value could jump to $13.25 million over three years if he achieves all available incentives, one source confirmed. Burnett, one of the top left-handed relievers on the free-agent market, has a club option for 2015 worth $4.5 million; it will vest if he appears in 110 games between the '13...
Josh Hamilton is heading to Hollywood, and his new teammates are reacting to the stunning news of the slugger's new destination. Rookie of the Year and MVP runner-up Mike Trout will now have a MVP winner in the outfield with him next season, and the 21-year-old couldn't quite articulate his reaction to the news. Wow— Mike Trout (@Trouty20) December 13, 2012 Meanwhile, one of...
The Los Angeles Angels have reportedly agreed to sign Josh Hamilton to a deal worth around $125 Million over five years.  The Angels had a disapointing season last year, and are not gun shy about spreading some cash around.  This all comes from a source with direct knowledge of the deal told ESPN Dallas talk show host Ben Rogers.  The Angels have a power filled line-up to say...
I guess if I had to put a date on it, then August 2nd is when it happened. That's the point I knew I was over Albert Pujols.  Mostly.   The former Cardinal icon and now third wheel in Anaheim had just crushed 4 home runs in 2 games against the Texas Rangers. It had been a pretty busy week and I guessed I missed SportsCenter for a few nights.    I had literally...
The Los Angeles Angels made yet another enormous offseason splash on Thursday by reportedly signing Josh Hamilton to a five-year, $125 million deal. Last winter, the Angels locked down the best hitter on the free agent market by bringing Albert Pujols aboard. They did the same this year by aggressively pursuing Hamilton and giving him the fifth year that many teams were hesitant...
LOS ANGELES Finally. An honest man. Maybe even two. Zack Greinke said that when it came down to choosing the Dodgers over other teams pursuing him, it was all about the money. General manager Ned Colletti said that the Dodgers have done what they set out to do, and now theyre done with the nearly 600-million shopping spree. The new Dodger right-hander said that he was leaning...
Surely all of you have heard the news of Josh Hamilton signing a lucrative five-year deal (worth approximately $125 million) with the Los Angeles Angels on Thursday. It's a move that is sending shock waves through the league.The Angels are making a strong push to make a run at the World Series while also tossing around money in a bid to compete with a their other free-spending...
Remember yesterday when Jerry Dipoto said that he was pretty much done making moves?  And remember earlier in the off-season when he insisted that the position player side of the roster was set?  Yeah, about that... According to MLB source the Angels are in SERIOUS negotiations with Josh Hamilton. No deal has been reached as of yet. — Joe McDonnell (@joeontheradio)...
The World Series will run through Los Angeles this season, if we're to believe the Las Vegas odds. Bovada.lv has updated its World Series odds, and both the Dodgers and Angels have jumped to the top of the list. The Hollywood inhabitants are spending like drunken sailors this offseason, with the two teams inking arguably the two best free agents on the market. The Dodgers made...
As I write this, the weather in Los Angeles is a comfortable, sunny 70 degrees.   Inside Dodger Stadium however, they have turned up the heat.   The Dodgers' signing of Zack Greinke is only the latest in a series of blockbuster moves the team has made since Magic Johnson and some of his very [...]
MLB News

Delivered to your inbox

You'll also receive Yardbarker's daily Top 10, featuring the best sports stories from around the web. Customize your newsletter to get articles on your favorite sports and teams. And the best part? It's free!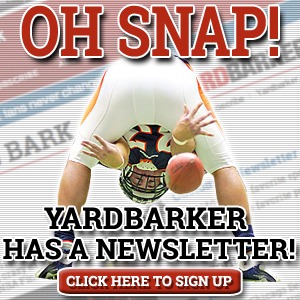 Latest Rumors
Best of Yardbarker

Today's Best Stuff

For Bloggers

Join the Yardbarker Network for more promotion, traffic, and money.

Company Info

Help

What is Yardbarker?

Yardbarker is the largest network of sports blogs and pro athlete blogs on the web. This site is the hub of the Yardbarker Network, where our editors and algorithms curate the best sports content from our network and beyond.