I got four words for you, probably the same four words that have been running through your mind most of this season. Ervin Santana. Job Stability. Can anyone really be surprised at what's going on with Ervin Santana and his absolutely disastrous year so far? Early in the season this kind of pitching from him was tolerable, as funny as that is to say about a pitcher who gave up 10 homeruns and 20 earned runs in his first 4 starts, which came around to 23.2 innings pitched. It doesn't help that this "immaculate" rotation into the season has been plagued by a freak injury to Weaver and an incredibly sub-par season by Dan Haren. Good thing Williams has come into the picture in time to anchor this rotation down despite its struggles, and can't forget Garrett Richards and his 1 win in 2 starts in his short time up. Granted in one of those starts Richards struggled mightily against the Dodgers, but his struggles against the Dodgers speak louder than his masterful start against the Mariners as Richards was able to keep to Angels in the game long enough to come away with the victory. Speaking of Richards.... Does his arrival in Anaheim put Ervin Santana's job in jeopardy? Well...yes...and no. Two reasons for that: 1. Santana is in a walk year, and with his Kazmirian 5.74 ERA and 3-7 record in 13 starts this team isn't as obligated to stick with him in the rotation as they would be had he had a future with this team secure. If Santana is going to harm this team any further it wouldn't be as hard to shove him in the pen or put him in an extended DL stay to let Richards take over the 4-spot and show that he can do a better job, which we are all optimistic he can. 2. Garrett Richards is still only a rookie, and he only has one more start before Weaver comes back and he is sent back down to Salt Lake for the time being. Richards is going to take over Santana's job eventually, it's just a matter of when. Is it this month? Is it next year? Depending on how Santana pitches, and if he's lucky enough to avoid any freak injury, Richards probably won't have a shot at cracking the rotation permanently. Plus it's not like he'd be taking Santana's job next year, he'd be taking Williams spot in the rotation with Williams deservedly being moved up, so the dethroning won't be nearly as sweet. Santana has always been plagued by inconsistency; it's just a matter of which Santana is becoming more dominant. The no-hitter Santana, or the 2012 Santana? Right now it seems like 2012 Santana is in control and I'm sure the management is aware of this, especially after his start back in Colorado that was so horrifically bad I'm having trouble coming up with a good analogy for it, so I'll just have to compensate for the lack of analogy after the jump. So exactly how long is this guys leash going to be for the rest of the season, or I should say the rest of 
his
season? The Angels are locked in an epic struggle for first against the Texas Rangers, first the Rangers had an Imperial-like stranglehold on what seemed like the far far away galaxy of first place in the AL West; but once the Angels manned up and left their little moisture farm on Tatooine after the sudden death of the LA Angels bandwagon it's become a much closer battle. Closer than Anakin and Sebulba's finish in the podrace on Tatooine. Can I cram anymore Star Wars references in here guys? Now that each and every Angels game is important in closing the gap and ultimately taking the lead on the Rangers, which is extremely probable since they're only 3.5 games back while proving to be just as potent as the Rangers, it's not going to take much tugging on the leash pull Santana into Scioscia's doghouse. Santana hasn't even pitched past the 5th inning in his last 4 starts, and in each of those starts he's given up 4+ runs, capping out at 7 in 5.2 IP against the Rockies in his last start. I'm going to throw out some comparisons, for reference, just so you guys can get a feel on how short Ervin Santana's leash is going to get. Remember Scott Kazmir? Of course you silly willys do. He was one of the most hated Angel pitchers in the last decade! Ervin Santana is posting a season very much similar to Kazmir's last full season as an Angel, both making wildly erratic starter while making no attempt to keep his team in the game. The difference with Santana and Kazmir is that Kazmir's problems came down to him just losing the effectiveness of his pitches while facing a mechanical breakdown while Santana's pitches are as deadly as ever, but his mental state on the mound is effectively killing him. Santana is showing the same susceptibility to walks as Kazmir (Santana at 35 BB's in 13 starts to Kazmir's 37), the same inability to keep runs off the board (Santana's 51 ER in 13 starts to Kazmir's 42), and the inability to keep the ball in the park which Santana blows Kazmir's HR rate out of the water (Santana's 18 HR in 13 starts to Kazmir's 10). The point is, if you find plenty of similarities to Kazmir's final full season as an Angel then things are getting really bad, really fast. The difference being that Kazmir had a full seasons worth of slack, yet Santana has nowhere near the same amount of time to get his game together. With the race in the west in as close and fierce as it is, paired with Dipoto's new "act hard and act fast" mantra as the GM as opposed to the old Reagin-Scioscia era of "stand pat and turn the page" there's no way Santana's struggles will be allowed to continue for the rest of the season let alone the rest of the month. This new management is shrewd enough to find a way to keep Santana from clogging up the rotation and dragging this team down, hell I wouldn't be surprised to see some trade rumors cooking up pretty soon if this wild ride continues. This team is no longer in the mood to be content with what they have and just ride it out, this team does what needs to be done to win no matter how difficult the move may be. 
You think Reagins would have allowed Abreu to keep his job with the Angels? You think Reagins would have given Mike Trout a shot at being the star that he is. While those are highly hypothetical question the answer is probably the worst decision that Reagins could make. I bet if Reagins still had his job in the offseason Trumbo would have been traded to a rival team for some overrated rally killing roster clogger! I don't think we could have handled a Napoli v2 two offseasons in a row, and I don't think a Kazmir v2 would have ran well with this team either.
Point is, this new and improved organization has little patience for error, especially on the magnitude of Santana's. Santana is a pitcher that is perfectly capable of getting back on track, but if things continue to snowball in the wrong direction I wouldn't be shocked to see the management take hold of his short leash and yank him away from the team, may it be permanently or temporarily. 
I'm sure there are some owners willing to take this bulldog under their roof. 
[follow]
Original Story:
http://www.monkeywithahalo.com/2012-a...
MORE FROM YARDBARKER
MLB News

Delivered to your inbox

You'll also receive Yardbarker's daily Top 10, featuring the best sports stories from around the web. Customize your newsletter to get articles on your favorite sports and teams. And the best part? It's free!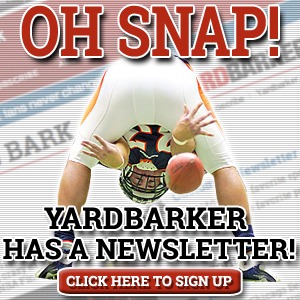 Latest Rumors
Best of Yardbarker

Today's Best Stuff

For Bloggers

Join the Yardbarker Network for more promotion, traffic, and money.

Company Info

Help

What is Yardbarker?

Yardbarker is the largest network of sports blogs and pro athlete blogs on the web. This site is the hub of the Yardbarker Network, where our editors and algorithms curate the best sports content from our network and beyond.