Found November 20, 2013 on Baseball Hot Corner:
In a new offseason feature BHC writers will explore the possible landing spots for high priced free agents. In the fourth edition of "Where Will He Sign" the staff analysed the possible teams in play for the services of outfielder Jacoby Ellsbury. Brandon Jopko @pumpedupjays: Personally, I don't think the chances are too likely for Ellsbury to return to Boston. I think the Red Sox have learned their lesson in dishing out large free agent contracts and subsequently will go the Jackie Bradley Jr. route in addition to signing a veteran CF that could help out. I think Ellsbury will really end up with a Chicago team, maybe the Cubs, but I think more likely the White Sox. Reason being, the south-siders are re-tooling and really need an offensive player with speed that can hit at the top of their line-up that can make an impact for years to come. Not that I think it's the right move for GM Rick Hahn to make (I'd opt for an entire re-build), but they've shown little in the way of patience a...
Original Story:
http://baseballhotcorner.com/will-sig...
THE BACKYARD
BEST OF MAXIM
RELATED ARTICLES
Most fans of the Boston Red Sox are still on cloud nine after winning the 2013 World Series, but management is hard at work trying to make the right decisions to bring back a team capable of winning it again next season. While there are quite a few free agents the Red Sox must decide on, the best fantasy baseball player hitting the market will be outfielder Jacoby Ellsbury. With...
CBS Sports' Jon Heyman reports that while the Texas Rangers continue to chase hitting (in the form of Shin-Soo Choo), the team is no longer interested in signing Jacoby Ellsbury: The Rangers are considering a run at top-tier free-agent outfielder Shin-Soo Choo and apparently have ruled out the other top free agent outfielder, Jacoby Ellsbury. [...] The Rangers aren'...
Sam Galanis Contributing Writer As the Red Sox's chances of getting Jacoby Ellsbury back get slimmer, their need to pick up a new outfield star gets more desperate. If Ellsbury chooses not to return to the Sox, he'll be hard to replace. Luckily there are still some free agents left who could get the job done. Rajai Davis Davis had a mediocre season as far as hitting goes, with...
(Getty Images)The blockbuster trade that sent Prince Fielder to Texas and Ian Kinsler to Detroit is not just an isolated swap between extra-divisional rivals. The transaction is likely to have an impact on the Red Sox in many different ways. First, the market for first baseman Mike Napoli has now shrunk—as Texas no longer needs to fill that spot. Since Detroit will likely move...
Ryan MacLeod (Ryanmacleod15)Contributing WriterIt seems like the asking price for Jacoby Ellsbury is too high for the Texas Rangers and they have decided to fill their outfield needs elsewhere this off season. The Rangers are trying to fill the void left by Nelson Cruz who is now a free agent. The Rangers are now looking at Shin-Soo Choo to roam their outfield this coming year and...
Episode 401 Dave Cameron is both (a) the managing editor of FanGraphs and (b) the guest on this particular edition of FanGraphs Audio — during which edition he analyzes age curves, particularly as they relate to speed-oriented players such as free agent Jacoby Ellsbury. Don't hesitate to direct pod-related correspondence to @cistulli on Twitter. You can subscribe to the podcast...
Over the weekend, I wrote a piece for ESPN Insider and FanGraphs+ based around the question of how players like Jacoby Ellsbury have aged previously. There's a belief among some that speed-and-defense players like Ellsbury are bad bets after they turn 30, since a large chunk of their value is tied to what they can do with their legs, and speed peaks earlier than other skills....
(Getty Images)Red Sox GM Ben Cherington appeared on MLB Network Radio's Power Alley show (on SiriusXM) and made clear that the team would "love" to have Jacoby Ellsbury back in 2014. Cherington said Boston will "keep the door open" on negotiations with the free-agent centerfielder—although he also said the teams needs to "look at alternatives"...
Will the Red Sox re-sign Mike Napolito fill the hole at first base and in the middle of the order?Ben WhiteheadContributing WriterThe Hot Stove is warming up and free agents are beginning to make their moves. With that said, here is a look at the three holes in the Red Sox lineup that need to be filled this offseason:1) Leadoff (Jacoby Ellsbury's spot) – Assuming the Sox are...
The Rangers are considering a run at top-tier free-agent outfielder Shin-Soo Choo but have apparently ruled out the other top free agent outfielder, Jacoby Ellsbury. Texas needs to replace the offense provided by Nelson Cruz, and assuming the Rangers don't re-sign Cruz, Choo fits the bill. However, a Rangers connected person suggested they aren't likely to secure him if...
By Fenway Refugees Insider, Ben Aube As we all know and as hard as it is to swallow, the Red Sox could be losing four major free agents this year: Jacoby Ellsbury, Mike Napoli, Stephen Drew, and Jarrod Saltalamacchia. I know it sucks to hear that, especially with all the drama and false rumors flying around these guys right now. But now is the time when we really...
Red Sox News

Delivered to your inbox

You'll also receive Yardbarker's daily Top 10, featuring the best sports stories from around the web. Customize your newsletter to get articles on your favorite sports and teams. And the best part? It's free!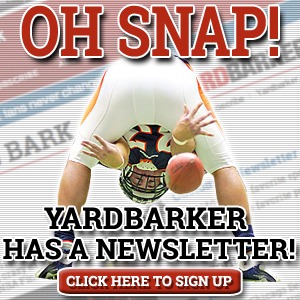 Latest Rumors
The Backyard

Today's Best Stuff

For Bloggers

Join the Yardbarker Network for more promotion, traffic, and money.

Company Info

Help

What is Yardbarker?

Yardbarker is the largest network of sports blogs and pro athlete blogs on the web. This site is the hub of the Yardbarker Network, where our editors and algorithms curate the best sports content from our network and beyond.