Found December 13, 2012 on Waiting For Next Year:
While We're Waiting serves as the early morning gathering of WFNY-esque information for your viewing pleasure. Have something you think we should see? Send it to our tips email at tips@waitingfornextyear.com. "The idea of Trevor Bauer is an enticing one. Not just the potential of Trevor Bauer to turn his three plus pitches into swinging strikes at the big league level, the idea of Trevor Bauer as the merit-based antihero of internet baseball fandom. He is brash and unconventional and doesn't look like the big-armed robots throwing 200 innings in 20 starts for every major college program in the country. His delivery is defiantely modeled after that of Tim Lincecum, as if to suggest the idiom "one in a million" is just a state of mind. His cherished long toss routine gives the uninitiated something to gawk at during pregame warm-ups. He is, as Grant Brisbee describes him, a "mechanics wonk" who posts slow motion videos of his delivery and cryptically named pitches like "the reverse slider" on Youtube for all to see. He decries the conventional wisdom which implores pitchers to keep the ball down, insisting he can work up in the zone and still be effective. This is the idea of Trevor Bauer. The consciously eccentric savant who turns established knowledge on its ear just to say he could. The reality was much different." [Fairservice/Getting Blanked] —- "The Cavaliers were playing on the road one night after an emotional victory at home. But what happened Wednesday at Indiana was unacceptable. Period. The verdict: Pacers 96, Cavs 81. The sentence: Most likely the wrath of coach Byron Scott. The truth: Life in the NBA, with its constant stream of back-to-back games and lack of respect from the referees, can be brutal and downright unfair. The lesson: Get used to it, kids." [Amico/FSO] —- "Jeremy Pargo only played three minutes tonight, with Sloan otherwise taking his minutes. His twenty minutes resulted in five points and two assists on 43% true shooting. Did I miss the back-story behind Pargo's benching?" [Hetrick/Cavs the Blog] —- "The NFL's handling of the investigation and suspension process was suspicious from the moment it extended its net from coaches (who must be held to a higher standard on player safety issues) to players. The penalties against Vilma and others were downright vindictive, and tangible evidence against them was scant. The NFL coyly leaked circumstantial evidence. It led the players through a mockery of an appeal process in which Goodell acted as his own prosecutor. He lessened their suspensions, infinitesimally, the benevolent emperor allowing a clean beheading in favor of a messy crucifixion. When the players appealed the appeal, Tagliabue appeared as a new obstacle to slalom around. Vilma won the temporary right to return to the field, and the NFL scheduled his hearing concurrent with the one Thursday night game on the Saints schedule, making life as inconvenient as possible for him. If the league could have fixed it so Vilma got on the wrong flight and missed a scheduled hearing date, they would have done it. And now, suddenly, justice of some kind has been served. The players were not exonerated, but Tagliabue has ruled that their punishment in no way fit their crime. Not that we are even sure what their crime was." [Tanier/Sports on Earth] —- Kyrie's killer move on Dwight Howard from Tuesday night. [Freeman/Ball Don't Lie]
Original Story:
http://www.waitingfornextyear.com/201...
THE BACKYARD
BEST OF MAXIM
RELATED ARTICLES
Trevor Bauer is all the talk all over Twitter, but I'll be honest, I didn't know much about him before yesterday. Well, there's a lot of quirks about the Indians' newest pitcher. First of all, he has a unique set of warm-up rituals to get ready to play the game. It includes a long toss session that can range from 340 to 400 foot throws. Just watch the video. Your browser...
Trevor Bauer is a game-changer. Yes, the new Cleveland wunderkind is only 21 (he turns 22 in January) and has just 4 (bad) games of MLB experience under his belt, but his sheer presence drastically changes the starting pitching algorithm for the Cleveland Indians going forward. Obviously, there's a certain amount of risk associated with Bauer. I'd be amiss if I didn't address...
Table of Contents Here's the table of contents for today's edition of Daily Notes. 1. GIF Explosion: Three of Trevor Bauer's "Reverse Sliders" 2. Information: Top Mexican Pacific League Reliever, Mike Benacka 3. SCOUT Leaderboards: Mexican Pacific League GIF Explosion: Three of Trevor Bauer's "Reverse Sliders" Right-hander Trevor Bauer was traded from Arizona to Cleveland...
This post isn't so much a trade analysis of last night's three team trade between the Reds, Indians, and Diamondbacks, as that post wouldn't be that interesting – the Indians got a ridiculously great value for one year of Shin-Soo Choo, the Reds turned a prospect they didn't need into one year of a nice outfielder, and the Diamondbacks turned a pitcher they didn't want...
Table of Contents Here's the table of contents for today's edition of Daily Notes. 1. Very Assorted Notes 2. Rankings of GIFs: Trevor Bauer's Best Three Curves So Far 3. SCOUT Leaderboards: Puerto Rican League Very Assorted Notes Spring Training Schedules Available Organizations — like the Yankees on Tuesday afternoon, for example — have begun releasing their spring-training...
Yesterdays three team blockbuster which sent Shin-Soo Choo to Cincinnati included a couple of my favorite prospects from the 2012 season. Trevor Bauer ranked is the third best right-handed starting pitcher and Didi Gregorius ranked as the seventh best shortstop. On Twitter, prospect followers consider Gregorius to be a lesser player than Trevor Bauer and surmised that the DBacks...
CLEVELAND (AP) -- The Cleveland Indians have traded outfielder Shin-Soo Choo to the Cincinnati Reds and acquired pitcher Trevor Bauer from the Arizona Diamondbacks in a three-team deal involving nine players. Center fielder Drew Stubbs was sent from Cincinnati to Cleveland as part of the trade announced Tuesday night. In addition to Stubbs, the Indians received Bauer, the No. 3...
I completed my fourth trade with Ryan from "O" No!!! Another Orioles Blog. You can review the first here, second here, and third here. Ryan and I traded very recently - about a month ago - but he soon thereafter purged himself of a lot of trade bait and I had to get my hands on three cards he showcased.The beginnings of another rainbow! I picked up the regular autographed...
As you may have heard (either out in the mean streets of the World Wide Web, or even earlier today here at The Platoon Advantage), the Diamonbacks, Reds, and Indians made a sweet three-team deal. The major pieces are Shin-Soo Choo and Jason Donald heading to Cincinnati, prospect Didi Gregorious, reliever Tony Sipp, and huge bust first baseman Lars Anderson off to Arizona, while wunderkind...
The baseball hot stove is heating up, and it's not simply the result of free agent signings. This week we saw two blue chip prospects dealt. The Royals sent Wil Myers, Jake Odorizzi, Mike Montgomery and Patrick Leonard to the Rays for James Shields and Wade Davis on Sunday. On Tuesday, the Indians were busy orchestrating a three team trade that saw them first send Shin-Soo Choo...
Even during the craziest of Major League Baseball's annual off-season free agent grab and trading frenzy it is rare to see a team trade a young potential superstar to another organization. For any reason.  Astoundingly, this year we've just seen it happen twice in two days. On December 9th the Kansas City Royals dealt the best prospect in all of baseball, 22 year...
While We're Waiting serves as the early morning gathering of WFNY-esque information for your viewing pleasure. Have something you think we should see? Send it to our tips email at tips@waitingfornextyear.com. "The advanced statistics show the Cavaliers are a better team with Varejao on the court, especially on the offensive end. The Cavaliers are a more productive team with...
MLB News

Delivered to your inbox

You'll also receive Yardbarker's daily Top 10, featuring the best sports stories from around the web. Customize your newsletter to get articles on your favorite sports and teams. And the best part? It's free!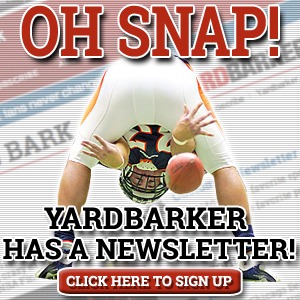 Latest Rumors
Best of Yardbarker

Today's Best Stuff

For Bloggers

Join the Yardbarker Network for more promotion, traffic, and money.

Company Info

Help

What is Yardbarker?

Yardbarker is the largest network of sports blogs and pro athlete blogs on the web. This site is the hub of the Yardbarker Network, where our editors and algorithms curate the best sports content from our network and beyond.