Posted January 24, 2013 on AP on Fox
The Chicago White Sox say they have acquired right-handed pitcher Zach Stewart off waivers from the Pittsburgh Pirates. Stewart was 1-4 with an 8.58 ERA in 20 games last season for the White Sox and Boston. He was traded to the Red Sox with infielder Brent Lillibridge on June 24 in exchange for third baseman Kevin Youkilis. He was traded to Pittsburgh in November and designated for assignment Jan. 17. Stewart originally was acquired by the White Sox from Toronto on in 2011 with pitcher Jason Frasor in exchange for pitcher Edwin Jackson and infielder Mark Teahen.
Original Story:
http://msn.foxsports.com/mlb/story/Wh...
THE BACKYARD
BEST OF MAXIM
RELATED ARTICLES
The Chicago White Sox have made no flashy additions to their roster this winter and even lost a link to their championship team, so general manager Rick Hahn understands the perception that the club hasn't improved. That doesn't mean he agrees. He sees a team that's ready to make a jump in the AL Central after finishing second to Detroit last season, even if the White...
For a free-swinging, 24-year-old corner outfielder with some pop, Dayan Viciedo doesn't strike out that much. For his career, both majors and minors, Viciedo's strikeout rate has hovered around 20%, which isn't too bad considering most players with his profile are easily north of that mark. And that's just one reason why I like Viciedo this year. He also has Chicago's full...
Zach Stewart has been claimed off of waivers by the Chicago White Sox. Stewart pitched for the White Sox at the start of the 2012 season. Stewart was traded to Boston along with Brent Lillibridge  for Kevin Youkilis. In November he was acquired by Pittsburgh who recently placed him on waivers. In 103 big league innings the right hander has a 6.82 ERA.
The Chicago White Sox say they have agreed to a one-year contract with reliever Matt Lindstrom that includes a club option for 2014. The deal was announced on Friday. Lindstrom will receive $2.3 million next season. The White Sox can then pay him $4 million in 2014 or buy him out for $500,000. The 32-year-old right-hander was 1-0 with a 2.68 ERA and 40 strikeouts over 46 games...
The Yankees have signed left-handed hitting infielder/DH Dan Johnson to a minor league deal with an invite to Spring Training. If Johnson makes the team, he will earn $900,000. Johnson, 33, had eight hits in just 22 at-bats in 2012 with the Chicago White Sox. He can play both corner infield positions, which could be valuable if Mark Teixeira or Kevin Youkilis need a day off. Yankee...
I recently picked up a fantastically-awesome triple relic of one of my favorite non-Dodgers, Adam Dunn. I don't mention Dunn on the blog at all because he's not a guy I collect even though I like him. I even own a Reds' jersey of Dunn I received as a gift many years ago.For just $9.99 delivered I couldn't pass up this beaut. It's super-short-printed to just 8...
Jay Mariotti is probably the most polarizing man in the history of Chicago sports media and quite possibly the most hated in all of the national sports media. He's like the Eminem of sports media- he's had a feud with everyone. Mariotti has had a tiff with former Chicago White Sox manager Ozzie Guillen, his former employer the Chicago Sun-Times, King of all sports blogs Deadspin...
When Kevin Youkilis switched sides in one of the greatest rivalries in sports, fans of both teams were upset. But Youkilis and his soon-to-be Yankees teammates were quick to say that the history between Youkilis' former and new teams means nothing, and that they would all play together just fine. Tell that to Joba Chamberlain. The hard-throwing Yankees reliever, who has had quite...
That's not booing you hear. That's the fans crying, "FEUD!" And it's the last thing the 2013 bargain basement Bombers need: A snob third baseman who lacks the fundamental human decency to return a welcoming call to the Yankee family.Who does Kevin Youkilis think he is? Kevin Brown?What kind of black-hearted, preening, self-drunk monster receives a friendly message...
It wasn't long after the New York Yankees had signed Kevin Youkilis to a deal that Joba Chamberlain called his one-time nemesis to welcome him to the Bronx. Did the former Red Sox player, who Chamberlain had a long-running feud with as their two teams battled in the AL East, ever respond? "No," the Yankees reliever said Tuesday night at the Baseball Assistance Team...
So Kevin Youkilis is now a Yankee as we all know. Well, apparently his grudge against pitcher Joba Chamberlain could still exist. Just today, Boston.com posted an article about how Youk hasn't returned Joba's call, in which the pitcher welcomed the former Sox player to the team. Could Youkilis actually still be holding something against Joba? He's thrown pitches at...
This isn't what Joba Chamberlain had in mind when he took Carly Rae Jepsen's advice earlier this offseason. Chamberlain decided to call Kevin Youkilis, whom he's developed quite the rivalry with over the years, shortly after Youk signed with the Yankees as a free agent. The only problem is that Youkilis didn't answer, forcing Chamberlain to leave a voice mail that has since...
MLB News

Delivered to your inbox

You'll also receive Yardbarker's daily Top 10, featuring the best sports stories from around the web. Customize your newsletter to get articles on your favorite sports and teams. And the best part? It's free!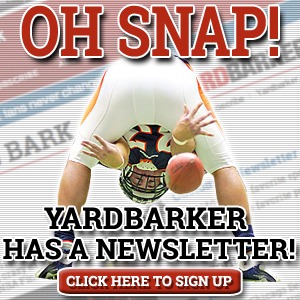 Latest Rumors
Best of Yardbarker

Today's Best Stuff

For Bloggers

Join the Yardbarker Network for more promotion, traffic, and money.

Company Info

Help

What is Yardbarker?

Yardbarker is the largest network of sports blogs and pro athlete blogs on the web. This site is the hub of the Yardbarker Network, where our editors and algorithms curate the best sports content from our network and beyond.