Posted April 10, 2012 on AP on Fox
As Ozzie Guillen tried to explain his way out of another mess he created with his mouth, Chicago's new manager felt compassion for his predecessor. Robin Ventura watched and wished the best for Guillen. ''It's a tough day for him,'' Ventura said Tuesday, hours after Guillen apologized in South Florida for comments lauding Cuban dictator Fidel Castro, remarks that led some to call for his firing. ''He's a friend, so it was not easy to watch. He looked sincere and meant it.'' Ventura was Guillen's teammate for eight seasons in Chicago. This year, he replaced the outspoken manager, who led the White Sox to a World Series title in 2005 before leaving them after eight stormy seasons during which Guillen often made headlines with outrageous remarks. Most of Chicago's players declined to talk about Guillen's situation. One willing to talk was infielder Gordon Beckham, who said most White Sox players believe Guillen's true feelings did not come out in the Time magazine article in which he said he loves Castro and respects the retired Cuban leader for staying in power so long. ''You feel for Ozzie,'' said Beckham, who played three seasons for Guillen. ''I think all of the guys in this clubhouse knew what he meant when he said it. It was like, this guy (Castro) has had people trying to get him, take a shot at him, and he's lasted 60 years. Sometimes Ozzie says more than he should.'' Guillen's comments were particularly personal for White Sox shortstop Alexei Ramirez, a Cuban. Still, he's ready to forgive his former manager. ''Apologizing is definitely a big first step,'' said Ramirez, who played for Cuba in the Athens Olympics. ''Everyone has their opinion. But I also feel people should be forgiven. So if he's going to apologize, I feel that hopefully he'll be accepted.'' The 30-year-old Ramirez left Cuba in 2007 and joined the White Sox in 2008. ''I would just say whatever his thoughts or comments are, those are Ozzie's comments,'' he said. ''That's more on him. It's one of those (situations) that there are some people who like Castro, and there are some people who don't. You're in Miami, it's definitely a different thought frame. But that's his opinion, and it's not the same opinion I have.'' Ventura, who was a surprise pick to take over in Chicago because he had never managed at any level, hopes to learn from Guillen's faux pas. ''I'm going to stick to just talking about baseball,'' Ventura said before the White Sox and Indians were postponed because of rain and cold weather. Before the game was called, Ventura had altered his lineup a bit, inserting Beckham into the leadoff spot and giving Kosuke Fukudome a start in the outfield. ''I'm just trying to get Kosuke in there,'' Ventura said. ''I put Gordon up at the top. For the first 20-25 games we will be cutting out a lineup. Don't read anything into it. There are no signs to it.'' Beckham was excited to see his name at the top of the order, and pretended to be angry when the game was called about two hours before the scheduled first pitch. He stormed into Ventura's office and put on a show. ''If I get dropped eight spots in the lineup because of the weather, I'm going to be (mad),'' he yelled, smiling toward reporters outside Ventura's office. Beckham, who normally hits in the lower third of the order, was serious that he wanted the chance to bat first. ''I don't know if I've done it in the big leagues, but I probably have somewhere along the line,'' Beckham said of hitting No. 1. ''It was more about giving (Alejandro) De Aza a rest and they just needed somebody to fill in. I was happy and excited to do it. Heck, I led off an inning three times in a game in Texas earlier this week, so I'm confident. Just trying to get on base and get the lineup going, that's a lot of fun.'' Ventura will skip right-hander Philip Humber in the rotation and use lefty John Danks on Wednesday - weather permitting - in the series finale. The forecast is foreboding: more rain and cold. ''I hated to do it because we wanted to get (Humber) going,'' Ventura said. ''But you have to sacrifice one guy for the other four. We'll go with Danks and keep everybody else in their same slots. Humber will work out of the bullpen.'' Notes: The White Sox acquired INF Jose Castro from Cincinnati for cash considerations. Castro was assigned to Triple-A Charlotte. ... After hearing the weather forecast, Indians manager Manny Acta was pleased the game was called. ''It was not going to be baseball,'' he said. ''It was going to be survival. It was going to be harsh out there.'' ... Chicago's bullpen, which includes three rookies, has a 0.93 ERA through four games. ... The White Sox are 0-15 with runners in scoring position in their two losses.
Original Story:
http://msn.foxsports.com/mlb/story/Wh...
THE BACKYARD
BEST OF MAXIM
RELATED ARTICLES
SWIFT PUNISHMENT
Prior to the skipper's news conference, the team announced that Ozzie Guillen has been suspended five games for his comments about Fidel Castro.
Marlins manager Ozzie Guillen's comments professing admiration for Fidel Castro caused a bigger uproar than if the Miami baseball team had spent the entire season in last place. In the U.S. city with the biggest Cuban-American population, Cuban exiles and politicians decried his remarks. Soon afterward, the Venezuelan manager issued a tearful, public apology. He has been suspended...
Florida Marlins manager Ozzie Guillen is probably regretting recent statements he made to Time magazine as he's been suspended for five games by the MLB club for singing the praises of former Cuban dictator Fidel Castro. Quotes attributed to Guillen were published on the popular magazine's website on Apr 6 in which he praised Castro for his longevity. The comments...
The Miami Marlins suspended manager Ozzie Guillen on Tuesday for five games for comments he made about Cuban leader Fidel Castro that appeared in a Time magazine article."I respect Fidel Castro," Guillen said in the article. "You know why? A lot of people have wanted to kill Fidel Castro for the last 60 years, but that [expletive] is still here."The Venezuelan...
Ozzie Guillen tried to clear the air and do a little damage control on Tuesday morning in wake of his controversial comments about Cuban dictator Fidel Castro. The Miami Marlins manager delivered what appeared to be a heartfelt, hour-long apology at Marlins Park in Miami on Tuesday morning. He apologized over and over again and pledged to work alongside the Cuban community going...
Ballertainment The official fallout from Ozzie Guillen's expression of love for former Cuban President Fidel Castro has begun. The Miami Marlins have suspended Guillen for five games, without pay. That may not be good enough, though. Fans and members of the Latino community in Miami are calling for him to be fired. Here is the controversial excerpt from the TIME Magazine interview...
In light of his comments about Fidel Castro (of which opinions have varied about how disgusting they were, but all falling on that side of the spectrum), the Miami Marlins have suspended manager Ozzie Guillen for five games, effective starting with tomorrow's game against the Phillies. Guillen will miss the remaining two games against the Phillies, along with the first full series...
Marlins manager Ozzie Guillen has a history of making controversial statements. But his comments about Cuban dictator Fidel Castro have created a furor in Miami and could still cost him his job. Even for Guillen, his current controversy is over the top. There are stupid comments of the roll-your-eyes variety, and then there are remarks so unfathomably misguided and inappropriate...
For all of you who couldn't understand Ozzie Guillen's press conference earlier today here's what he said (video here): "I'm here because I hurt a community, I didn't want to do it, but I did it. Not only all the Cuban people around the world or living in Cuba, but the entire Latin American community. People from Venezuela, Nicaragua, Guatemala, and if I forget...
MLB News

Delivered to your inbox

You'll also receive Yardbarker's daily Top 10, featuring the best sports stories from around the web. Customize your newsletter to get articles on your favorite sports and teams. And the best part? It's free!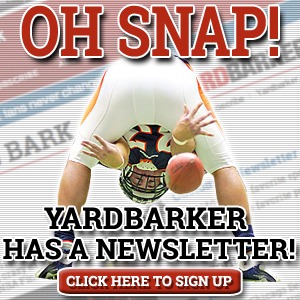 Latest Rumors
The Backyard

Today's Best Stuff

For Bloggers

Join the Yardbarker Network for more promotion, traffic, and money.

Company Info

Help

What is Yardbarker?

Yardbarker is the largest network of sports blogs and pro athlete blogs on the web. This site is the hub of the Yardbarker Network, where our editors and algorithms curate the best sports content from our network and beyond.