Found January 29, 2013 on World Series Dreaming:
PLAYERS:
Luis Valbuena
,
Anthony Rizzo
,
Edwin Maysonet
,
Alberto Gonzalez
,
Brad Nelson
,
Brent Lillibridge
,
Scott Hairston
,
Tony Campana
,
Steve Clevenger
,
Mark DeRosa
TEAMS:
Chicago Cubs
,
Chicago White Sox
,
Toronto Blue Jays
Over the past few blogs we have talked about the lack of depth in the infield for the Chicago Cubs, and how that is going to be a big problem moving forward in the 2013 season.. Ryno4ever started taking a look at how the roster currently breaks down. If you notice, only major league ready backup infielder who is currently on the 40 man roster is Luis Valbuena. He is a fine reserve infielder who can play third, second as well as short stop. But that leaves a glaring hole at first base. Obviously, Anthony Rizzo is going to play just about every day, but even the toughest players need a breather now and then. Since there are no other major league ready infielders who are likely to break camp currently on the 40 man roster, we turn our attention to the non-roster invitees to find the Cubs 25th man. Looking over the list of players who were signed to minor league deals, and given an invite to big league camp, there are only three players who are listed as infielders. Do any of these names excite you: Edwin Maysonet, Alberto Gonzalez and Brad Nelson? Only one of the three, are able to play first base, and that is Nelson. If you just want someone who can fill in for Rizzo from time to time, Nelson is your guy. However, you might need a player who is a little more versatile than Nelson. Maysonet and Gonzalez each have spent time at second, short and third so they would qualify. However, while anyone can play first base, personally I would prefer someone who has at least an inning of service time there. Since neither of them have any experience, the Cubs will need to find another non-roster invitee. That search brings us to the outfield invites, and Brent Lillibridge. Yes, the former Chicago White Sox prospect is the most versatile player that will be in Cubs camp, including those who are already on the major league roster. He has spent time at every position around the diamond, except for pitcher and catcher. He is the perfect platoon player who can spell anyone at any position throughout the year. He may be offensively limited, but with your reserve infielders, you are not really looking for someone who can wow you with the bat. All you need is someone who can keep the position warm while the regular takes a much needed breather. Lillibridge fills that need quite nicely as he is pretty good with the glove. The problem with adding Lillibridge to the 40 man roster is the Cubs will need to make yet another roster move. Currently the 40 man roster is at 41 players, or soon will be once the signing of Scott Hairston becomes official. That likely spells the end of the Tony Campana experiment, unless he can convince the Cubs brass that he has learned to get on base at a major league level. If Lillibridge breaks camp, they will need to clear another spot, and that could mean Steve Clevenger, as the third catcher, gets designated for assignment next. Clevenger could break camp as the third catcher and backup first baseman as well, which would negate having to make another roster move. But that gives us the same problem as we have with Nelson, limited versatility. If you are okay with having Valbuena as the only one who can back up the majority of the infield, then Clevenger is your guy. Barring a trade, I do not see a better fit for the 25th man than Lillibridge. He can play everywhere, and be this year's version of Mark DeRosa, only with a worse bat. After all, isn't that what you want out of your 25th man? Someone who can spell your starters when they need a day off? So what say you Dreamers? Out of all available candidates, who do you prefer as the 25th man?
Original Story:
http://worldseriesdreaming.com/2013/0...
THE BACKYARD
BEST OF MAXIM
RELATED ARTICLES
Chicago Cubs outfielder Alfonso Soriano remains on the trade block, according to Nick Cafardo of the Boston Globe, and right-hander Matt Garza could join him once he regains his health, reports Jim Bowden of ESPN. Focus on Garza is get him healthy and in our rotation.that could change because not signed past this year and we need to collect talent #SXM — JIM BOWDEN (@JimBowdenESPNxm...
Jerome asks: Is there a chance that the Mets could check in on Cubs centerfielder Tony Campana? With Scott Hairston joining a crowded outfield situation in Chicago, Campana seems to be the odd man out now. Given the latest on the Michael Bourn front it seems unlikely that the Mets will sign him so why not go after Campana and add some speed and defense to the team via that route...
Social media is great; it has definitely changed the world. It is a great tool to connect with others, promote your business or stay up to date with your favorite athletes, but it can also get you in trouble. That's what happened last night, on Twitter, with Cubs OF Dave Sappelt. In case you don't have a Twitter account, or were out in the icy mess that occurred in Chicago trying...
Organizational Talent Rankings via Baseball America 2012 (14) | 2011 (16) | 2010 (14) | 2009 (27) | 2008 (18) 2012 Affiliate Records MLB: [61-101] NL Central AAA: [53-87] Pacific Coast League – Iowa AA: [72-68] Southern League – Tennessee A+: [59-74] Florida State League – Daytona A: [63-75] Midwest League – Peoria (Kane County beginning 2013) A(ss): [37-39] Northwest League...
Yes! The news is finally official! After the longest physical in the history of western civilization the Cubs have signed Carlos Villanueva! So who is this mysterious pitcher from another country (Canada)?   A Carlos Raúl Villanueva no le gustaban los obesos. — Alexander (@AlexMateran12) January 28, 2013 Huh. Actually I don't think that's the right guy. Chicago Cubs Monday...
Baseball Operations Position to Report to Assistant GM
Yesterday, the baseball world was rocked by yet another steroid scandal in baseball. Okay, maybe the baseball world was not rocked, as steroids have been a part of baseball since the early 1990s (if not well before) and will be for many years to come. The Miami based "anti-aging clinic", which has been nicknamed the East Coast Balco, supplied steroids to athletes from all sports...
MLB News

Delivered to your inbox

You'll also receive Yardbarker's daily Top 10, featuring the best sports stories from around the web. Customize your newsletter to get articles on your favorite sports and teams. And the best part? It's free!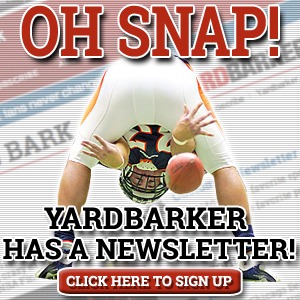 Latest Rumors
Best of Yardbarker

Today's Best Stuff

For Bloggers

Join the Yardbarker Network for more promotion, traffic, and money.

Company Info

Help

What is Yardbarker?

Yardbarker is the largest network of sports blogs and pro athlete blogs on the web. This site is the hub of the Yardbarker Network, where our editors and algorithms curate the best sports content from our network and beyond.