Found January 18, 2013 on Metstradamus:
PLAYERS:
Sandy Alderson
,
Mike Francesa
,
Justin Upton
,
Andrew Brown
,
Mike Baxter
,
Lucas Duda
,
Aaron Heilman
,
Guillermo Mota
,
Casey Fossum
,
Manny Acosta
,
DJ Carrasco
TEAMS:
Arizona Diamondbacks
,
New York Mets
,
Texas Rangers
,
San Francisco Giants
,
Atlanta Braves
Here now is the recap of Sandy Alderson's conversation with Mike Francesa on WFAN on Thursday (which is best viewed after the fact through twitter): Sandy Alderson: "How do I feel about the bullpen? Well, let's say 'uneasy.' " — Adam Rubin (@AdamRubinESPN) January 18, 2013 "We're still confronted with 2013, and I'm not happy with the preparation for 2013." Sandy said #Mets — Michael Baron (@michaelgbaron) January 17, 2013 Duda in LF, Kirk/Cowgill in CF, "Uh... um... a couple people" in RF, says Sandy #mets — Andrew Vazzano (@TheRopolitans) January 17, 2013 Take a look at the last one. Now the optimist in me (and I keep that optimist in a cage and feed it only bread and toothpaste) wants to believe that this sounds like somebody who wants us to believe that the Mets still have a shot at Justin Upton. The cynic in me, meanwhile, believes that Alderson really forgot that he acquired Andrew Brown earlier t...
Original Story:
http://www.metstradamusblog.com/2013-...
THE BACKYARD
BEST OF MAXIM
RELATED ARTICLES
While the Wipons are leveraged to the hilt, this offseason has been a textbook case about how a team and a general manager use leverage (or have it used against them.) While TNT canceled the TV show "Leverage," that word is still being used more today than I'm guessing any of us would have imagined just five years ago. So, what is leverage? The dictionary definition is as...
The Manti Te'o story may be one of the most bizarre and puzzling stories in sports history — which makes it the perfect target for jokes. At the New York Baseball Writers' Association of America dinner Saturday night, Sandy Alderson, the general manager of the New York Mets, was asked about the holes they have yet to fill in their outfield, and in his answer he showcased...
I've been as guilty of it as the next guy. I've had my patience wear thin with the seeming sloth-pace of a couple of off-seasons. I've been clamoring for the Mets to DO. SOMETHING. I've actually been missing the nonstop headline-mongering of Omar Minaya's early days. And then I realize where it's gotten me, as a fan: one playoff appearance, two epic collapses and...
Sandy Alderson gave his state of the union address to Mike Francesca this afternoon on WFAN and when it came to talking about opening day and the team's top two prospects, the Mets GM wasn't ruling anything out.   As Anthony McCarron of the Daily News wrote: Photo by Michael G. Baron Catching prospect Travis d'Arnaud has a chance to make the Mets' Opening Day roster, Sandy...
Two days ago we had a post that was contrasting the difference between what the Washington Nationals are doing and what the Mets are doing. As luck would have it, here is a quote from GM Sandy Alderson, who was a guest of Mike Francesa on WFAN today. that happened to address the same issue. "The Nationals are in a slightly different position from ours. I've been in that position...
I find it difficult to take everything Sandy Alderson says at face value. That's just a nice way of saying I can't believe anything he says. I'm now referring to him as "Hans Christian Alderson" for his ability to weave the most amazing yarns and whimsical tales. The observant ones among you all realize that it's all just smoke and mirrors designed to silence the naysayers...
Updated on 1/19 Johan Santana is planning to compete in the World Baseball Classic and despite being ineligible because he ended last season on the disabled list, he plans to prove his case that he is 100% healthy and get a waiver. In order for the WBC to insure a contract, it has to be convinced the player is healthy. Santana automatically ended up on a disqualified list because...
It is time for another round of the World Baseball Classic. This one is going to have a different feel for the Mets, who have been quite well-represented in previous tournaments. While all rosters have yet to be finalized, perhaps David Wright will be the only player from the major league roster to be involved in 2013. In the last go round the Mets had 17 players, including Wright...
Sandy Alderson, who was a guest of Mike Francesa on WFAN, said that if he fails to add another starter for the rotation, that Zack Wheeler will be in a group including Jeremy Hefner and Jenrry Mejia vying for the fifth spot in the rotation. I doubt that happens, but I thought it was interesting to hear him say that. In the unlikely event that Wheeler did make the team out of spring...
Sandy Alderson, who was a guest of Mike Francesa on WFAN, said that if he fails to add another starter for the rotation, that Zack Wheeler will be in a group that will be vying for the fifth spot in the rotation. "It's unlikely he starts at the Major League Level," Alderson said. "But look, hypothetically, let's say we don't add anybody between now and Spring Training...
"My dominant eye is on '13. You're looking at both, no question about that. But the stronger focus is on '13. I know that doesn't really corroborate with what we've done this off-season. But, let's see – when everything is said and done – where we are. I can assure you that where we are right now is not where we want to be opening Spring Training. It's conceivable...
By now you've all made the rounds and got everybody's take on Sandy Alderson's interview with Mike Francesa yesterday. You know the one right? It was the interview that was the exact opposite of the first interview he did with Francesa back in October. Remember that one? The one where the Mets were going to be transformed into a contender for 2013 and fans were going to see...
MLB News

Delivered to your inbox

You'll also receive Yardbarker's daily Top 10, featuring the best sports stories from around the web. Customize your newsletter to get articles on your favorite sports and teams. And the best part? It's free!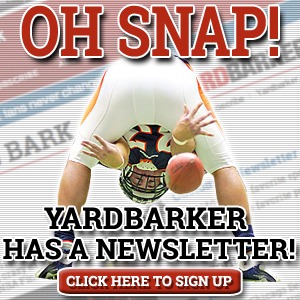 Latest Rumors
The Backyard

Today's Best Stuff

For Bloggers

Join the Yardbarker Network for more promotion, traffic, and money.

Company Info

Help

What is Yardbarker?

Yardbarker is the largest network of sports blogs and pro athlete blogs on the web. This site is the hub of the Yardbarker Network, where our editors and algorithms curate the best sports content from our network and beyond.