Found October 16, 2012 on Boston's Bettah:
Josh Hamilton warms up in Fenway Park as a member of the Rangers. Could he be warming up there 81 times a year next season?
Every great Boston Red Sox team has featured a great 3-hole hitter. It is basically the unwritten law of the team. Men like Ted Williams, Carl Yastrzemski and Manny Ramirez are all Hall-of-Fame caliber players who have put on the Red Sox hat and slugged their way into baseball history. Adrian Gonzalez was supposed to be the next one, but he morphed into a glorified singles hitter that didn't enjoy Boston and was dumped in the great crap contract dump of 2012.
With the season over and millions upon million of potential dollars now sitting in the coffers of the Boston Red Sox, the fans want the next one. They want the next great Red Sox hitter that will lead the Red Sox back to glory by belting home-runs over the Green Monster and slugging doubles deep into the triangle. Most fans have targeted their guy already. That man is Texas Rangers outfielder Josh Hamilton, who is due for free-agency this off-season.
There is good reason for this. After a mid-career revival, Hamilton has become one of the best hitters in today's baseball. He is two years removed from being American League MVP and he has career splits of .304/.363/.549 in six seasons. In 2012, he had an OPS of .930 and had 43 home-runs and 128 RBI. In addition, he was arguably the best player on a team that should have won the World Series in 2011. From the outside, Hamilton sounds like a guy that the Boston Red Sox should target in the winter of 2012 and 2013.
As the great Lee Corso once said, "Not so fast my friend". For all the positives that Josh Hamilton, there are negatives associated with Hamilton as well as with the Red Sox that would make a marriage between the two likely a stormy one that ends with a messy divorce where the kids spend half the year at dads and half the year at moms.
The first major issue is Josh Hamilton's age. He was drafted first overall by the Tampa Bay Devil Rays. Considering that Tampa Bay's team name is no longer the Devil Rays – choosing to drop the "Devil" and be more holy or something – it should give some idea ow long ago that draft was. It was the 1999 draft. The year is now 2012 and Josh Hamilton is 31 years old. While it could be considered a "young" 31 because Hamilton missed multiple years of his career due to drug rehabilitation, but it doesn't disguise the fact that Hamilton is 31 and only getting older. Besides, not to sound "holier than thou" or something, but isn't there a chance that his previous addictions and rehabilitation have damaged his body to the point where a "young" 31 doesn't really matter? I'm extremely skeptical he is going to last an entire 3-5 year length of a contract, which is what it would likely take to bring Hamilton to Boston, or anywhere for that matter.
A 31 year old outfielder who might be past his time doesn't really fit the Red Sox current philosophy either. The great salary dump of 2012 should have told Red Sox nation that General Manager Ben Cherrington has been given full control over the Boston Red Sox team. He also made it clear he wants to return to scouting, player development, and smart contracts that won the Boston Red Sox two World Series titles in the 2000′s. Signing Josh Hamilton would be the Boston Red Sox going completely off course and making a signing that got the Red Sox into this situation in the first place. A high-priced contract for a player at the tail end of their prime isn't a smart signing no matter how good they appear to be as players. Just ask Yankees fans what they think about Alex Rodriquez right now. Now change "Alex Rodriquez" for "Josh Hamilton" and Red Sox fans might be wondering why Hamilton is getting pinch-hit for in the playoffs for Cody Ross in 2016. These are also the same Red Sox fans that might be the biggest reason for the Boston Red Sox to avoid signing Josh Hamilton.
When it comes to baseball, Arlington, Texas isn't Boston or Philadelphia or New York. All these cities grew up around baseball and it was a major factor in their modern development. In Boston, every slump is frowned upon, every off-the-field issue magnified, every move analyzed. Texas cares about sport, but that sport is football. Baseball is a diversion, another team to root for but not to be analyzed and obsessed over to the point where people question sanity.
Despite all of the success in Josh Hamilton's life to fight his personal demons, he's still fighting. Early this year, there was a report that he suffered an alcohol relapse and in August he was benched for a few games for some strange illness that many speculated had to do with rehab. He isn't done yet which is what makes Texas such a spectacular situation for him. He is surrounded by people who aren't judgmental and willing to forgive and forget. If anything, and I repeat anything, were to happen in Boston off the field with Josh Hamilton, the media would pounce on it. He would not survive. He would turtle under the pressure of the media and the questions and more questions before getting shipped to Los Angeles before, of course, reviving his career. I am certain of that.
Josh Hamilton is a fantastic baseball player, but sometimes in sports and in life people don't fit inside certain organizations even if they are both great. Hamilton will sign a nice contract and probably be good somewhere, but it should not and it would not be in Boston.
Original Story:
http://www.bostonsbettah.com/?p=5265
THE BACKYARD
BEST OF MAXIM
RELATED ARTICLES
By SBRForum.com The Boston Red Sox have a number of holes to fill on their roster but among the top priorities should a power bat in the middle of their lineup. There is one player who could alleviate those concerns and give the power a boost if the Red Sox are willing to open up their checkbooks: Josh Hamilton. Hamilton figures to be atop many teams wish list this offseason as the...
Terry Francona's staff in Cleveland could soon have a Boston feel to it. Brad Mills, who served as the Red Sox' bench coach under Francona for six seasons, is expected to join his staff with the Indians, according to the Cleveland Plain Dealer. Mills, who was fired as Astros manager in August, also served as Francona's first base coach for four years...
The Boston Red Sox looked to be a playoff team a year ago with a 10-game lead heading into the final month of the regular season. Then the wheels fell off the wagon as they surrendered the lead and eventually lost the playoff spot on the last night of the regular season. Controversy filled the [...] [[ This is a content summary only. Visit my website for full links, other content, and more! ]]
The Boston Red Sox still continue their search for a new manager to handle the rebuilding of the team in the Hub and we've heard some of the names (Tim Wallach, Brad Ausmus, DeMarlo Hale, John Farrell), but a new name has come up and its an intriguing name for sure. Former New York Yankee manager Joe Torre's name has come up as a potential replacement for Bobby valentine...
The Boston Red Sox are interviewing New York Yankees bench coach Tony Pena for their managerial job Monday, ESPN Boston reported. Pena is the second candidate to interview since the team fired Bobby Valentine after one season. Los Angeles Dodgers third-base coach Tim Wallach interviewed in Boston on Friday. San Diego Padres special assistant Brad Ausmus and Baltimore Orioles...
There is some good news for fans of the Boston Red Sox. The team has decided to keep ticket prices for both the 2013 spring training and the 2013 regular season at the same prices as 2012. The question remains though if the team will be any good. Here's the release from the Red Sox: The Boston Red Sox today announced that prices for all ticket categories available for public...
The Boston Red Sox have claimed right-handed reliever Sandy Rosario off waivers and designated outfielder Che-Hsuan Lin for assignment. Rosario was claimed from the Miami Marlins on Wednesday. In four games for them this season, he gave up six runs in three innings. He has pitched in 10 major league games, all with Miami during the last three seasons. Rosario made 25 relief appearances...
  Red Sox Manager Search Boston- Red Sox have begun their managerial search on Friday with the interview of Los Angeles Dodger's 3rd base coach Tim Wallach. A few more names have surfaced as possibilities are Brad Ausmus who is a special assistant to the San Diego Padres as well as Demarlo Hale who currently is the 3rd base coach for Baltimore Orioles they are expected to be...
The Boston Red Sox are in the process of finding a replacement for the recently-fired Bobby Valentine, but the organization is taking its time to make sure it gets the right guy. On Monday, the Red Sox went to a surprising source to interview their latest candidate. New York Yankees bench coach Tony Pena used his off-day from the ALCS on Monday to interview for the position. He became...
Tigres del Licey centerfielder Leonys Martin helped his club overcome a six-run deficit in the late innings on Sunday, contributing with a hit and two walks. Lone Star Dugout takes a look at all of the day's winterball action in the Texas Rangers' system.
New York Yankees bench coach Tony Pena is the second person to be interviewed as the Red Sox continue to search for Bobby Valentine's replacement. The former Red Sox catcher and Kansas City Royals manager was interviewed on Monday, an off day in the AL championship series between the Yankees and the Detroit Tigers. Los Angeles Dodgers third base coach Tim Wallach met with the...
MLB News

Delivered to your inbox

You'll also receive Yardbarker's daily Top 10, featuring the best sports stories from around the web. Customize your newsletter to get articles on your favorite sports and teams. And the best part? It's free!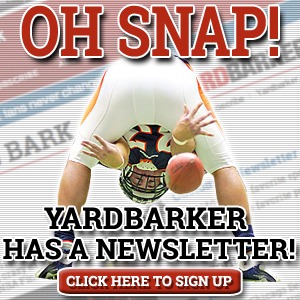 Latest Rumors
The Backyard

Today's Best Stuff

For Bloggers

Join the Yardbarker Network for more promotion, traffic, and money.

Company Info

Help

What is Yardbarker?

Yardbarker is the largest network of sports blogs and pro athlete blogs on the web. This site is the hub of the Yardbarker Network, where our editors and algorithms curate the best sports content from our network and beyond.