Found March 01, 2012 on Fox Sports Arizona:
PLAYERS:
Greg Maddux
,
Tom Glavine
,
Joe Torre
,
Clayton Kershaw
,
Sandy Koufax
,
Roy Halladay
,
CC Sabathia
,
Mark Buehrle
,
Justin Verlander
,
CJ Wilson
,
Roger Clemens
,
Matt Cain
,
Tim Lincecum
TEAMS:
Los Angeles Dodgers
,
Texas Rangers
,
Philadelphia Phillies
,
New York Yankees
,
Miami Marlins
,
Detroit Tigers
,
Los Angeles Angels
,
San Francisco Giants
SURPRISE, Ariz. -- The 2002 Braves were the most recent team with the rarest of attributes, boasting two eventual 300-game winners on the same pitching staff: Greg Maddux, who reached the milestone two years later, and Tom Glavine, who followed in 2007. Years from now, we may say the same about the 2008 Dodgers. Maddux was on that Dodgers team, too. It was the last of his 23 seasons. He was 42. He didnt have much left, but Joe Torre wanted him around anyway. Maddux started 33 games for the Dodgers and Padres, maintained a respectable 4.22 ERA and finished his career with two relief appearances in the National League Championship Series against Philadelphia. The Dodgers NLCS bullpen also included a fresh-faced Un-Maddux a power lefty rather than precision righty. The rookie still was shy of the legal drinking age but nonetheless dispensed some of the best pure stuff in baseball. His name was Clayton Kershaw. Kershaw, 23, is now coming off his first NL Cy Young Award. He won 21 games and became the first Dodger to claim the pitching Triple Crown since Sandy Koufax. There are those who believe he soon will be the best pitcher in baseball if he isnt already. But thats subjective. Heres a fact: Kershaw has more wins (47) than Maddux (45) at the same point in his career. Maddux acknowledges Kershaw has a chance to win 300 games at least, as much of a chance as anyone his age could. Absolutely, Maddux said this week at the Texas Rangers spring complex, where hes working as a special instructor. One of the things you have to do is start pitching when youre young. Its hard when you come up when youre 25 or 26. You need to come up when youre 20, 21, 22. Maddux remembers hearing the predictions that he would be the last of the 300-game winners. He remembers knowing they would be proved wrong, because his close friend Glavine was determined to join him. Then Randy Johnson willed his way past the benchmark in 2009. Maddux figures The Club will eventually add another new member. He just doesnt know when. Im sure theres somebody, Maddux said. You never know. There might be an eighth-grader out there. Or there might be one among active pitchers: Roy Halladay (188), CC Sabathia (176), Mark Buehrle (161) and Justin Verlander (107) have reasonable chances based on wins, age, recent performance trends and health histories. But the math means it wont be easy. Halladay, who trains like an Olympian, turns 35 in May. Sabathia, 31, will reach 300 wins around his 38th birthday if he averages 18 per year, but questions persist about his long-term durability. Maddux believes Buehrle could become a surprisingly strong candidate because, as a left-hander who locates well, he can lose velocity and still be OK. Verlander, arguably the best pitcher on the planet, probably needs to pitch at 40 to do it and hell need to maintain a 17-win average through his 30s to get the chance. Verlander committed one cardinal sin of a pitcher with aspirations of reaching 300 wins: He went to college. He didnt spend a full season in the majors until five years after graduating from high school. Kershaw needed only three. For an excellent pitcher, those two seasons could account for 10 percent (or more) of the journey to 300. My bad, quipped Angels lefty C.J. Wilson, the free-agent prize who played at Loyola Marymount. When I was 23, I was (in the minors) rehabbing elbow surgery and wishing I was a hitter. Of course, an early arrival to the majors only matters so much. Good health and superior ability are obvious factors. But Maddux noticed other shared traits among his contemporaries (Glavine, Johnson and Roger Clemens) who reached 300 wins. The common thread was the desire to play every day, to win, to keep playing, Maddux said. It was never about money. There was a certain love for the game. You have to enjoy going to the ballpark every day, being around your teammates, the competition, the preparation, putting your work in. Thats what they all did. Kershaw appears to match many of those criteria. Hes uncommonly mature for a player his age, from his sponsorship of a home for orphaned children in Zambia (where he has visited twice) to the way he appreciates the privilege of playing in the majors. "Everybody thats retired says, 'Enjoy it while you can,' and thats what I try to do, Kershaw said last week. Asked if he would pitch until hes 40, he laughed and replied, Ill pitch until Im 80 if they let me. Maddux didnt make it quite that far. But he did put his body through more than 5,000 innings in the major leagues while landing on the disabled list only once and that was for a back injury. Strength and conditioning coaches wont want to hear the explanation for how he did it. Just luck, he said. I did my shoulder exercises, but so does everybody else. Just luck, really. I didnt really do a whole lot. I played golf. That was it. Its kind of hard to get hurt playing golf. Kershaws chances at 300 could be aided by working in one of baseballs great pitcher-friendly ballparks and playing on a Dodgers team that should become stronger after the ownership transition. Maddux, though, doesnt put much stock in such things. Park, offense, defense that has jack s--- to do with it, he said. Its about how you pitch. I dont buy into that. Steve Carlton was on the worst team in the world (and still won 27 games). ... Its how you pitch. The pitcher makes the team. If you outpitch the other guy, you win. Youve got to be better than the guy youre facing. Matt Cain and Tim Lincecum might beg to differ. They are several years older than Kershaw but arent far ahead of him in wins each has 69 because the San Francisco hitters have offered minimal run support. Theyll have their chances to slow Kershaws progress toward 300 when they face him this year. But they may need to pitch like Maddux to do it.
Original Story:
http://www.foxsportsarizona.com/03/01...
THE BACKYARD
BEST OF MAXIM
RELATED ARTICLES
TIME TO SHINE
Los Angeles Dodgers pitcher Jon Garland noted bat boy Chico Herrera's strong arm in practice, so he helped arrange an invite for Herrera to the team's open tryout.
Phoenix Hall of Fame pitcher Sandy Koufax was extremely complimentary of Clayton Kershaw when he stopped by Camelback Ranch on Friday to visit friends. Of comparisons between him and Kershaw, Koufax said, "If hes as good as I think hes going to be, Im honored. Koufax, who makes an annual visit to the Dodgers, downplayed the influence he has had on Kershaw, who won the National...
2011 was a topsy-turvy year for Dodgers fans. It seemed like during the season, the stories focused on the off-field exploits of vilified owner Frank McCourt.  It wasn't until the postseason awards were handed out that the players became the story. McCourt unleashed a steady bomb assault on the franchise only to be met by fans resisting with the only weapon they had – their...
(Eds: APNewsNow.) Los Angeles Dodgers manager Don Mattingly is hoping Javy Guerra can build on his strong rookie season. Guerra was promoted last May and went 2-2 with 21 saves in 23 chances and a 2.31 ERA. But Mattingly isn't ready to call the 26-year-old right-hander an established closer. Mattingly says ''The only thing that scares me about Javy is that he doesn...
Matt Kemp may be the best player in the National League with almost no holes in his game.  Pitchers will surely be looking for any way they can get an advantage against him, which is why he may regret an admission he made in an interview yesterday: "I don't like the rally monkey," Kemp said. "I'm scared of the rally monkey. Out in the outfield, the monkey...
Dee Gordon is straddling the line between confidence and arrogance, which is fine, but that's not the part about this article that concerns me. "I don't care what they say," Gordon said. They say he's impatient at the plate, that he needs to walk more, work counts deeper. He believes he knows better. "Would you
Hot News for SP Clayton Kershaw
Wednesday was the first day Dodgers starting pitchers threw live batting practice to hitters, and right out of the chute, National League Cy Young Award winner Clayton Kershaw opposed the middle of the starting lineup: Matt Kemp, Andre Ethier and James Loney.
Adam Kennedy had a unique take on the controversy ignited Tuesday, when manager Don Mattingly said Los Angeles was a Dodgers town.
Matt Kemp's ambition heading into 2012, along with driving his Dodgers to exciting places in October, is to become Major League Baseball's first player to combine at least 50 homers with 50 steals.
MLB News

Delivered to your inbox

You'll also receive Yardbarker's daily Top 10, featuring the best sports stories from around the web. Customize your newsletter to get articles on your favorite sports and teams. And the best part? It's free!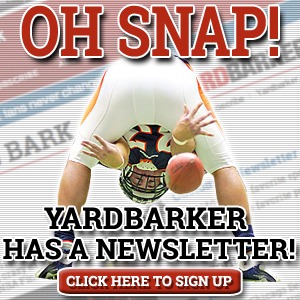 Latest Rumors
The Backyard

Today's Best Stuff

For Bloggers

Join the Yardbarker Network for more promotion, traffic, and money.

Company Info

Help

What is Yardbarker?

Yardbarker is the largest network of sports blogs and pro athlete blogs on the web. This site is the hub of the Yardbarker Network, where our editors and algorithms curate the best sports content from our network and beyond.