Found March 20, 2013 on 22gigantes:
PLAYERS:
Tim Lincecum
,
Matt Cain
,
Sergio Romo
,
Brian Sabean
,
Barry Zito
,
Buster Posey
,
Pablo Sandoval
,
Adam Wainwright
,
Phil Hughes
TEAMS:
San Francisco Giants
,
St. Louis Cardinals
,
New York Yankees
Many Giants fans feel that Tim Lincecum is a ticking time bomb. After exploding onto the MLB stage by winning back-to-back Cy Young awards in 2008-09, the Freak imploded last season, going 10-15 with a hefty 5.18 ERA. That has left many of us to ponder the question, "Have we seen the best of Timmy?" Giants execs have been reluctant to sign Lincecum (2 years, $40.5 million) to the kind of contract given to his sturdy teammate Matt Cain (6 years, $127.5 million). That's probably because they fear that Timmy's diminutive size — coupled with the way he throws the ball — is a recipe for disaster. (Granted, he has reportedly gained 10 pounds during the offseason.) Also, Lincecum has lost 5-7 miles off his fastball over the years and his walks total has steadily increased as well. Now, Big Time Timmy Jim is entering a big-time contract year. He turns 29 in a couple of months and by then, San Francisco will probably have a good idea upon which Lincecum they'll need to make a decision. Sure, Lincecum was effective as a World Series reliever (4.2 innings, 0 runs, 0 hits, 1 walk, 8 strikeouts), but nobody's going to pay $20 million a year for a reliever, even if closer Sergio Romo flames out as the Giants' stopper. I would hope that Giants GM Brian Sabean has learned his lesson about signing 29-year old former Cy Young winners to lengthy and expensive contracts, right Barry Zito? Quite honestly, San Francisco would be better off investing their money in young stars Buster Posey and Pablo Sandoval. Then, take the money they'd normally pay Lincecum, plus the money they'd save by opting out on Zito's contract in 2014, and hit the winter meetings hard in December. The 2014 free agent market looks strong right now. Unless they're signed to extensions by their current clubs, Cardinals righty Adam Wainwright and the Marlins' Josh Johnson will be available and command a lot of attention, as will Yankees hurler Phil Hughes. (All of whom, by the way, have had their personal share of time on the DL.) Sabean could also look to trade for a replacement starter to fill the rotation. Don't get me wrong. I loves me some Timmy Lincecum, and the dude's credentials are rock solid, I just don't trust his arm anymore. Do you? - – - – - – - Are you going to Opening Day? RSVP here to let all your friends know. Want to go? I'm giving away two tickets for Opening Day. Click here to enter. I hope you enjoyed reading "Will Timmy be a Giant in 2014?." I'm interested in your opinion on this article. Why not leave a comment at 22gigantes.com?
Original Story:
http://feedproxy.google.com/~r/22giga...
THE BACKYARD
BEST OF MAXIM
RELATED ARTICLES
READ THE FINE PRINT
Barry Zito may have a $126 million contract but he reportedly lost $3 million of that sum by investing in a disreputable health and fitness company.
Last night the World Baseball Classic came to an end, as Santiago Casilla and the Dominican Republic beat Angel Pagan and Team Puerto Rico in the championship. SF Giants Rumors would like to congratulate Team Dominican Republic! Andrew Baggarly of CSNBayArea.com says (via Twitter) San Francisco Giants trainer Dave Groeschner said Pablo Sandoval had an MRI that showed same bone spur...
Credit: Steven Robles – SF Giants Rumors Starting pitcher Ryan Vogelsong is back with the San Francisco Giants. He was playing with Team USA in the World Baseball Classic. Vogelsong is expected to get back on the mound for the Giants Wednesday against the Brewers. "It was a great experience, it really was. It was everything I thought it would be, minus winning," said Vogelsong...
San Francisco Giants pithced Barry Zito has filed a lawsuit against friend for $3 million, claiming he was duped into investing in a "fitness software scheme that never materialized." With friends like that, who needs $3 million, or fitness software. Matt Snyder of CBS Sports writes that Zito's friend (or former friend) Michael Clark "used their friendship to gain the trust...
Pablo Sandoval's nerve irritation could be the result of bone spurs in his elbow.  He underwent an MRI that ruled out any major structural damage says Andrew Baggarly of CSN Bay Area, but the San Francisco Giants will be cautious with him.  The team is still optimistic about Sandoval's chances at being ready for Opening Day. Sandoval was recently diagnosed with ulnar...
San Francisco Giants third baseman Pablo Sandoval has been diagnosed with an irritated nerve in his right arm, and the slugger will take the next few days off to rest his injury, according to Henry Schulman of The San Francisco Chronicle. Schulman notes that Sandoval will get rest and receive treatment over the next few days, as the Giants hope this will help his...
Buster Posey's second half last year was absolutely ridiculous: 71 G, .385 BA, 43 R, 14 HR, and 60 RBI. Putting up numbers like that in the second half will generate  lot of hype going into the following year. When that same player has won Rookie of the Year, Comeback Player of the Year, an [...]
Barry Zito knew it was time to test the curveball. He was right. Zito struck out five in a row in the first and second innings, but Brandon Mauer shut down the Giants and led the Seattle Mariners to a 6-3 victory over San Francisco on Tuesday. ''I definitely wanted to get the curveball in the game,'' he said. ''I just haven't thrown a whole lot through...
Brandon Crawford had three hits and an RBI, leading a San Francisco Giants split squad to a 6-4 victory over the San Diego Padres on Wednesday. The Padres hoped starter Andrew Cashner would get into the fourth inning with less that 40 pitches, but he didn't make it through the third - he threw 31 pitches in the first. But Cashner only gave up one run on three hits. He struck...
San Francisco?s Ryan Vogelsong and Milwaukee?s Chris Narveson each pitched six impressive innings Wednesday and the Giants and Brewers played a neat 0-0, 10-inning tie in a game between split squads. Vogelsong, fresh off a stint with the U.S. team in the World Baseball Classic, gave up three hits, walked one and struck out seven. Narveson had his best outing of spring training,...
SCOTTSDALE (AP) -- San Francisco's Ryan Vogelsong and Milwaukee's Chris Narveson each pitched six impressive innings Wednesday and the Giants and Brewers played a neat 0-0, 10-inning tie in a game between split squads. Vogelsong, fresh off a stint with the U.S. team in the World Baseball Classic, gave up three hits, walked one and struck out seven. Narveson had his best...
MLB News

Delivered to your inbox

You'll also receive Yardbarker's daily Top 10, featuring the best sports stories from around the web. Customize your newsletter to get articles on your favorite sports and teams. And the best part? It's free!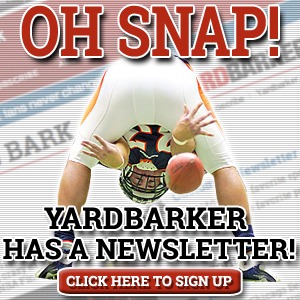 Latest Rumors
Best of Yardbarker

Today's Best Stuff

For Bloggers

Join the Yardbarker Network for more promotion, traffic, and money.

Company Info

Help

What is Yardbarker?

Yardbarker is the largest network of sports blogs and pro athlete blogs on the web. This site is the hub of the Yardbarker Network, where our editors and algorithms curate the best sports content from our network and beyond.