Found March 10, 2012 on Fox Sports Florida:
PLAYERS:
Roy Halladay
,
Cole Hamels
,
Cliff Lee
,
Dontrelle Willis
,
Miguel Cabrera
,
Jonathan Papelbon
,
Chad Qualls
,
Antonio Bastardo
,
Kyle Kendrick
,
Jimmy Rollins
,
Charlie Manuel
,
Jim Thome
,
Juan Pierre
TEAMS:
Philadelphia Phillies
,
Detroit Tigers
,
Boston Red Sox
CLEARWATER A familiar figure sits at the far corner of the Philadelphia Phillies clubhouse, at the opposite end from such marquee starters as Roy Halladay, Cole Hamels and Cliff Lee and the at opposite end of the world he once dominated as a big-time starter himself. These days, Dontrelle Willis is just hoping to prove hes worthy of a spot in the Philly bullpen as a spot reliever a far cry from his days as a flashy young Marlins lefthander who won the 2003 Rookie of the Year Award and racked up 22 wins with a 2.63 ERA two years later. Im happy to be here theyve welcomed me with open arms, said the 30-year-old with the perpetually upbeat, energetic personality. Its such a great organization with great history. And Ive been working hard just to fit into the system. His journey through baseball since leaving Florida as part of a blockbuster trade that sent him and slugger Miguel Cabrera to the Detroit Tigers has been a rocky one. There were his two difficult seasons with Detroit, including re-assignment to Class A Lakeland to work on his control issues that had gradually undermined him in Florida. Between 2008 and part of 2010, the 6-4, 225-pounder with the quirky, high-kick delivery was a mere shadow of his former self at 2-8 with a 6.86 ERA, a tenure marked by time on the disabled list in 2009 with an anxiety disorder. In a brief stint with Arizona that season, he finished 1-1 with a 6.85 his rookie win over childhood hero Randy Johnson and the Diamondbacks a distant memory. More frustration followed last year in Cincinnati, where Willis was initially re-assigned to the Triple-A Louisville Bats before a July call-up. He went 1-6 with an ERA of 5.00, but showed a glimpse of his former self in an August start against Colorado, striking out 10 batters in eight winnings and yielding only three runs his longest stint since his last start with the Marlins in 2007. But even though he has pitched in 43 games over the past four seasons, the Phillies saw in Willis an experienced pitcher who could specialize in getting out lefthanded hitters something he succeeded at with the Reds in spite of his poor overall numbers. They saw a once-great pitcher hungering for another chance to re-establish himself in the game, and possibly a much-needed second lefty arm in a bullpen that features former Red Sox fixture Jonathan Papelbon as closer, Chad Qualls, Antonio Bastardo and Kyle Kendrick. So they signed him to a one-year, non-guaranteed contract of 850,000, giving Willis the opportunity to find a new home on a perennial division winner looking to get back to the World Series in 2012. So far, the results havent been what he would have liked. In 1.2 innings pitched through Friday, hes given up five hits, three walks and five earned runs for an otherworldly ERA of 27.00. Command issues have continued to be an issue and his recent appearance was hampered by soreness in his forearm. But Willis remains hopeful that he can get back on track and make his case to be part of the pen. I can do whatever they want me to do long relief, anything, he said. I talked to (GM) Ruben (Amaro Jr.) a lot during the off-season before I even signed and wanted to see where my head was at, and if I was willing to take that role. I was all for it Im ready for that role. He may not get a better one at this point, but he needs to find a way to stabilize himself after a poor start in exhibition action. At this point in my career, I just want to win and be part of a winning tradition, he said. I always enjoyed pitching against them because they made me step up my game and battle. But it was fun, and I think they respected me as an opponent and I respected them and honestly, I think thats the reason Im over here. Fellow lefty Lee sees a real up side to Willis presence. Hes been very successful for a while, he said. Even though hes had some struggles the past couple of years, but hes got what it takes. Hes had some injuries that have held him back, but he looks like hes in shape and ready to go. Hes always been good against lefties. Before the exhibition games began, pitching coach Rich Dubee spoke to the media in optimistic terms about Willis potential contribution: You have got to like his arm. A big left-handed pitcher with some deception in his delivery, he has a breaking ball that works and has got action to his fastball. Willis grew up in Oakland and is a childhood friend of Philadelphia shortstop Jimmy Rollins (Ive known him since I was a kid, and our families are close, he said). And he has a good rapport with manager Charlie Manuel, a relationship dating back to the pitchers Marlins glory days. I used to talk to him back then about baseball and my pitching, so hes happy to have me and just wants me to be myself, Willis said. Hes always in my ear talking to me and I feel right at home. The guys are here at 6:30 a.m. and ready to work, even a guy with 600-plus home runs like Jim Thome and a veteran like Juan Pierre. Its amazing to see everyone working so hard and really care about their craft. That makes you better. Of all his early accomplishments, including being part of the Marlins 2003 World Series championship over the Yankees, what is Willis most proud of? Being able to get back to the big leagues, honestly, he said. I struggled and got sent down and continued to work hard and stay positive. I credit a lot to the Reds, because they wanted me to go down there help out some of the younger guys. I was almost like a player-coach. God blessed me to come back up because of my attitude and work ethic. I dont think Id have made it back if Id have just gone through the motions. Willis contract doesnt become guaranteed until April 2, so the Phillies still have time to assess whether the former All-Star will be a fit. And if things dont work out? God forbid my arm goes out tomorrow, he said, but if it does, Ill be proud, and Ill walk away and put a fungo bat in my hand and start coaching. Speaking of bats, Willis has always wielded one remarkably well in the majors. His lifetime batting average: .244 in 389 at bats with 13 doubles, six triples, nine home runs and 39 RBI. If the pitching thing doesnt work out so well, the Phillies might want to consider Willis as a pinch-hitter. They know what I bring to the table and know the attitude I have and the energy I bring every day, he said. People enjoy it its kind of infectious. This isnt a faade or something I turn on and off. Thats who I am. Im always happy. But the one thing that would make him happiest is a home in Philly.
Original Story:
http://www.foxsportsflorida.com/03/10...
THE BACKYARD
BEST OF MAXIM
RELATED ARTICLES
When the Philadelphia Phillies gave starting pitcher Joe Blanton a three year contract extension worth $24 million, they thought they were getting a solid pitcher that could eat innings. Blanton began 2010 on the disabled list with an oblique strain then only pitched in 41 innings in 2011 due to an elbow issue. What can a healthy Joe Blanton mean to the 2012 Phillies? Blanton has...
Roy Halladay (credits below) It is no secret the three headed monster of Roy Halladay, Cliff Lee, and Cole Hamels that top the Phillies rotation are a fantasy force in any format outside of the American League only format.  All three are capable of being the anchor of a fantasy rotation, but if you want any of them to do so an early round investment will need to be made. Current...
April will arrive without Ryan Howard for the Philadelphia Phillies on the 5th in Pittsburgh. Can they survive, like they did last year without Chase Utley? Will Hunter Pence partially plug the hole in the middle of the order? TAL'S HANDY CAPS   WELCOME, NEWCOMERS: I am doing a weekly Baseball-Fix Monday until the end of March. Also, I'll publish after every game that is...
Welcome back J-Roll. It's like you never left. Oh wait, you didn't. Thank goodness he didn't take the money and run elsewhere, because the pickings at shortstop were/are slim. Jimmy is the catalyst of this lineup- "As Jimmy goes, so do the Phillies" is very true. He's not the prototypical leadoff hitter, but the man has speed and pop and makes this happen...
The Flyin' Hawaiian is entering his final season of his contract extension and is set to entertain free agent offers should the Phillies pass on re-upping him. Shane is a sparkplug. He makes things happen with tremendous speed, defense, and deceptive power. Among National League outfielders last season, Victorino was second to only Matt Kemp in WAR (5.9).Championship clubs...
Oh this is rich. Jonathon Papelbon, the douchenozzle of a closer for the Philadelphia Phillies, decided to become just like the city he signed with, classless. Not that Boston fans are anyway endearing. In fact, they are a bunch of scum. But Papelbon had this to say about the city that used to cheer for him "The difference between Boston and Philadelphia, the Boston fans are...
We are well into the Grapefruit League this Spring Training and the Phillies are progressing towards what could be another memorable season.  It seems the pitching staff led by Roy Halladay and Cliff Lee are looking very strong and young Vance Worley will be trying to build upon his good rookie year.It is, however, frustrating to have not seen any of Chase Utley yet this Spring...
Toronto Blue Jays general manager Alex Anthopolous was apparently at the Phillies-Orioles game yesterday. and left the game once Phillies starter Joe Blanton left the game. Naturally, this has fans going crazy that the Phillies and Blue Jays could be talking about Philadelphia's fifth starter. But does a trade for Blanton make sense for the Blue Jays? Toronto's rotation...
After yesterday's 4-run, partial inning disaster and reports of a sore arm, it is looking like the Dontrelle Willis experiment may come to a quick end. It is a real shame though. Willis had a spectacular career during his first four years in the majors. But the 5 years that followed that were horrendous and Willis wound up spending a lot of time in the minors trying to get his...
Ryan Raburn hit a two-run homer off Phillies ace Cliff Lee in the first inning and the Detroit Tigers and Philadelphia tied at 4 in a split-squad game Sunday. The game was called after the 10th. Lee gave up three consecutive hits to begin the game, including Raburn's homer. After Miguel Cabrera singled, Lee set down three straight batters, striking out two of them. Lee, slowed...
10) After a couple of weeks in Clearwater, clearly qualified enough to make a decision9) Since Philadelphia is in the National League, they have to know about bunts, pinch hitting, and all of those other things that only super-intelligent people can comprehend8) That much exposure to Dan Shaughnessy over the years will, in fact, make you stupider than that much exposure to Howard...
MLB News

Delivered to your inbox

You'll also receive Yardbarker's daily Top 10, featuring the best sports stories from around the web. Customize your newsletter to get articles on your favorite sports and teams. And the best part? It's free!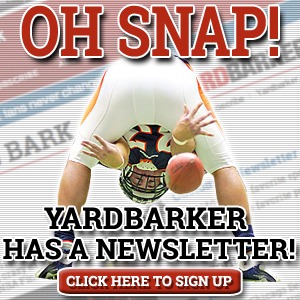 Latest Rumors
The Backyard

Today's Best Stuff

For Bloggers

Join the Yardbarker Network for more promotion, traffic, and money.

Company Info

Help

What is Yardbarker?

Yardbarker is the largest network of sports blogs and pro athlete blogs on the web. This site is the hub of the Yardbarker Network, where our editors and algorithms curate the best sports content from our network and beyond.